A video shows a woman being forcefully removed from a Southwest Airlines flight after saying she had a life-threatening pet allergy upon discovering that two dogs were on board.
Another passenger, Bill Dumas, said he recorded the incident, which took place Tuesday on a flight from Baltimore's airport to Los Angeles.
The woman said she had a pet allergy that is potentially life-threatening, but didn't have the proper documentation to prove it.
Southwest issued a statement on the incident.
"There was one emotional support animal and one pet onboard the aircraft," the company told CBS News. "Our policy states that a customer (without a medical certificate) may be denied boarding if they report a life-threatening allergic reaction and cannot travel safely with an animal onboard."
In the video, the woman can be heard saying, "What are you guys doing?" as they grab her and pull her down the plane's aisle.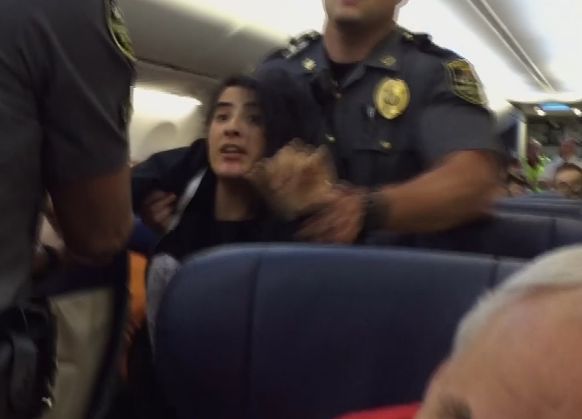 Dumas told NBC that the woman claimed to have a "deadly allergy" to dogs, asking that the animals are removed. The woman also asked crew members for an injection to help deal with her symptoms.
The flight attendants then told the woman that they needed a certificate from the woman to administer the injection. She didn't have it. A pilot then offered to allow the woman to leave so that the injection could be administered, but she refused, Dumas told NBC.
"My dad has surgery tomorrow. I'm sorry, my dad has a surgery. What are you doing?" she tells the officers as they arrive and attempt to remove her from the plane.
"C'mon, lady. Let's go," an officer tells the woman.
As the woman starts to resist, the officer the grabs her and then drags her down the aisle.
"Don't touch me! I'm walking!" she says. "I can't walk. He's got my leg," she replies to another passenger, who tells her to comply with the officers.
As she is pushed to the door, she then tells them: "I'm a professor! What are you doing?!"
Southwest apologized for the incident.
"We are disheartened by the way this situation unfolded and the Customer's removal by local law enforcement officers," Southwest Airlines said in the statement to NBC. "We publicly offer our apologies to this Customer for her experience and we will be contacting her directly to address her concerns. Southwest Airlines was built on Customer Service, and it is always our goal for all Customers to have a positive experience."