Southwest Airlines suffered a fourth-quarter loss of $200 million because of an operational meltdown in late December 2022. But the Dallas-based company still ended 2022 with a net income, according to the company's Jan. 26 statement.
Even so, the company projects that the first quarter of 2023 will result in a net loss, "based on current revenue and cost trends," CEO Bob Jordan said in the statement.
That statement, detailing financial results, was posted just hours before a live webcast was scheduled with investors at 12:30 p.m. EST. It also followed the U.S. Department of Transportation's statement about its investigation of the airline's "unrealistic scheduling" of flights as a winter storm approached.
In the statement, Jordan noted that, earlier in the year, the Omicron coronavirus variant of the COVID-19 virus adversely affected travel and caused "negative financial impacts" during the first quarter of 2022.
Despite that downturn and the late December 2022 cancellations of 16,700 flights, Jordan said the company still "generated full-year 2022 net income, excluding special items, of $723 million."
Including special items, the net 2022 income is $539 million, or 87 cents per diluted share.
Southwest, known as SWA on the stock exchange, stated that its operating revenue was $6.2 billion for the final quarter of 2022 and $23.8 billion for the entire year.
Jordan said the negative impact of the disruptions was about $800 million, lower than the maximum $825 million the airline had projected shortly after the meltdown.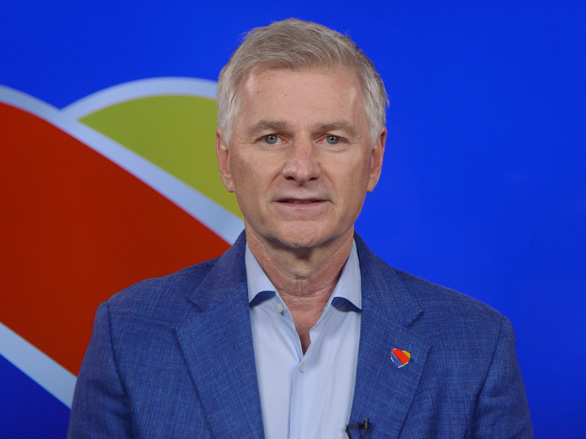 Looking Ahead
The CEO again repeated his apology to customers and employees. He also said the airline has taken steps to strengthen its operations, including "re-examining the priority of technology and other investments planned in 2023."
Despite concerns about a possible unfavorable end to the first quarter, the airline is "encouraged by current booking trends in March 2023," according to Jordan.
He said the airline plans "to support solid profits with year-over-year margin expansion" throughout the year.
"We remain intent on achieving the long-term financial goals outlined at our December 2022 Investor Day. We also intend to regain our 51-year reputation for operational excellence," Jordan said.
"As ever, I am grateful for our Employees and their resilience and steadfast focus on Safety, Customer Service, and Teamwork. They remain the heart and soul of Southwest Airlines."
Still, the airline faces possible effects from labor discontent and lawsuits.
The Southwest Airlines Pilots Association recently announced its intention to hold a strike-authorization vote in May. Any potential strike wouldn't be imminent, even after such a vote, because of safeguards built into federal labor-management law governing airlines.
Two separate class-action lawsuits have also been filed, seeking to represent customers and investors who are accusing the company of improper actions related to the December 2022 meltdown.