As gas prices in Los Angeles and across the state continue to hit record heights, more owners of fuel-powered vehicles are considering switching to electric cars.
The average price of regular gasoline in Los Angeles hit $4.78 per gallon as of Feb. 17, which is $1.23 more than a year ago, according to figures from the AAA and Oil Price Information Service.
The reason for these record-breaking gas prices is due to more drivers at the pump and a "persistent tight supply of oil worldwide," said Andrew Gross, an AAA national public relations manager. "And unfortunately for consumers, it does not appear that this trend will change anytime soon."
Arcadia resident Enrico Alaggia told The Epoch Times he thinks the gas price "is absolutely outrageous."
Alaggia drives a Ford pickup truck. He said he's searched online for gasoline discounts and cheaper gas stations in his neighborhood.
"The cheapest in the area is Sam's Club. I want to get the membership only for the gas probably," said Alaggia.
Alaggia also said that he already got a quote from Tesla, and he hopes to save enough money to buy a Tesla in three years.

Sandy Fong, a California State University–Long Beach student who supports herself by working a part-time job, said she has a very limited budget for gas and now she is spending about twenty dollars more on gas than she did a couple of months ago.
"I could have bought food or something, but now I must save it for gas," Fong told The Epoch Times.
Fong noted that she only uses her car for essential outings such as going to school and grocery shopping.
Some, however, are not feeling the weight of the gas prices.
Jennifer and Frank Tsai, a married couple from Rancho Palos Verdes, told The Epoch Times that the rising gas price has had minimal impact on their lives as they own a hybrid car.
"We have two cars, but most of the time we drive our Prius. It's a hybrid, and we only spend about $200 a month on gasoline," said Jennifer.
Jennifer said that they only go to Costco for gas not only because they have the membership, but because the gas price is cheaper than other places.
Frank said they're thinking about buying an electric car such as a Tesla if the price continues to rise. He said, "There's no impact on our life. We just think the gas price is a little high."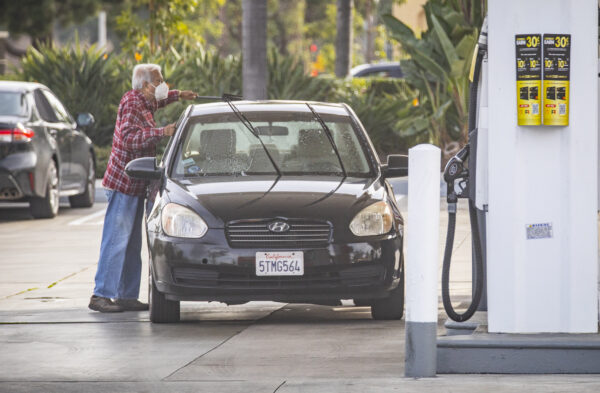 John Zhang, a resident of Monterey Park who drives a Toyota Sienna, said that he is now spending over $100 more on gas each month and said he is worried that prices will continue to rise.
"The price is too high. It has to be dropping," Zhang told The Epoch Times. "I really hope someone can make some positive changes to stop this."
Samuel Essilfie, who commutes from downtown Los Angeles to El Monte for work daily, said the current gas price does not have a big impact on his life, but he said that increasing gas prices may lead to more electric vehicles on the road.
"When I hear people from other states saying they pay two bucks or something per gallon for gas—why can't California be like this? But I know California is pushing towards electric cars and all that stuff," Essilfie said.
City News Service contributed to this report.