Keene Engineering, based in Chatsworth, is part of the national defense supply chain. It supplies water pumps, suction dredging systems, and firefighting equipment to the U.S. military and other government agencies.
But recently, co-owner Patrick Keene sold breathing equipment—including special full-face oxygen masks, air line hose, and reserve oxygen tanks—to hospitals, at wholesale cost.
"With business down like it is, we can't afford to donate," Keene told The Epoch Times. "It would put us out of business. But we're trying to give first consideration to these folks who are helping to save others in the way of deep discounts."
The COVID-19 pandemic has shown the mettle of many Southern California business owners like Keene in keeping their enterprises running and employees working, despite their own frustrations and fears of the unknown.
Keene Engineering
Keene Engineering, which bills itself as "the world leader in portable mining and prospecting equipment," employees 26 people, and sells its products to countries across the globe.
But the worldwide pandemic has hit the company hard, and revenue is down significantly.
The company has lost "probably 50 percent of our business," according to Keene. "That's exports and U.S. sales," he added.
So far, the company has reduced hours for some workers, but hasn't had to cut any staff.
"I haven't laid anyone off, but I have a couple of older guys I've allowed to take time off," Keene said.
"We've got too many families who are relying on us, and since no one's received any money or checks or anything, everyone is kind of leery, so they want to work; they've got to work."
Keene is keeping an eye on what's happening with the recently passed $2.2 trillion Coronavirus Aid, Relief, and Economic Security (CARES) Act.
There are two major components of the federal package: the $350 billion Paycheck Protection Program (PPP), aimed mainly at covering payroll expenses, and the Economic Injury Disaster Loan program, administered by the U.S. Small Business Administration (SBA).
"Because of our drop in business, we're trying to get an SBA loan," Keene said. "We're going to need some financial help through all of this."
He added: "The SBA loan is to keep the businesses going, and the other one [PPP] is to cover payroll. If we don't use it, we don't use it, but at least we want to have it there for our employees."
Keene Engineering's storefront is closed to the public, but customers can still place orders and have products shipped to them. Employees are adhering to safety protocols in the 30,000-square-foot warehouse.
"We wear masks all day long, and we wear gloves," Keene said. "Everyone just tries to keep their distance from everyone. And then I have one employee who goes around all day and cleans surfaces of anything that anyone would ever touch—with bleach and water—trying to keep everyone safe."
It's vital for the company to remain open, Keene said.
"If we're not there to maintain the business, before we know it we'll have all our vendors hounding us, especially if we're not open and not making money, which makes it hard to pay bills," he said.
However, shipping supplies and equipment to offshore customers has been challenging.
"We export to most countries around the globe. But there are many airlines that are shut down, and we're having a difficult time getting the equipment shipped overseas," Keene said.
"Eventually, if our international customers can't get their goods, they will ask for refunds—and that's what really concerns us."
Though known mainly for developing and manufacturing gold-mining equipment, Keene Engineering also produces equipment for the extraction of diamonds and rare earth minerals. Much of the larger-scale equipment is exported, to places such as Africa, Australia, South America, Dubai, and the Philippines.
But even though the price of gold has skyrocketed in the last few months and the company is accepting mail orders, not as many local customers are buying mining supplies.
"I think everyone's concerned with the virus, but I'm sure there are people out there still mining on every scale," he said. "I've heard of people out there using smaller equipment and finding a good amount of gold."
Although his business is suffering, Keene feels President Donald Trump made the right call to shut down international travel and take steps to help contain the spread of COVID-19.
But he remains concerned that Los Angeles County has gone overboard in its vigilance to control the pandemic by cracking down too hard on businesses that are just trying to stay afloat.
"Los Angeles County wants to stop all companies, unless you're absolutely essential," he said.
As the stay-at-home order drags on and the number of cases begins to drop, Keene hopes Trump will soon give the green light for more businesses to reopen, and thus save the economy from collapse.
"We're all hoping that the nation gets back to work, but with certain restrictions and protocols to be completely safe and prevent the spread of COVID-19," Keene said.
"If people observe safety, I don't see any reason why most people couldn't go back to work."
Gov. Gavin Newsom announced on April 13 that he would work with other West Coast states to consider reopening the economy.

Star Milling Company
Star Milling Company, a family-owned manufacturer of pet and animal food located in Perris, is classified as an essential service. So far, it hasn't had to lay off any of its 85 employees.
"We can keep all of our people employed," Paul Cramer, the company's vice president, told The Epoch Times. "Our business is up and running."
The only problem, Cramer said, is "getting some of the raw materials we need," including corn, wheat, soy, and milo.
"But we don't foresee anything going sideways with our supply chain right now," he added.
Star Milling produces food for dogs, rabbits, horses, and chickens. "We sell a lot of poultry feed to ranches that produce eggs," Cramer said.
The company also sells fish food. "We sell direct to a lot of farms for aquaculture, so catfish, tilapia, and trout farms," he added.
To help prevent employees from getting sick, the company allows about half of the office staff to work from home or come in at different times. On the production floor, employees are grouped into smaller teams, and practice social distancing within their groups.
"God forbid, somebody gets sick," Cramer said.
But if an employee does contract the disease, they won't have to worry about their pay.
"The company will pay for it," Cramer said. "They'll get paid to be at home if they're sick. And, if they get tested and they're positive, they don't have to worry about losing vacation time or sick time."
Workers on the production floor already wear masks for dust, and breaks are staggered to continue social distancing during those times. The 55 production employees are split into three shifts, with no more than about 20 on the floor at one time.
"For our industry—dealing with animals—it's not entirely unique what we're going through, because the animal industry tends to go through other pandemics," Cramer said.
He added: "There's one right now that's still going on in Southern California called exotic Newcastle disease that affects poultry. We've always kind of had biosecurity measures in place anyway. So it's not too much for us to adapt."
Truck drivers deliver everything and the company has essentially transitioned to a no-contact system, according to Cramer.
"We deliver to all of California, Arizona, Nevada, and Hawaii, and then we have a lot of export accounts," he said.
But shipping to most foreign countries has been shut down. "They've just kind of gone away temporarily," Cramer said. "So, you know, it kind of hurts you on that end."
Domestic sales initially increased, but the spike has begun to taper off, he added, as customers have stocked up on their supplies.
Because everyone is working, the business wouldn't likely qualify for federal aid—unless workers get sick with COVID-19, in which case the company might qualify for tax credits, Cramer said.
"We're not needing anything in terms of lost revenue or payroll or anything like that, so we haven't applied," he added.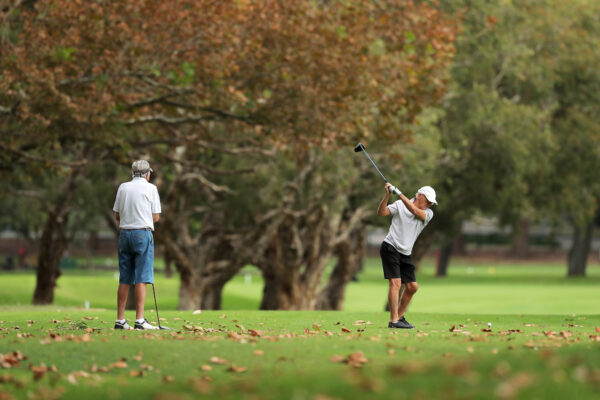 Goose Creek Golf Club
On the other hand, Cramer's family also owns a majority interest in the Goose Creek Golf Club in Jurupa Valley, near Mira Loma—giving him additional insight into businesses severely affected by the pandemic.
At the outset of the virus outbreak, many golf courses were still operating, and most golf course managers considered the sport to be a low-risk activity. But when the state issued its stay-at-home order on March 19, they were forced to shut down the next day.
"That's a whole different side of the spectrum," Cramer said. "So, I can see how this whole thing is affecting people that are essential and people who are not."
The course is allowed to keep maintenance crews working, however.
"The challenge with a golf course is, even when you're shut down, it needs to be maintained—because if you don't maintain it, it will just grow out, and you'll have to spend a lot more money trying to get it back to where it was," Cramer said.
The company has applied for the federal small business loans and relief, he added, but "we really haven't gotten much guidance."
"As of right now, I haven't heard anything positive in terms of the grant money coming through … or when we're going to get any money."
If the course remains shut down until June 19 as the state has ordered, it will cost the company hundreds of thousands of dollars in lost revenue.
"Usually, we have about 150 plays a day, and you're looking at about $70 average per play," Cramer said. "So you do the math."

Gene Boere Truck & Tractor Repair
"I fix anything that rolls and/or runs on tracks," Gene Boere, who bills himself as the "MacGyver of truck repair and heavy machinery," told The Epoch Times.
Boere, a 66-year-old self-employed owner of a truck and tractor repair business in Menifee, has lost about 75 percent of his business in the last few weeks—after just recently purchasing a new $195,000 truck to operate his mobile service.
"My new truck is mobile, but I don't have any work for it," he said.
Most of his business comes from construction, which is considered nonessential. To make matters worse, the deal to sell his old truck to a prospective buyer fell through because of the economic uncertainty, he added.
His business is considered an essential service, so he has been doing limited work—but despite his losses, he doesn't want to apply for federal aid.
"I don't need it, so I'm just going to let whoever needs it get it," he said. "I just take care of myself."
Boere's chest was crushed in a 1987 farming accident, and his lungs were damaged. He worries about getting COVID-19 on the job site—especially in the unsanitary conditions that exist in California's big cities.
"Hygiene is a forgotten art that everybody is learning real fast right now," he said.
"I'm very careful about where I work, so I don't get infected by this virus," Boere added.
"If this virus thing would have started a week earlier, I would never have bought a new truck. I would have headed to a cabin somewhere and hid."