Following a flurry of reports from Hong Kong and Japanese media outlets declaring the death of Kim Jong Un, South Korean officials said the North Korean communist dictator is "alive and well."
Rumors about Kim's death began after he missed the April 15 celebration of his grandfather's birthday, which is a national holiday in the isolated and impoverished state. The event commemorates Kim Il Sung, who is the founder of North Korea, and according to The Associated Press, the younger Kim hasn't missed his grandfather's birthday celebration since he took over control of the communist country from his father in 2011.
On Sunday, Chung-in Moon, a foreign policy adviser to South Korea's President Moon Jae-in, told Fox News: "Our government position is firm. Kim Jong Un is alive and well."
Moon added that Kim, 36, has been staying in the Wonsan area since April 13 and added that "no suspicious movements have so far been detected."
Satellite photos taken on Saturday echo the claim that Kim is still alive and staying outside the capital, Pyongyang. Photos published by 38 North, a Washington-based website specializing in North Korean affairs, show that there has been increased activity in Wonsan, noting that his train has been parked near his compound since April 21.
"The train's presence does not prove the whereabouts of the North Korean leader or indicate anything about his health, but it does lend weight to reports that Kim is staying at an elite area on the country's eastern coast," 38 North stated.
U.S. intelligence officials in recent days also said they have seen no sign of unusual military activity that would suggest something was wrong with Kim's health.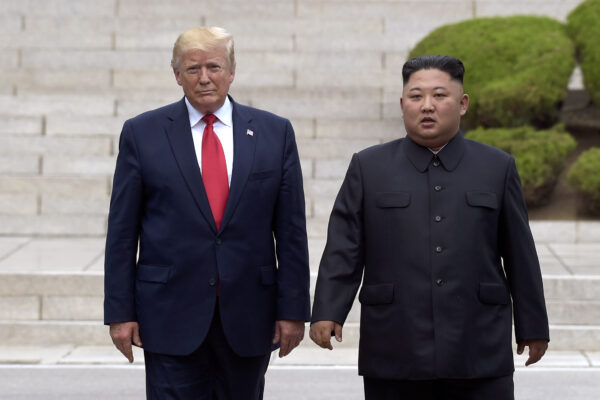 About a week ago, CNN and the Daily NK, a website in part run by North Korean defectors, and other outlets reported that Kim was recovering from heart surgery earlier in April. The Daily NK report, citing an unnamed source, said the dictator suffers from health problems due to smoking, obesity, and overwork.
President Donald Trump also dismissed the reports last week.
"I think the report was incorrect," Trump said at a White House briefing on the CCP (Chinese Communist Party) virus on Thursday.
He told reporters: "We have a good relationship with North Korea—as good as you can have. I mean, we have a good relationship with North Korea. I have a good relationship with Kim Jong Un, and I hope he's OK."
But despite the reports to the contrary, more speculation about Kim's health will likely be fueled in the absence of an official statement or appearance by the regime. Last week, North Korean state-run media published articles that suggest that Kim is conducting business as usual, saying he sent out greetings to officials, including one to Syrian President Bashar al-Assad.
Over the weekend, Asian news outlets reported that Kim is either in a "vegetative state" or dead. A Hong Kong broadcast network said on Saturday that Kim died and cited a "very solid source" who was not identified. A Japanese magazine, meanwhile, reported that Kim is effectively brain dead in "a vegetative state."
"When it comes to North Korea you can never be too sure until you hear the news from the country itself," said David Maxwell, a North Korea specialist at the Foundation for the Defense of Democracies, according to the New York Post. "But it's worth noting that there are 6.5 million smartphones in North Korea now and even though the coverage is within the country, information has a way of getting out faster now than it did in the past."