South Korea's president on Sept. 27 floated the idea of imposing a ban on eating dog meat, a traditional yet controversial practice decried by animal rights activists but defended by farmers who want to retain the right to raise dogs as livestock.
The remarks from South Korean President Moon Jae-in came after he was briefed by the country's Prime Minister Kim Boo-kyum on efforts to improve the handling of abandoned animals and a mandatory registration system for dogs.
"After the briefing, he said time has come to carefully consider imposing a dog meat ban," the president's spokeswoman Park Kyung-mee said in a statement.
This is the first time Moon has raised a ban, with his comments coming as South Korea's presidential campaign heats up ahead of the March 2022 election. Several candidates have, in recent weeks, weighed in on prohibiting dog meat consumption, with the opposition frontrunner defending the practice as a matter of personal choice.
Farmers maintain they have the right to raise dogs for meat. During a demonstration by animal rights activists in Seoul in 2019, dog farmers held a counter-protest, defiantly eating dog meat and distributing pamphlets making their case.
"Dear citizens, please eat dog meat—a traditional, delicious delicacy that has been enjoyed by our ancestors for generations—without shame and thereby lead happy and healthy lives," read one of the leaflets, according to France24.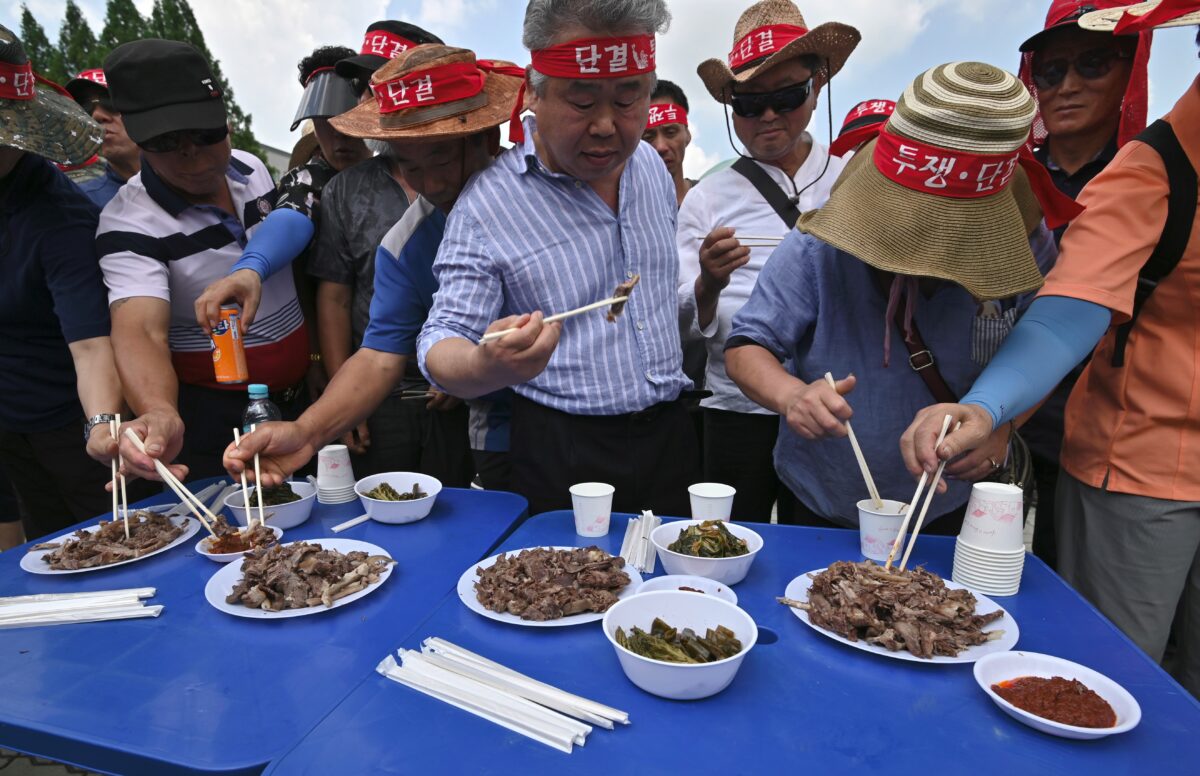 The meat has long been a part of South Korean cuisine, with the nonprofit Korean Animal Rights Advocates (KARA) estimating that around a million dogs are eaten annually.
But both attitudes and consumption patterns are changing. Humane Society International, which has long campaigned to close dog farms in South Korea, commissioned a poll last year (pdf) showing a decline in the rate of dog meat consumption and growing support for a legislative ban.
The poll found that dog consumption fell by around 6 percent between 2017 and 2020, dropping to 58.9 percent from 64.8 percent among respondents.
Support for banning dog meat rose by nearly 24 percent—rising to 58.6 percent in 2020 from 34.7 percent in 2017—the poll showed.
The survey estimated that, in 2020, there were 3,388 dog-meat-selling restaurants in South Korea and 2,861 registered dog farms.
At the same time, there was a sharp drop in the proportion of South Koreans who believe dogs should be eaten just like other livestock and a significant rise in the view that dog meat consumption "reflects poorly on Korea."
Reuters contributed to this report.