South Korea will begin sending COVID-19 testing kits to the United States, said South Korea's Ministry of Foreign Affairs.
Foreign Minister Kang Kyung-Wha told France24 that the country will send 600,000 test kits.
Kang said the tests received approval from the U.S. Food and Drug Administration "as a result of conversation between my president and President Trump last month. I think the contracts have been signed and they should be ready for shipment anytime soon (sic)," CNN reported.
South Korea has been praised for its ability to test a large number of people and detect cases of the Chinese Communist Party (CCP) virus, a type of novel coronavirus that causes COVID-19.
Kang said in the France24 report that transparency around testing and reporting virus cases is the key to combating its spread.
An official with South Korea's Ministry of Foreign Affairs also told CNN that the kits would be sent starting on Tuesday.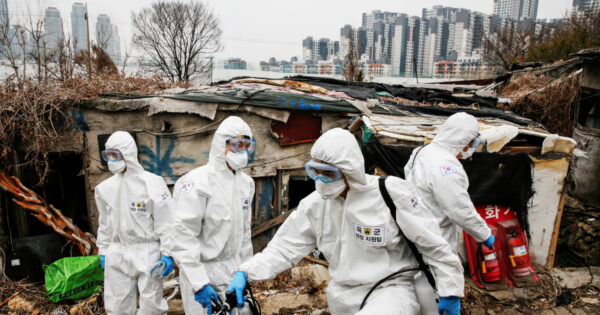 South Korean companies have previously shipped kits to places in the United States, including Los Angeles. The 600,000 kits would mark the first time the federal government ordered them, Reuters reported.
"We've moved as quickly as possible to get necessary clearances given the urgency of the situation there," an unnamed South Korean official told Reuters.
The announcement comes as South Korean health officials reported that 111 people who were cleared of the CCP virus have again tested positive, Yonhap reported.
Jeong Eun-Kyeong, director of the Korea Centers for Disease Control and Prevention (KCDC), has said that the virus may have been reactivated rather than the patients getting reinfected.
Archie Clements, a professor of infectious disease epidemiology at the Curtin University in Perth, Australia, told Al Jazeera on Monday that the growing number of people testing positive for COVID-19 again could suggest there is no perfect test.
"I think what is very, very unlikely is that these people are being reinfected by other people," said Clements. "There's plenty of evidence to suggest that there is quite a strong immune response to infection with coronavirus, and that should protect people from infection for a period of time. What's not currently known is for how long."
Twenty-five new cases of the virus were detected in South Korea on Sunday, officials told Yonhap. The total of those who have been infected stands at more than 10,537.