The number of confirmed COVID-19 cases in South Korea has more than doubled in 24 hours, according to the latest figures from Korea's health agency, with officials saying that a number of new infections are linked to one female "super spreader."
The Korea Centers for Disease Control and Prevention reported that 22 more cases have been identified, bringing the total to 104. Just a day earlier, there were 51 confirmed cases.
Many of the new cases of coronavirus are linked to a Christian church, the Shincheonji Church of Jesus, the Temple of the Tabernacle of the Testimony, in Daegu—a city located in the southern part of the country, the Korean CDC said. According to the BBC, health officials said 30 of 53 new cases have been connected to one woman who visited the church.
According to the health agency, a woman born in 1959 went to the church after she had gone to Wuhan, China, the epicenter of the outbreak, NPR reported. The unnamed woman is believed to have had nearly 1,200 contacts.
In a statement posted online, the church expressed its "deepest regret" over the COVID-19 incident, which is caused by a new form of coronavirus that was first reported in December. But the organization added that it is "deeply concerned about the spread of false slander against the Shinchonji Church, based on the prejudices that have" come from other churches.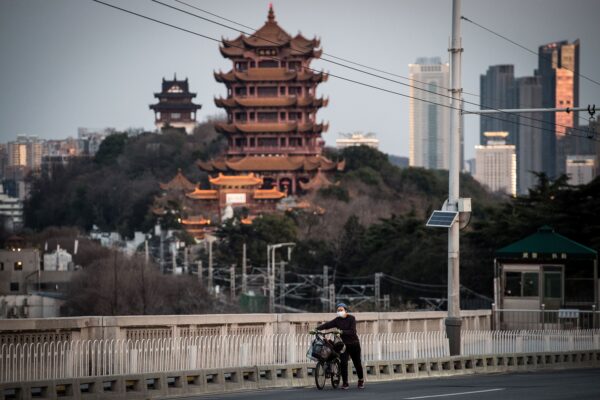 Daegu Mayor Kwon Young-jin told residents to stay indoors after 90 people who worshipped at the Church of Jesus the Temple of the Tabernacle of the Testimony showed symptoms of infection, Reuters reported.
"We are in an unprecedented crisis," Kwon told reporters, adding that all members of the church would be tested. "We've asked them to stay at home isolated from their families."
At the same time, South Korea also reported its first death, according to health officials.
The Chinese Communist Party has imposed severe measures in Wuhan, a city of 11 million people, and in a number of other cities in an attempt to curb the spread of the virus. The regime also took drastic measures to keep the economy and stock market from crashing.
In nearby Japan, the country reported the deaths of two elderly passengers who were on the quarantined Diamond Princess cruise ship on Thursday. They were the first deaths from aboard the ship, where more than 600 people were diagnosed with the virus.
Reuters contributed to this report.