South Ferry Subway Service Returning in April
March 8, 2013 1:56 pm Last Updated: April 3, 2013 3:38 am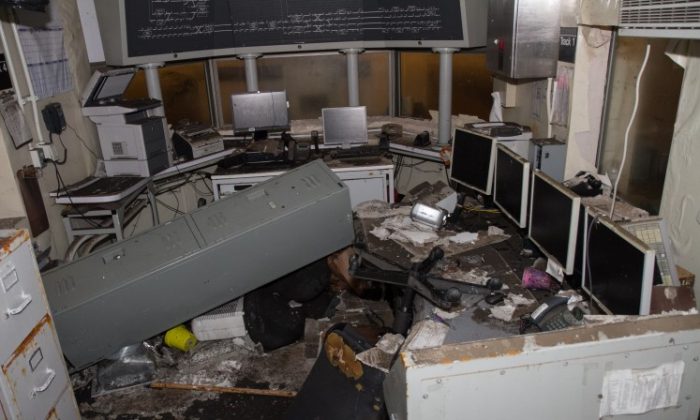 In the first week in April, one train service will return to South Ferry station in Lower Manhattan, Gov. Andrew Cuomo announced Friday. The station, which was heavily damaged during Hurricane Sandy, will utilize the old loop platform while the station is rebuilt, which is expected to take two years.
Some 15 million gallons of water filled the station, destroying all electrical and mechanical systems. Since the rest of the subway system opened shortly after Sandy, trains have been ending at Rector Street, which is further away from the Staten Island ferry terminal.
"The MTA has a long, tough job ahead as it tackles the immense job of virtually rebuilding the new South Ferry terminal station that was flooded 80 feet deep during Superstorm Sandy," Governor Cuomo said in the announcement. "For the extended period of time it will take for this work to be completed, we are returning the old station in the complex to service, making travel easier and more convenient for Staten Islanders and others who work and visit this area."
Recommended: More Than Six Months Before Service Resumes at South Ferry in Lower Manhattan
The old loop platform served the station until 2009 when the new facility was built.
"As MTA New York City Transit assessed the extent of damage to the new South Ferry station, it became clear that the time necessary to repair it would be too long a period to deny our customers a direct link to lower Manhattan," said Metropolitan Transportation Authority (MTA) Interim Executive Director Thomas F. Prendergast in the announcement. "We are working to ensure that all elements and systems are fully operational, safe and reliable before restoring service to the old station, but our primary goal remains restoring the new South Ferry station as soon as possible."
The old station will only serve 5 cars of a 10-car subway train. The MTA will open a new connection point between the station mezzanine and the old station, which will let riders transfer between the 1 train and the R train's Whitehall Street station.
Approximately $2 million in work will need to be done to get the station ready for use, including closed-circuit television systems to monitor the platform, customer assistance intercoms, security cameras, radio communications, and "moveable platform edge extenders" similar to the ones used at Grand Central to broach the gap between some subway car entrances and the platform.