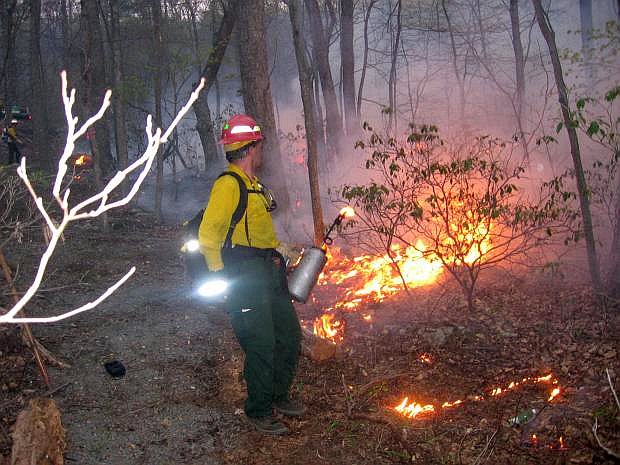 Spring wildfires in Virginia and Florida that began earlier this month have so far burned over 53,643 acres in the south, as of April 15.
The southern states have seen little rain and unseasonably warm temperatures. "Extremely dry fuels, warm temperature, low relative humidity, and windy conditions" are conducive to wildfires, according to the U.S. Forest Service (USFS)'s Incident Information System website, InciWeb.
In western Virginia, six wildfires in the rough terrain of the George Washington and Jefferson National Forests have been burning since April 6. Areas where the wildfires are located, like the Shipwreck Fire and Allegheny Fire, have poor access, challenging firefighter efforts.
The George Washington and Jefferson National Forests have issued immediate closure of the areas and roads surrounding the fires. As of Sunday, April 15, the Shipwreck Fire, which threatened a handful of homes and affected 4,000 acres, is now 100 percent contained, meaning a control line has been completed around the fire to suppress and control it.
Wolf Gap, Porter Mills, and Allegheny Fires are at least 80 percent contained. The Barbours Creek Fire, at nearly 4,000 acres, and the Rich Hole Fire are only 30 percent contained, as of Sunday.
Forest Service Public Information Officer (PIO) Marq Webb, commenting on the George Washington and Jefferson National Forests fires, said firefighters are using helicopters to drop water on the burning forests and working hard fighting the fire on the ground.
InciWeb reported good temperatures and low wind speed in the area, which may help the fires to burnout; reports also said smoke may continue to cover the Barbours Creek area.
In Florida, the Osceola National Forest wildfire is 65 percent contained as of April 15. Due to smoke, flight restrictions are within a 7-mile radius from the fire's center, up to 3,000 feet. Smoke is expected to remain light in the daytime but heavy in the evening as the smoke settles northwest of the County Line wildfire.
"Drivers should be cautious in areas where smoke is encountered on roadways. If smoke combines with fog in low-lying areas, then visibility can be reduced to hazardous levels. Drivers should slow down, turn on low beams, and obey any advisories," warns the InciWeb report.
The Osceola National Forest wildfire reportedly began April 5 as a result of a lightning strike. The land has seen little rain, preventing controlled burns this spring, which helps prevent larger forest fires. With such conditions the focus is on reducing fire-prone vegetation in the forest.
Fire-extinguishing efforts have been focused on reducing smoke particularly where there are "stump holes (old tree stumps that burned underground creating dangerous, hot ember-filled holes) and under-burned trees (trees with their roots burned off and ready to fall)," states InciWeb.
According to USFS and Osceola National Forest websites, the County Line Fire is burning in Pinhook Swamp in the northern portion of the forest, and poses no threat to the local community other than the smoke.
So far no one has been reported harmed by the forest fires.