The re-elected Marshall Liberal Government of South Australia will build a $700 million indoor sports and entertainment stadium in Adelaide's CBD in 2025.
South Australia Premier Steven Marshall announced the proposal on Friday, noting that the new Riverbank Arena will be built immediately west of the Morphett Street Bridge. The plan also includes an underground tunnel below Morphett Street linking it to the Adelaide Convention Centre, increasing the exhibition space by 5,600 square meters.
The construction will begin when works for the new Women's and Children's Hospital, which is estimated to cost up to $1.8 billion, is almost completed in 2025.
"This project will create jobs for South Australians and help cement Adelaide as one of the most liveable cities in the world," Premier Steven Marshall said in a media release. "Our investment will take recent government and private investment in entertainment and convention infrastructure along Adelaide's riverbank precinct to more than $2 billion."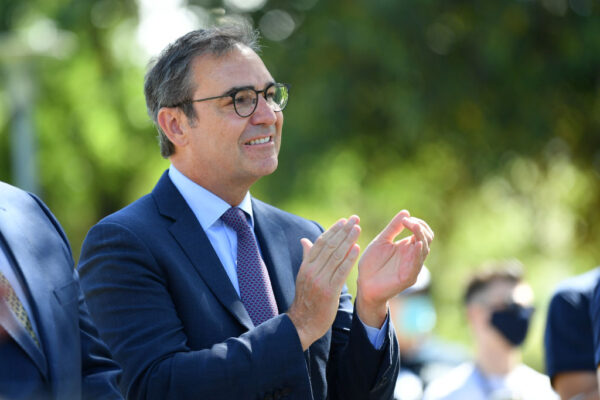 The government also said that the new stadium will help South Australia to attract major international conference and events, which the state can't bid for now with the current one.
As a new 15,000-person multipurpose indoor arena capable of hosting concerts, conventions, and court sports, the new stadium is expected to replace the Adelaide Entertainment Centre, which only has 11,300 seats in total with 9,600 for basketball and netball.
"Don't get me wrong; the Adelaide Entertainment Centre has served South Australia well; it's been in place for more than three decades," the premier said at a business gathering on Friday. "But it's too small; it's tired, and, quite frankly, it's in the wrong place."
However, the local football club is not happy with the plan's failure to include a soccer pitch, citing the bid for the upcoming FIFA Women's World Cup in 2023 as one example of the failure to consider all aspects.
"This is an extraordinary lack of vision by the Marshall Government," Greg Griffin, the former chairman of Adelaide United Football Club, told ABC. "If Adelaide wants to have any prospect of hosting games, this is the ticket to get the … biggest event in town.
The Labor leader Peter Malinauskas expressed no objection against the project but said the Liberal government has been "on-again-off-again" about the idea since the last election.
"It was first mentioned in the Governor's speech to Parliament last year, but by the middle of last year, they'd dropped it altogether and said it wasn't happening," Malinauskas told ABC.