JOHANNESBURG, South Africa—The Chinese immigrants trying to survive in Johannesburg's Chinatown these days are worried about their dwindling profits.
Inside the Shun De restaurant, tables are piled with steaming Cantonese dishes, from cha siu bao, or soft buns filled with barbecued pork, to lo bak go, or turnip cakes, to the ubiquitous roast duck. Patrons are enfolded in chairs draped with shiny scarlet material embroidered with gold patterns.
People chatter; chopsticks clatter simultaneously.
But it's usually much busier than this, says regular patron Yung Lo. The 44-year-old, an importer of Chinese electrical goods, says in broken English: "This place [is] traditional Cantonese. Plenty of Cantonese [used to] come here to eat. Now, many [are] gone. My friends, all gone. … They say no make money in South Africa."
It's places like this where the Chinese unease at an increasingly unstable South Africa, where their investments and earning powers are shrinking, is felt on a human level, far from political platitudes and cold economic analyses.
Chinese Leaving
Democratization in South Africa in 1994 coincided with the economic rise of China, and as Beijing began to expand its reach, many Chinese saw an opportunity there.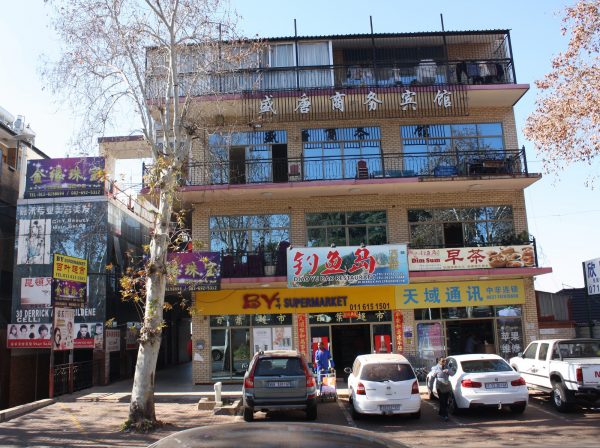 In 2010, there were as many as 500,000 Chinese nationals working in South Africa.
Erwin Pon, who heads up the Chinese Association of Gauteng, which represents Chinese interests in general in the province, says that number is now much lower.
Leo Peng, 37, owns a tiny store selling Chinese manufactured goods, everything from toy guns to blenders. He says he's doing his best to save up money to leave South Africa.
"I have a friend in Kenya, and he say things [are] much better there. Me, I'm getting no customers. No money here anymore, just crime. They rob me, already six times in two years," said Peng, grimacing.
"You just call me Sue," says an elderly Chinese woman with long, stringy hair outside her shoe shop in one of Johannesburg's "China malls" on smoky Main Reef Road, between the township of Soweto and central Johannesburg.
"When I came here in 1995, the rand was something like three to the [U.S.] dollar. I could get my products from China so, so cheap. Those days, they're gone. I struggle now. Also because many South Africans now also import from China. Competition is too much."
Sue gazes across from her store toward a couple of vacant shops.
"People [are] leaving," she says softly. "Chinese leaving."
Slowed Investment
Pon is a senior manager at a major bank, his job entailing continuous contact with Chinese business people.
He says larger Chinese companies and state-owned enterprises are still investing in South Africa, but private enterprise investment has slowed.
"The key thing is what return they can get, and the cost associated around that, and I've seen them go wherever the opportunities are. And I see a lot of them actually going to Southeast Asia. Southeast Asia's an area that's really developing," he said.
Pon says a lot of Chinese business people have left for countries such as Australia, the United States, the United Kingdom, and big cities in China, where they believe they'll have more business opportunities.
"South Africa's not really growing much. Investors see that, and they're even moving their money to other parts of Africa that seem to be growing more and are more stable," he said.
While the South African economy shows little sign of reviving, the government has consistently refused to divulge details about China's 411 billion rand ($27 billion) in loans, its officials only adding to the opacity by describing the biggest tranche of 370 billion rand ($24.5 billion) as a "gift."
In mid-October 2018, when parliament's Standing Committee on Finance asked Finance Minister Tito Mboweni for details of the terms of a loan, he replied: "I understand the concerns that the committee has regarding the loan. … However, China are our friends. It is very difficult to set rules when it comes to friends and money."
Should South Africa sink further into the economic morass, it could well find itself minus both.