A $2.5 billion loan from China to South Africa's largest utility company has come under scrutiny as local lawmakers accuse the Chinese regime of engaging in "debt-trap diplomacy."
China has aggressively courted African nations for investments seen as advantageous to its national agenda.
In the Congo, China has provided billions in aid, allowing it to secure rights to mine for cobalt, a material that's a key component to making lithium-ion batteries used to power electric vehicles—an industry targeted by Beijing for development. In Kenya, China has financed big-budget infrastructure projects, which has left the African country unable to pay its loans to Chinese entities.
At a recent cooperation forum in Beijing, China pledged $60 million to African nations, promising that government debt from Chinese interest-free loans due by year-end would be written off for the poorest African nations.
Chinese leader Xi Jinping embarked on a tour of African nations in July, striking business deals. Among them was a $2.5 billion loan from China Development Bank to help the scandal- and debt-ridden South African utility giant, Eskom, stay afloat. The company supplies more than 90 percent of the country's power and has 220 billion rand ($17 billion) of state-guaranteed debt, according to Reuters. As of the end of March, Eskom had debt of 399 billion rand ($30 billion), according to Bloomberg.
South Africa's Democratic Alliance party has raised concerns about the nature of the loan, and the possibility that the debt would burden the country.
"China's debt-trap diplomacy has already trapped the Zambian power utility and will no doubt be as ruthless on South Africa's power utility if Eskom defaults on the R33 billion loan from the CDB [China Development Bank]," the party's official Twitter account noted on Sept. 9. The Zambian utility company in question is Zesco, which African media outlets reported is currently in talks with a Chinese firm to hand over control, after Zambia was unable to service the debt.
In South Africa, Democratic Alliance leader Mmusi Maimane threatened litigation against South Africa President Cyril Ramaphosa if the latter didn't disclose terms and conditions of the loan from China, according to a Sept. 9 report by EWN Eyewitness News, a South African news outlet.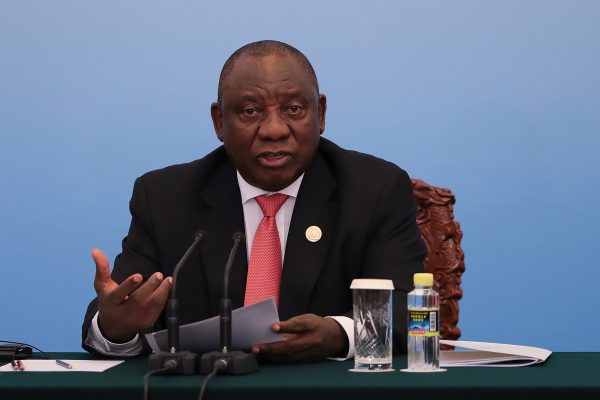 Previously, Eskom Chief Executive Phakamani Radebe had said Eskom will fund the repayment of the loan itself, which represents 62 percent of the funding Eskom needed for this financial year, he said.
On Sept. 11, Ramaphosa provided more detail about the loan while answering questions from South Africa's upper house of parliament, the National Council of Provinces. The loan will be used for the construction of a coal-fired power station, which Eskom must repay beginning in 2020, through 20 installments in 10 years, according to an EWN report.
The president rejected the idea of becoming trapped by debt to China. "We are very jealous of our assets and will not hand over South Africa to any other country or any other entity—that I can assure you of," EWN cited Ramaphosa as saying.
Ramaphosa added that the China Development Bank doesn't have direct or indirect ownership of Eskom assets.
But the worry expressed by some South African lawmakers are understandable, given the track record in countries such as Djibouti and Kenya, where projects with China have led to Beijing becoming those countries' largest creditor and allowed the Chinese regime to exert influence in the bargain.