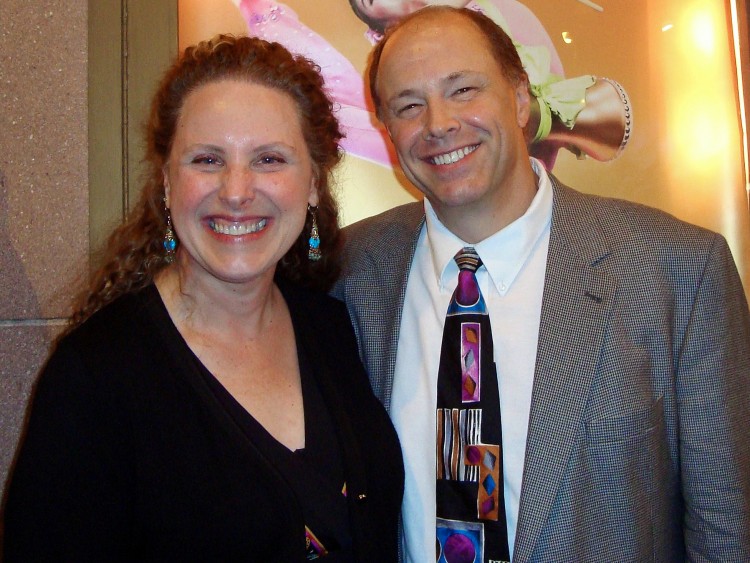 PHILADELPHIA—Shen Yun Performing Arts was a display of consummate balance to soprano Kay Krekow and Dr. Harry Dunstan, tenor and founder of the American Center for Puccini Studies.
The two attended the performance at Philadelphia's Merriam Theatre on May 9.
"They may not realize this, but, something in everybody who was in this building tonight changed because of what they heard and what they saw," Ms. Krekow said.
Mr. Dunstan, who has toured with major orchestras and opera companies throughout the nation, recognized the musical arrangement in Shen Yun as a culmination of the histories of the East and West.
"The musical language finally evolves to what we could hear tonight, where there's a happy confluence of East and West," he said. "And the Eastern thought, which was so far ahead of its time, now has a happy partner in Western music."
Classical Chinese dance, an ancient and comprehensive dance system, forms the core of a Shen Yun performance. Along with colorful, handcrafted costumes, digital backdrops, and award-winning vocalists, a unique orchestra accentuates the dancers.
"A Western philharmonic orchestra plays the foundation, while traditional Chinese instruments lead the melodies," states Shen Yun's website. "The sound produced is uniquely pleasing to the ear. The ensemble at once expresses both the grandeur of a Western orchestra and the distinct sensibilities of China's 5,000-year-old civilization."
"It's beautiful," said Ms. Krekow. "It's fascinating. And it's the perfect use and balance of all of the instruments because they all complement each other."
Shen Yun's tenors and sopranos may have impressed the two even more.
Mr. Dunstan was so touched by the singing that he started crying at the first song, "and it didn't stop."
"There were so many times that I was sitting there thinking, 'I am not alone,'" he said.
"For me as a singer, I live so much with words. The dancing is very moving too, and some of it is beyond what I can understand technically," he explained. "The singing and the text I can understand and it's the immediacy of understanding the beauty of this thought that life is ephemeral and there is so much danger around us, but you have to move forward."
Shen Yun's vocal soloists use the bel canto vocal technique while singing Chinese lyrics, requiring an unparalleled level of mastery, explains Shen Yun's website.
"The lyrics are all original compositions," it adds. "Brimming with philosophical reflection about human life and deep layers of meaning, they traverse the boundaries of nation, race, and culture and have been fondly received and appreciated the world over. Some audience members even call Shen Yun's songs 'hymns.'"
"The text, first of all, is so beautiful," said Mr. Dunstan. "They [the audience] understand it at its emotional core, and that's what music speaks to immediately."
"What we're hearing here with these songs, we have to understand the temporality of this existence, yet the permanence of this existence—that we're all creatures of transition. And I think something like tonight's performance helps us understand the regenerative nature of the eternity of the soul and rejoice in this corporeal existence."
Ms. Krekow agreed. "I think what's so wonderful about this particular show and the intentions behind it is that this represents a confluence of all those thoughts that it is accessible on a poetic level, on a visual level, on an auditory level, and it combines all of those things to access us not only on a human level, but on a spiritual level as well—it's the perfect confluence of things."
Mr. Dunstan said he has much hope for the future because of groups such as Shen Yun.
"Because they are unafraid to put their hearts on their sleeve and say 'art should stand for something,'" he said.
After more than 60 years of communist rule in China nearly decimated traditional Chinese culture, New York-based Shen Yun began touring the world to "revive the 5,000 year old, divinely inspired culture of China," according to its website. The three faiths of Confucianism, Buddhism, and Taoism, imbued the culture with "a rich and profound system of values," such as "the five cardinal virtues of benevolence, righteousness, propriety, wisdom, and faithfulness."
The ancient culture surpassed many of the advancements considered modern today. "Eras like the Han, Song, and Tang Dynasties are replete with brilliant doctors, poets, and generals who devised medicines, prose, and military tactics that would leave many of today's experts in awe," states the website. The artists of Shen Yun, says Shen Yun's program book, "take to heart an ancient Chinese belief: that to create true art, there must first be inner beauty."
Shen Yun translates into English as 'the beauty of divine beings dancing.'
"It's a perfect description," said Ms. Krekow. "The faces of so many of the dancers were just divinely inspired. They were elsewhere, and yet they were communicating with us. They were otherworldly, and yet they were here."
Ms. Krewkow left the performance with enlightening realizations.
"The world now has to listen because it has support, not only from an audience, but from the performers, who are obviously unafraid and brave and committed and excited and happy—because they're able to do this," she said.
Reporting by Pamela Tsai and Zachary Stieber.
Shen Yun Performing Arts, based in New York, has three touring companies that perform simultaneously around the world, with a mission to revive traditional Chinese culture. The season concludes this month with performances in Honolulu and Buffalo.
For more information, visit ShenYunPerformingArts.org.
The Epoch Times publishes in 35 countries and in 19 languages. Subscribe to our e-newsletter.