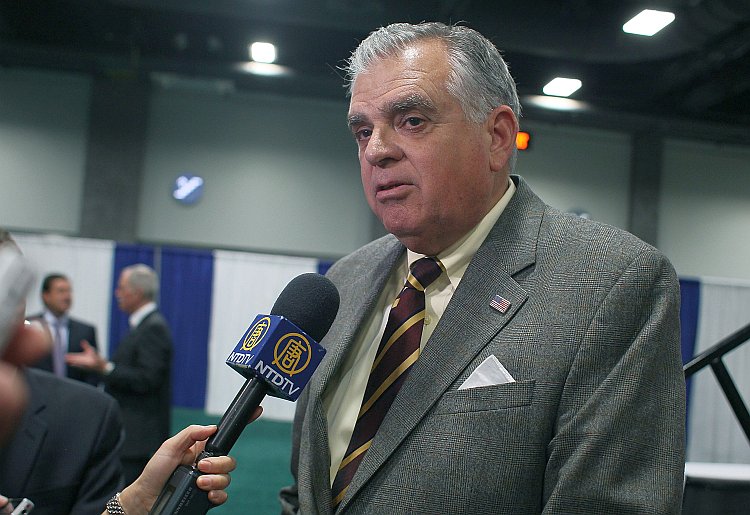 Sam LaHood, the son of Transportation Secretary Ray Lahood, has been barred from leaving Egypt. He, along with several other US citizens and members of nongovernmental organizations (NGOs), were reportedly placed on an Egyptian no-fly list.
Sam LaHood is the director of the Egyptian program for the International Republican Institute (IRI), one of several Congress-backed groups and NGOs monitoring Egypt's parliamentary elections.
Lorne Craner, president of IRI, told Politico in an interview that LaHood and other IRI employees "Have not been given a reason," as to why they could not leave, and still have their passports "for now." In the wake of last years uprising in Egypt, the country's military-controlled government has been accused of an increasingly harsh crackdown on pro-democracy NGOs.
According to a press release from Assistant Secretary Michael H. Posner of the Bureau of Democracy of Human Rights and Labor, in December Egyptian security forces raided the offices of seven NGO's, including four U.S.-based organizations, "confiscating files and computers, and subsequently subjecting their employees to investigation."
Posner said, "We strongly urge the government to redress this situation. It is time for Egyptians to create an environment where members of social organizations of all kinds, including human rights and democracy advocacy organizations, are able to operate freely, consistent with universal human rights standards."
Sen. McCain spoke out against the detainment, saying that the crisis in Egypt had taken a "new and disturbing turn," with the news that the government had prohibited these American citizens from leaving the country. "These individuals and the organizations that employ them have broken no laws, and indeed, have made every effort to comply with the statutes, regulations, and requests of the Egyptian government," McCain said.
"I fear for the safety of all of the employees of these NGOs—Americans, Egyptians, and others—especially those who have been barred from leaving the country," he added.
On Thursday, the chairman of the European People's Party (EPP Group), Joseph Daul MEP, also spoke out, saying, "On behalf of the EPP Group in the European Parliament, we would like to express our solidarity and support to your Cairo-based staff following the disturbing news that they are being prevented from leaving Egypt. Unfortunately, this is not the first worrying news we receive, and it seems that the situation for U.S. and foreign NGOs in the country is not improving, but rather the opposite."
Victoria Nuland, spokesperson for the State Department, said that they are "urging the government of Egypt to lift these restrictions immediately and allow folks to come home as soon as possible." She said that the president has been working with the Egyptians, stressing the importance that NGO's can play in a civil society.
Representatives from the Egyptian Consulate could not be reached for comment.