Son of Chinese Official Sexually Assaults Woman, Dad Tries to Cover Up
July 3, 2013 7:30 am Last Updated: July 3, 2013 4:43 pm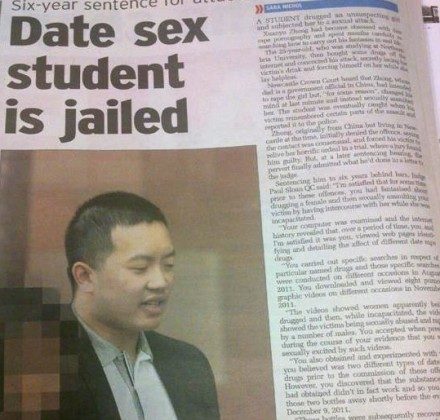 The son of a Chinese official was sentenced on June 28 to six years in an English prison for sexual assault, despite his father's attempts to pressure the victim into keeping silent. 
Xuanyu Zhong, 25, was found guilty in Newcastle Crown Court for drugging a woman and then sexually assaulting her.
In the months leading up to the crime, Zhong, originally from China, was attending Northumbria University in Newcastle, England. He was also Googling date-rape drugs and watching hours of rape videos, detectives probing his computer found. Zhong later admitted to the plaintiff's lawyer that he found the idea of rape to be sexually exciting. 
Zhong had previously tried two other kinds of drugs before settling on a third which he used on a woman. Then in December of 2011, he gave the woman a drink laced with the drug. He was about to rape her when he suddenly changed his mind and sexually assaulted her instead.
To cover up his son's crime, Zhong's father, the Chinese regime official, working with a friend, traced the locations of the woman and harassed her with threatening phone calls and text messages, pressuring her not to testify, according to Reuters. Reuters did not say where the father allegedly conducted those activities. The woman withstood the coercion and reported to police her patchy memories of the night she was assaulted.
Netizens on Sina Weibo, China's popular Twitter-like platform, criticized the father's actions in attempting to help his son escape the law. 
A netizen based in Zhejiang Province commented, "His father was spoiled by China into thinking that he could fool anyone, anywhere."
"Threatening the victim? After living in a lawless country, one's brain has also gone out of order," said a Beijing netizen.
A Heilongjiang Province netizen mocked Zhong, writing, "Silly man, did you think that everywhere was your bastard dynasty?", using an altered Chinese character of the phrase for "dynasty," specifically created by netizens for attacking the Chinese Communist Party. 
Judge Paul Sloan, who presided over the trial, declared that Zhong had committed premeditated sexual assault; the latter pleaded not guilty to the crime, claiming that the contact had been consensual. The maximum penalty for sexual assault is 10 years of imprisonment. 
At a later sentencing hearing, Zhong admitted his crimes in a letter to a judge, detailing his remorse and reasons for not confessing his guilt earlier.