Some Tech Goes Obsolete Before City Closes Deals
May 19, 2014 7:29 pm Last Updated: May 19, 2014 7:40 pm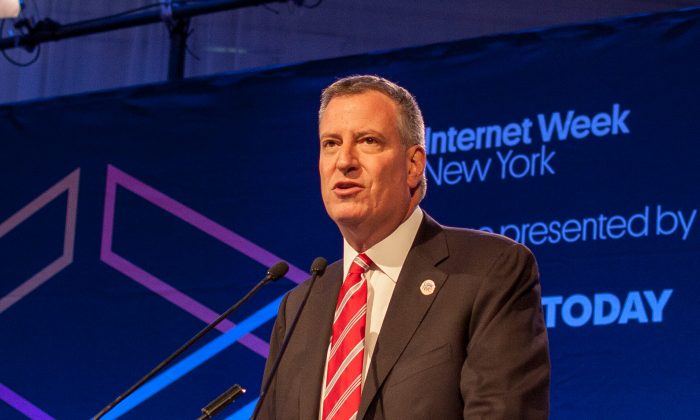 NEW YORK—The city's process for buying technology should be more flexible, Mayor Bill de Blasio said at the Internet Week festival in Manhattan on Monday.
"We know the city government has so much it can do more effectively when it comes to technology," de Blasio said.
De Blasio said that members of the industry complained to him that the process between the initial request for proposals and the moment the city closes the deal "takes so long that by the time the process is complete the technology has already changed."
The industry, the mayor said, wants a "more flexible, interactive, communicative process" and he wants to deliver just that.
"We're committed to doing that. We know it can be done," de Blasio said.
Yet the idea may hard to put in practice.
Even though the City Hall may know the ends can be met, it seems unclear on the means. "We need your help figuring out how to do that," the mayor said to the crowd tech industry leaders.
The Mayor's office didn't immediately provide any details regarding the idea, but City Comptroller Scott Stringer in the past voiced the opposite concern.
In February, he stopped a $10 million no-bid contract to upgrade the city's 311 information hotline saying it was rushed by the previous administration.
"We have got to stop the technology boondoggles, and the only way to do that is to slow these contracts down," Stringer said, according to Daily News.
He also said he'll keep an eye out on technology procurement in the future.
"We're going to be looking very closely at technology contracts, because this is the place where cost can balloon," Stringer told Brian Lehrer during his Feb. 5 radio interview.
In March Stringer stopped a $30 million no-bid contract with Computer Aid, Inc., that would outsource to the company the selection and oversight of all city's IT consultants. He said it was an "unproven service model which provides no adequate fail-safe if the system is unsuccessful."
The Comptroller's Office didn't immediately respond to a request for comment.