The ancient Greeks are credited with inventing at least one "computer," the Antikythera mechanism (although to be fair, the device isn't exactly a computer), but some people are claiming the Greeks invented another one that's closer to home.
Reports this week, including one from the Daily Mail, are including claims that a female assistant in the sculpture, "Grave Naiskos of an Enthroned Woman with an Attendant," is holding a laptop with not one, but two "USB ports."
Conspiracy theorist and YouTuber StillSpeakingOut has stated: "I am not saying that this is depicting an ancient laptop computer," per the Daily Mail.
"But when I look at the sculpture I can't help but think about the Oracle of Delphi, which was supposed to allow the priests to connect with the gods to retrieve advanced information and various aspects."
Or, it could just be a chest. Or a box. Or a stone or wax tablet for writing.
Some have noted that the ancient Greeks used wax tablets that look similar to the one the attendant is holding. They've been used since as far back as the 14th century BC.
Here's a painting done by Douris, a Greek vase painter, from around 500 BC of a man holding a stylus and a folding wax tablet: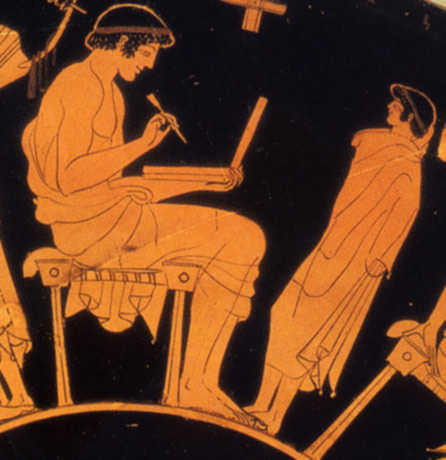 Here's a Roman scribe with his stylus and tablets on a tomb in Flavia Solva in Noricum.

But the Antikythera Mechanism is much more interesting. The device has fascinated scientists since it was first found in 1901. It's about the size of a laptop, and was able to calculate astronomical changes with great precision, which scientists thought wasn't possible for the ancient Greeks.
The mechanism was discovered on a Roman ship that may have actually been of Greek origin. 

—