Some NFL cheerleaders have explained why they're not taking a knee for the national anthems—like some of the players have done.
"Definitely the financial compensation isn't high enough where you're concerned about paying rent … but certainly if you're creating waves you could lose your spot," Danetha Doe, an Indianapolis Colts cheerleader, told NBC News.
"Ten years ago I was 18, 19 and still finding my own way," Doe, who is black, said. "I would not have participated. I was one of a handful of minority cheerleaders. It would have been challenging to be the only one."
Kara Kay, a former cheerleader with the San Diego Chargers, said that cheerleaders wouldn't add much to the protest.
Why Aren't NFL Cheerleaders Protesting During the Anthem? – NBC News https://t.co/mRZ2WUG7vn

— Robert Mouton (@RobertMouton4) October 15, 2017
"I think football players kind of represent their own entity as well as their team," Kay said. "We're representing the coach and the team. It's not like a single entity. If I kneel, no one knows my name."
Another cheerleader added that a sense of a unity is needed among cheerleading squads.
"We work hours and hours of being in line and on your mark, so I guess you can relate it to that," said Melanie Brown, a cheerleader for the Seattle Seahawks and Chargers. "If one girl isn't doing the same thing as another girl, it might be something that needs to be discussed."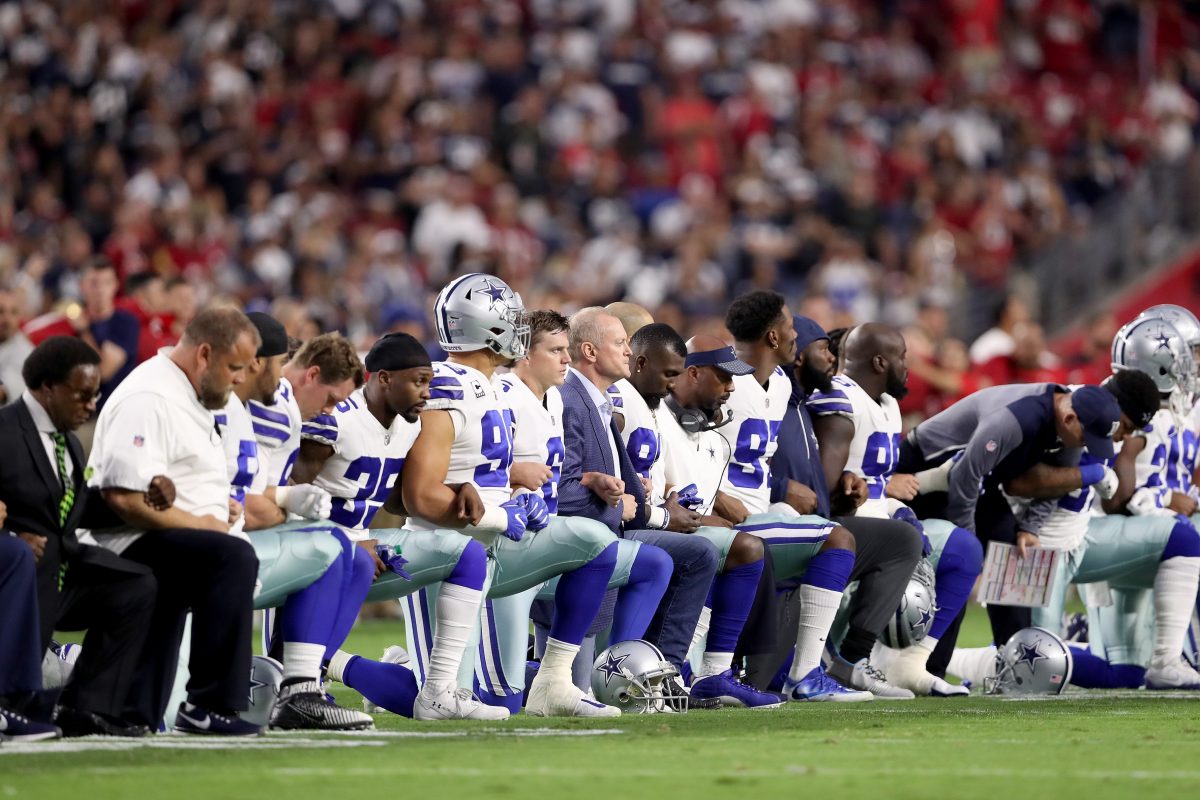 Last week, an NFL spokesman said the league isn't looking to mandate players to stand for the national anthem.
"(Goodell) has a plan that he is going to present to owners about how to use our platform to both raise awareness and make progress on issues of social justice and equality in this country," NFL spokesman Joe Lockhart said on a conference call, Reuters reported.
Commissioner Roger Goodell, along with the head of the NFL Players Association, will meet with the owners from Oct. 17-18 in New York where the issue of player protests during the national anthem is expected to command much attention.
"What we don't have is a proposal that changes our policy, we don't have something that mandates anything. That's clear. If that was the case I doubt the head of the NFLPA would have put a joint statement out with us."
The statement released on Wednesday said Goodell invited NFLPA Executive Director DeMaurice Smith to the meetings and that the agenda will be a continuation of how to make progress on the important social issues that players have vocalized.
The protests, in a league where African-Americans make up the majority of players, have continued through the current season, with some players kneeling and others standing arm-in-arm in solidarity.
The focus on the anthem protests came after U.S. President Donald Trump said last month that players who did not stand during the anthem should be fired.
Lockhart said the discussions will focus on how to use the broad platforms of the NFL, players, and clubs to try and make progress on issues of equality, social justice and criminal justice reform.
"These are issues that are important to our clubs, issues that are important to our players, issues that are important to the communities in which we play," said Lockhart.
"That's what we are discussing. So for everyone who has speculated over the last few days that somehow there is a proposal that is set for a vote on Tuesday or Wednesday you are speculating.
Reuters contributed to this report.