Some 13,000 fewer people voted in Milwaukee in the 2020 election, compared to 2016. But in several neighborhoods, the number of ballots cast dramatically increased.
In one city ward, more than 105 percent of the eligible voting population cast ballots, based on demographic data from 2010—the most recent the city makes available. Another four wards had a turnout of more than 92 percent.
Wisconsin is one of the states in which President Donald Trump is contesting the results, which show his opponent, former Vice President Joe Biden, ahead by some 20,000 votes in unofficial results.
Milwaukee, a city of nearly 600,000, is divided into more than 300 wards, each reporting election results for its residents.
Ward 235 recorded 1,768 votes of which 1,391 were for Biden and 339 for Trump. But the ward only had a voting-eligible population of 1,680, according to the Milwaukee city election commission demographic data, which matches the 2010 census results.
It's possible the ward's population has increased in recent years. It does sport several new apartment buildings and reports more than 2,100 registered voters. But voter registrations don't necessarily reflect how many people actually live there. Most commonly, many voters don't cancel their registrations when they move.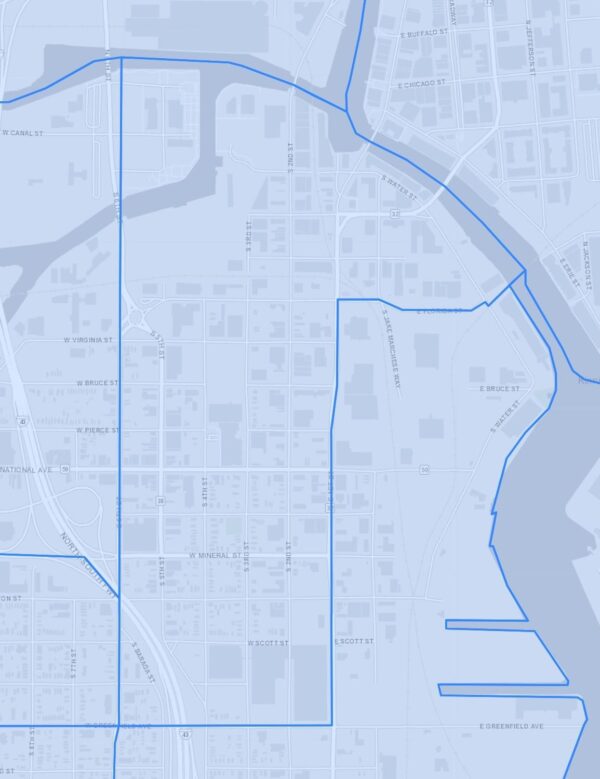 The Wisconsin Election Commission (WEC) sent notices to more than 230,000 voters last year urging them to confirm their registration upon discovering that they may have moved. Based on state law, WEC was supposed to deactivate registrations of those who didn't respond within 30 days—more than 200,000 of them—but in mid-2020, it decided not to do so.
The Wisconsin Institute for Law and Liberty (WILL), a right-leaning nonprofit, sued WEC to force it to comply with the law, but the case hadn't been resolved in time for the Nov. 3 election and is pending before the state's Supreme Court, WILL spokesman Collin Roth told The Epoch Times via email.
Based on the 2010 data, wards 93, 183, 177, and 186 had a turnout this election ranging from more than 92 percent to nearly 97 percent respectively. Collectively, they represent nearly 8,000 ballots cast and almost 6,000 votes for Biden.
No city ward crossed the 90 percent threshold in 2016.
Several other wards reported massive vote increases compared to 2016. In wards 234 and 241, about 44 percent more people voted this time. In wards 187 and 178, the count increased by close to 37 and 33 percent respectively. Together, they account for more than 4,300 ballots cast and more than 3,400 votes for Biden. All are in the same geographic area as the five wards with unusually high turnout.
The increases stand out as the city's overall vote count dropped by nearly 4 percent compared to 2016. Between 2010 and mid-2019, the city has lost more than 4,000 residents, the Census Bureau says.
All in all, the city reported nearly 250,000 votes this time, almost 79 percent for Biden. The county, which includes several surrounding municipalities, went for Biden by some 69 percent. In both cases, Biden did about 2.7 points better than former Secretary of State Hillary Clinton in 2016.
"The Milwaukee County Election Commission wants all eligible voters to register and exercise their right to vote," Milwaukee County Clerk George Christenson said in a statement emailed to The Epoch Times.
"In 2020, we continued to educate voters about the process for registering to vote in advance of the 2020 general election. I am thrilled that so many people cast a ballot in the general election. More people voting is an indication of a healthy democracy."
The county's spokesman, Brian Rothgery, said that turnout could exceed 100 percent "when a ward contains only a couple households and a resident of that ward turns 18 prior to Election Day, and wasn't included in the eligible voter population."
That wouldn't apply to the Milwaukee ward in question, which has a population of about 2,000.
"I can't explain why voter participation increased in certain wards other than campaigns were able to successfully motivate more people to vote in those wards than in previous years," Rothgery told The Epoch Times via email.
He directed questions about the city data to Milwaukee authorities. The Epoch Times asked the city's Election Commission for comment and further explanation, but hasn't received a response.
The Trump campaign requested recounts in Milwaukee and Dane counties, alleging "illegally altered absentee ballots, illegally issued absentee ballots, and illegal advice given by government officials allowing Wisconsin's Voter ID laws to be circumvented."
The Wisconsin Elections Commission agreed to the request on Nov. 18, after nearly a six-hour argument between its three Democrat and three Republican members.
The campaign is also challenging the results in Pennsylvania, Michigan, Georgia, Arizona, and Nevada. In all of them, Biden holds a tight lead. Wisconsin holds 10 electoral votes of the 270 needed for a victory.