Customs and Border Protection (CBP) won't release the number, but it's likely that the jobs of thousands of Border Patrol agents are on the chopping block if their requests for COVID-19 vaccine exemptions aren't accepted, or if they simply refuse to take the jab.
Agents were required to report their vaccination status and submit relevant exemptions to the department by midnight Nov. 8, and face termination if not fully vaccinated by Nov. 22.
Several Border Patrol agents told The Epoch Times that they'd prefer to keep their jobs, but are preparing to be fired if the agency denies their religious exemption.
"I've made peace with it," said one agent who works in the Rio Grande Valley in Texas, the busiest border sector in the country. "Even if I do get fired, that's the price I'm willing to pay. I'm not willing to give you my freedom."
The agent said he's already applied for several other jobs, but would have to accept a large cut in pay and lose many of his retirement benefits if ousted from the patrol.
"It's a betrayal. You put me on the front lines, and now, you're doing this to me," the agent said, referring to the Biden administration's mandate.
The agent, a former Marine, said he considers the mandate a signal of government overreach. Vaccination should instead be a choice, the agent said, noting that he already has natural immunity after catching the CCP (Chinese Communist Party) virus.
The CCP virus, commonly known as the novel coronavirus, is the pathogen that causes COVID-19
"I really believe in a free country. And I believe that we're walking down a road that we're not going to be able to turn back around here pretty soon. But I'm not going to go down without a fight," he said.
He's retained a lawyer and is preparing to join a lawsuit against the mandate, but hopes his religious exemption will be accepted.
The religious exemption form that many agents submitted included questions that ask how long the individual has held their religious beliefs; which, if any, vaccines they have received as an adult; and if they don't have a religious objection to all vaccines, why they have an objection to particular vaccines.
The form also asks agents to list any other medicines or products that they don't use because of the religious belief underlying their objection.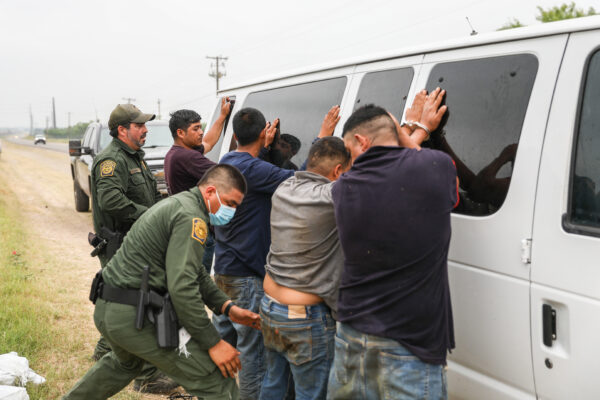 Agents have heard that the military has denied all exemptions and are concerned that the Department of Homeland Security will follow the Pentagon's lead.
A group of Navy personnel, including 26 Navy SEALs, filed a lawsuit in Texas on Nov. 9 against President Joe Biden, Secretary of Defense Lloyd Austin, and Navy Secretary Carlos Del Toro. The lawsuit, brought by the First Liberty Institute, argues for the plaintiffs' "fundamental right to the free exercise of religion and protection from agency action that is unlawful, contrary to law, and arbitrary and capricious."
In another lawsuit, federal workers who have recovered from COVID-19 and have acquired natural immunity to the virus are suing Dr. Anthony Fauci, director of the National Institute of Allergy and Infectious Diseases, and other government officials over a COVID-19 vaccine mandate that still forces them to get a jab.
The lawsuit states that the government not only failed to offer an exemption for naturally immune workers, but neither Biden's executive order nor the guidance explaining it outlines why naturally acquired immunity isn't an acceptable alternative to vaccination.
'Buying Time'
Another Border Patrol agent said he's been looking for a new job, but career opportunities are proving difficult to find, especially if he'd prefer not to uproot his young family.
Not being vaccinated was an easy decision, he said, but the potential job and financial consequences are hard to bear.
"Rights are either God-given as part of the divine plan, or they are granted by government as part of the political plan," the agent told The Epoch Times.
"If I accept the premise that human rights are granted by government, then I must be willing to accept the corollary that they can be denied by government.
"I, for one, shall never accept that premise."
CBP spokesperson Tammy Melvin declined to provide the reported vaccination numbers to The Epoch Times, but wrote in an email on Nov. 10 that "federal agencies, including CBP, are laser-focused on vaccinating their workforce ahead of the November 22nd deadline for federal employees."
The day after the Nov. 8 reporting deadline for Border Patrol agents, the CBP added a "reinstatement" clause to its internal website, according to a source who prefers to remain anonymous due to fear of repercussions.
The clause states: "Employees who hold career or career-conditional appointments and are removed from federal service for refusing to comply with the COVID-19 vaccination mandate would be able to seek reinstatement.
"The path to reinstatement, however, can be time and labor intensive. … Reinstatement as well as position and duty location are entirely at CBP's discretion—there is no entitlement to former employees."
Speaking at a press briefing at the White House on Oct. 20, Centers for Disease Control and Prevention (CDC) Director Dr. Rochelle Walensky said the administration doesn't want to "punish" federal workers who don't get vaccinated by their given deadline and will instead offer them education and counseling in an effort to persuade them to have the shots.
"For the small number of people who do not comply by the deadline, the first step is a period of education and counseling," Walensky said.
One of the Border Patrol agents said he's expecting to be placed into a seven-day counseling program regarding the vaccine. If he still refuses, he'll be placed on unpaid leave for a week, which then will escalate to 45 days unpaid leave before final termination.
He said his lawyers are advising that he file an anti-discrimination complaint if his religious exemption is denied, "because we cannot be separated from the service as long as there's a complaint."
"At this point, we're buying time," he said.
He's been with the Border Patrol for almost 20 years and said the agency can't afford to lose agents.
"We barely have enough manpower to do what we're doing now."
Border Patrol agents also said it's a double standard that illegal border-crossers aren't required to be vaccinated and are subsequently transported all over the country.
Meanwhile, in the private sector, the U.S. Court of Appeals for the 5th Circuit has extended its stay on the government's COVID-19 vaccine mandate that requires all private businesses with 100 or more workers to require COVID-19 vaccines or weekly testing.
The three-judge panel called the mandate "staggeringly overbroad" and "fatally flawed" in its first decision and said it "raises serious constitutional concerns" in its reaffirmation.