OTTAWA—Canada is exploring how best to challenge the hefty import duties being slapped on Canadian softwood lumber exported to the United States, promising to support Canadian workers and companies in what is expected to be a lengthy—and difficult—battle.
Some people are going to lose their jobs, Natural Resources Minister Jim Carr warned April 25 after the U.S. Department of Commerce announced import duties of as much as 24 percent on Canadian softwood companies.
"If we look at the history of these trade actions there inevitably will be job losses," Carr told a news conference in Ottawa.
"We will focus our efforts on doing whatever we can to ease the impact of those job losses. That is the reality of this countervail."
It's the fifth time since 1981 that Canada and the United States have sparred over softwood, and Canada has prevailed every time it has challenged the United States through the North American Free Trade Agreement, the World Trade Organization, or in the U.S. court system.
"We have won them all," Carr said.
Canada's best course of action, however, won't become clear until after it receives the reasons for the U.S. decision. And any challenge likely won't come before January at the earliest, since final U.S. determinations on softwood won't be in place until November or December.
Lumber prices are high right now, and the reality is the United States needs our lumber.
The United States is going to decide on any anti-dumping duties in June, which will be applied on top of the countervailing duties. Those duties will take effect as soon as they are published in what is known as the federal register, sometime in the next week.
Neither government nor industry was willing to say exactly what the impact is going to be. In 2001 when the last softwood dispute exploded, British Columbia alone lost 15,000 jobs from the forest industry in just a matter of months.
There are some differences now compared to 2001, however. For one, softwood prices are at record highs, which could help soften the blow if they stay that way.
The duties were in the range of what was expected and will be a burden for lumber producers, said Derek Nighbor, president of the Forest Products Association of Canada
"There is no short-term fix," Nighbor said, noting it was almost five years the last time from when duties were first imposed until the negotiated agreement was in place.
Canada and the United States are still trying to negotiate another softwood deal and Canada is prepared to make concessions like in 2006 that would impose quotas and smaller tariffs on Canadian softwood.
So far, however, the American demands have been more than Canada considers reasonable.
"We remain confident that a negotiated settlement is not only possible but in the best interests of both countries," said Carr.
Canada pushing back
Foreign Affairs Minister Chrystia Freeland is shooting back at President Donald Trump's anti-Canadian trade rhetoric, saying she will be "tough and strong" in fighting for Canada's economic interests with the United States.
Freeland also says she is optimistic a new softwood lumber deal can be reached, and that it will be a win for both countries. She says she has had discussions with Commerce Secretary Wilbur Ross in recent days and some progress has been made, but there's no sign of a deal yet.
"It's good to treat people with respect," Freeland said April 26 in a conference call from Berlin, where she was attending G20 meetings.
"Having said that, I want to assure you, and I want to assure Canadians that I am absolutely firm and absolutely tough and strong."
Freeland says the United States is dependent on Canadian softwood because its own industry can't meet its domestic demand.
"Lumber prices are high right now, and the reality is the United States needs our lumber," she says. "Middle class Americans who want to [build] a house need Canadian lumber to do that."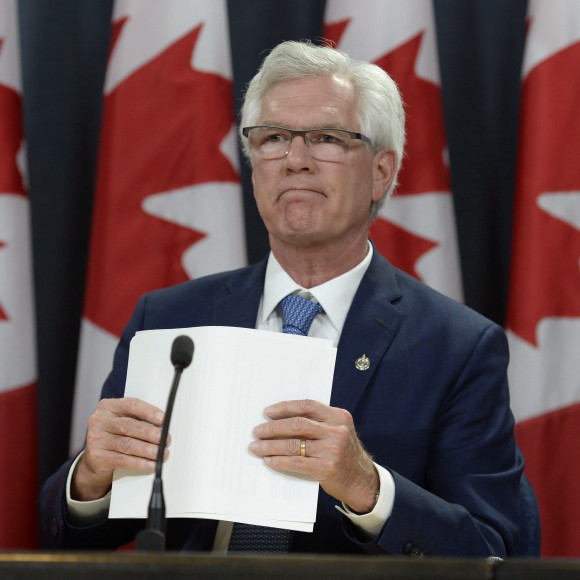 Prime Minister Justin Trudeau said he told Trump in an April 25 phone call that the U.S. commerce department levelled "baseless allegations" when it imposed "unfair duties" on Canadian softwood this week.
Canada is arguing the duties will negatively affect the American economy in higher prices for new homes and job losses in the U.S. housing industry.
Canada's smallest producers might be hit hardest. All but Canada's four largest softwood producers have to pay the duties retroactively for 90 days.
Carr said there are already a number of programs in place to help the industry, including loan guarantees through the Business Development Bank of Canada and Export Development Canada.
The government is also reaching out to a number of other countries including China, South Korea, and the U.K. to promote Canadian softwood and diversify the Canadian export market.
About 70 percent of Canadian softwood exports went to the U.S. in 2015.
Federal-provincial task force

Carr is reconvening a provincial-federal task force on softwood lumber later this week to look at what else can be done without triggering additional U.S. charges of unfair subsidies.
On April 24, Prime Minister Justin Trudeau held a conference call with provincial and territorial premiers to discuss the softwood dispute, as well as Trump's recent broadsides against the Canadian dairy industry. David MacNaughton, Canada's ambassador to Washington, participated in the call.
According to the Prime Minister's Office, the first ministers "acknowledged that while Canadians are polite and fair, we will always strongly defend Canadian interests."
"The prime minister and premiers agreed to continue to vigorously defend the interests of the Canadian softwood industry across the country, including through litigation, and agreed that a negotiated settlement is in the best interest of both Canada and the United States," the PMO said in a summary of the call.
"We're pleased with the response today," Nighbor said of the government's response. "We know they're standing with us."
None of the actions the United States took this week were unexpected, Carr said.
"I would not use the word 'surprise' to characterize reactions to politics in the United States right now," he said.
"From the moment that this administration won its term in office, we have reached out to them to make the arguments that the bilateral relationship between Canada and the United States is in the interest of both countries."
Meanwhile, the White House is telling U.S. media that it's weighing a plan to pull out of NAFTA, upping the pressure on Congress to get cracking on negotiations under the threat of having the seminal trade deal obliterated.
Various media say Trump is considering drafting an executive order withdrawing from the trade agreement with Canada and Mexico, a prospect that would terrify industry and business-friendly lawmakers.
It's unclear whether Trump is seriously considering a pullout, or using it as a threat. CNN says he might simply go ahead with renegotiations, as planned.
From The Canadian Press