TRAPPES, France—At the "Friz-Lys" styling salon, Jocelyne Gisquet is luxuriating in the freedom of answering emails with a laptop balanced on her knees while having her hair curled. Working where she wants, when she wants, are among the pay-offs of the 45-year-old's bold step last year to quit a stable job as a marketing director at one of France's largest multinationals to set up in business for herself.
That risk-taking spirit of get-up-and-go is what French presidential hopeful Benoit Hamon hopes to unleash on a national scale with his radical proposal that all French adults—rich and poor, working or unemployed—be paid a modest but regular monthly no-strings-attached salary to give them the freedom to try new things without the fear of unpaid bills.
Hamon's campaign for "universal income" has catapulted him from obscurity on the left wing of the ruling Socialist Party to within touching distance of its presidential ticket. With 35 percent of the vote in the Socialist primary's first round, the 49-year-old is in pole position to beat ex-Prime Minister Manuel Valls, who got 31 percent, in the decisive second-round ballot on Sunday.
But in Trappes, the blue-collar town west of Paris where he is the elected lawmaker, Hamon hasn't won over Gisquet or her stylist, Francoise Larcher, weaving bright plastic rollers into the entrepreneur's hair.
Where Hamon sees 750 euros ($800) per month for all liberating the French and their creative forces, and cushioning them from a predicted automated future of fewer jobs for humans, Gisquet and Larcher see just another state handout that France neither needs nor can afford.
"That's the problem with the left. They are far too utopian," said Gisquet. "They make promises they can't keep. That's intolerable."
That opponents of his signature proposal are so vocal and easy to find even in Hamon's district, where he vacuumed up 55 percent of votes in the primary first round last Sunday and where people warmly describe him as a salt-of-the-earth type who is generous with his time, gives a foretaste of the steep uphill battle the expected Socialist Party candidate will face in France's presidential election in April and May.
In his favor: Quitting Francois Hollande's government (he was education minister) in 2014 put distance between Hamon and the Socialist president whose catastrophic unpopularity killed his own hopes for a second five-year term.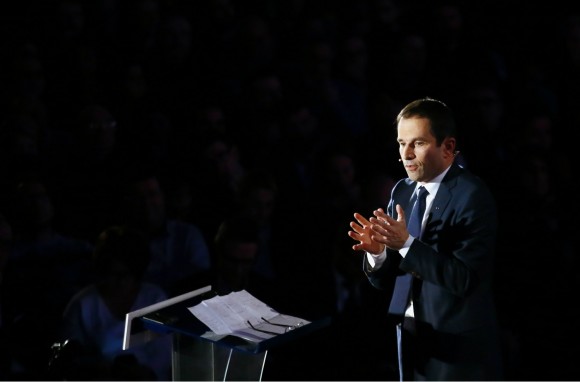 Rebelling against the government's pro-business shift spared Hamon the taint that has undermined the candidacy of Valls, who infuriated many as Hollande's prime minister by forcing reforms through parliament without a vote.
But in a country that has shifted to the right since Hollande's victory in 2012, Hamon's firm anchorage on the Socialist left could prove an impossible sell. So, too, could the huge expense of providing a universal income to more than 50 million adults. Hamon himself has estimated the cost to be at least 300 billion euros ($320 billion), to be financed by taxing robots and other measures.
Valls, hardening his tone to try to make up ground on his rival, this week called Hamon "a merchant of illusions."
Even in his own campaign team, some worried that Hamon's proposals, which also include the legalization of cannabis, amounted to political suicide, says Ali Rabeh, one of his aides.
"The audacity of it scared quite a few people," he said in an interview in Hamon's parliamentary office in Trappes, as campaigners dropped by to restock on thick piles of leaflets and posters.
But even if Hamon doesn't win the primary or the presidency, Rabeh argues that they've already scored a victory by planting the argument that universal income isn't utopian, but rather a necessity that would lift France from the doldrums of diminishing work.
"We are one of the most pessimistic countries in the world," he said. "This is a way of boosting our state of mind, our collective spirit."
"The debate is no longer whether there will be a universal basic income but when," he said.
Nursing a morning glass of rose wine at the bar of a nearby cafe, 72-year-old retiree Gerard Sierra said the Socialists are on course for "a whipping" at the polls, with fiery far-left presidential candidate Jean-Luc Melenchon and Emmanuel Macron, Hollande's center-left former economy minister, both siphoning off support.
Sierra's working life started in the rail yards that helped transform Trappes, from where water used to be pumped for royal use in the Palace of Versailles, into a blue-collar town. The drinks factory where Sierra later labored for 25 years closed down, leaving him unemployed.
Hamon argues that the cushion of a monthly stipend would liberate workers from such uncertain trajectories, giving them more freedom to pick and choose jobs and to reinvent themselves.
"An interesting idea," Sierra mused, and then shot it down.
"Universal: That means everyone would get it, and that bothers me," he said. "Nothing is free in life. That's just reality."