Two deep-dyed soccer fans were told to take down their Betsy Ross flag by stadium staff at one of top teams in the nation, according to KSTU, with management saying it had been adopted as a symbol for hate groups.
Randolf and Diana Scott are season ticket holders at Real Salt Lake (RSL), currently sitting ninth in the Major League, who attend every game at the stadium in Sandy, Utah.
But when they added the Betsy Ross to their usual team colors and the regular standard Stars and Stripes a few weeks ago, it sparked a social media backlash, they told KSTU.
When they took the 13-starred flag—adopted as the national flag one year after the Declaration of Independence—to the Aug. 25 game, staff told them to take it down.
"They kept telling us if he wasn't going to take it down, we were going to be rejected from the game," Diana told KSTU.
When they refused, another member of staff came over to insist.
"He's like, 'So what's the purpose of the flag?'" Randolf said. "I was like, 'Well 'cause, we love America.'"
RSL has not yet responded to a request for comment.
In a statement to KSTU, RSL said: "Recently, and very controversially as well as surprising to us, the Colonial flag has been adopted as a symbol for hate groups. Any controversial flags or other similar banners or signs with symbols of hatred, divisiveness, and/or intolerance whether intentional or otherwise will not be permitted in our stadiums."
The Scotts' interest in the flag had been kindled by Nike's recent withdrawal of a Fourth of July sneaker featuring the flag at the behest of former NFL quarterback Colin Kaepernick.
Nike and Betsy
According to The Wall Street Journal, Kaepernick complained that the Betsy Ross flag, which features 13 stars in a circle, was created in a period of American history when slavery was widespread.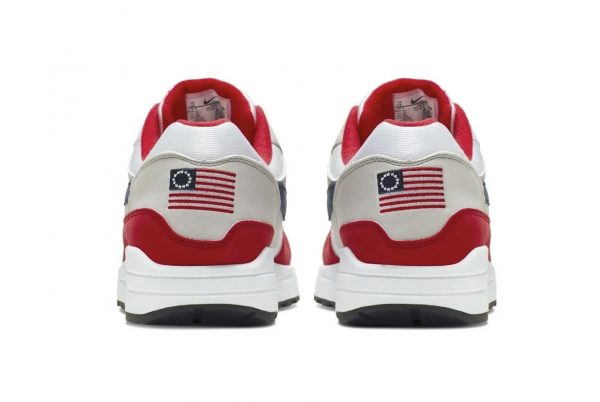 The Betsy Ross flag was adopted as the national flag just one year after the Declaration of Independence and was the flag used during the American Revolution.
Some media reports echoed the claim that the flag had been co-opted in recent years as a symbol of right-wing white-supremacists or extremists. However, there appears to be scant evidence for this.
Many commentators recently pointed out that the Betsy Ross flag featured in the backdrop to President Barack Obama's inauguration.
A Racist Symbol?
The flag also does not feature on the database of extremist symbols managed by the Antidefamation League Center on Extremism (ADL), which does include the array of swastikas, fists, and communist hammer and sickle symbols typically associated with extremist organizations.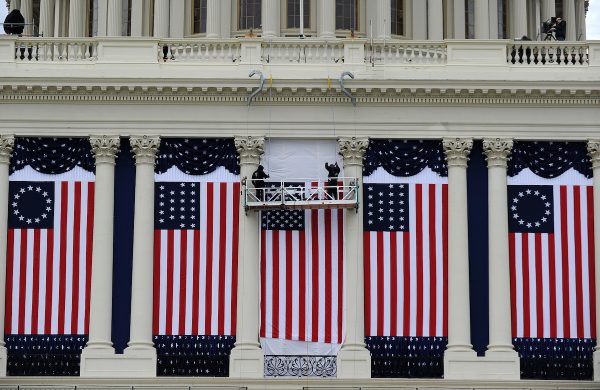 Mark Pitcavage, a senior research fellow at the ADL told Bustle, "The Betsy Ross flag is not common among white supremacists."
It has been used by some Ku Klux Klan groups, he said, but added that white supremacists have often have used all kinds of historical American symbols.
Michael Jensen, a senior researcher at the University of Maryland's National Consortium for the Study of Terrorism and Responses to Terrorism, told Bustle that it is common for white nationalist groups to use ordinary historical symbols.
The only group to have currently explicitly adopted the flag—and an altered version at that—is the Three Percenters, an American group that built itself around the protection of constitutional rights, notably gun rights, as a bulwark against a tyrannical collectivist government.
There is no mention of race in their official mission statement.
The official Three Percent website says that they are not a militia group, and are not anti-government. "We are very pro-government, so long as the government abides by the Constitution, doesn't overstep its bounds, and remains 'for the people and by the people.'"
Those following the fortunes of the Black Lives Matter movement, including perhaps Kaepernick, may have come across the Three Percenters—and their flag—in some media coverage of a 2015 shooting at a Black Lives Matter rally.
A man who was convicted over the shooting incident that injured five people reportedly had associations with the Three Percent movement, although an explicit connection or motivation does not seem to have been established.