MINNEAPOLIS—Heavy snow and gusting winds have created blizzard-like conditions across the Upper Midwest, prompting officials to close hundreds of schools, courthouses and businesses, and ground air travel.
Even snowplow drivers are having trouble keeping up with conditions on Jan. 28. And once the snowstorm is over, forecasters say record cold is expected to settle into the region.
Possible record breaking cold about to descend on Champaign-Urbana. Tuesday night forecast low: 15 below zero (w/out wind chill). Tues record low is -12 in 1899, Weds -13 in 1936 https://t.co/uf8S6ZdlOw pic.twitter.com/O9K0LEvhGh

— ui7news (@ui7news) 28 januari 2019
More than a foot of snow was expected to accumulate Monday in southeastern Wisconsin and southeastern Minnesota.
The largest public school districts in both states are among those closed, including districts in Milwaukee, Minneapolis, and St. Paul.
In Wisconsin, courthouses and most offices are closed in Milwaukee, Waukesha, Columbia, and Washington counties. More than three dozen flights were canceled early Monday at Mitchell International Airport in Milwaukee County.
HAPPENING NOW: The runway at @MitchellAirport is briefly closed as 12 trucks clear the snow and treat the pavement for safe takeoff and landing. @WISN12News pic.twitter.com/yBTlicwGAi

— Eden Checkol (@EdenCheckol) January 28, 2019
Meteorologist Tyler Hasenstein of the National Weather Service says parts of far southeastern Minnesota into western Wisconsin could see up to 14 inches of snow.
According to Tyler Hasenstein, temperatures on Wednesday, Jan. 30, could fall to 30 degrees below zero, and could feel as cold as 60 below because of the wind chill.
Extreme cold is expected Tuesday through Thursday morning. The coldest conditions are expected Wednesday morning with -60°F to -40°F wind chills. Wind chills this low can cause frostbite on exposed skin in as little as 5 minutes. #MNwx #WIwx pic.twitter.com/5CNwwvTp2n

— NWS Twin Cities (@NWSTwinCities) 28 januari 2019
"I think the proper term is nasty cold," Hasenstein told the Star Tribune. "We are very confident this cold is going to be significant. … People are right to be concerned."
A winter storm pushing across the Upper Midwest is expected to dump more than a foot of snow in parts of Minnesota and Wisconsin.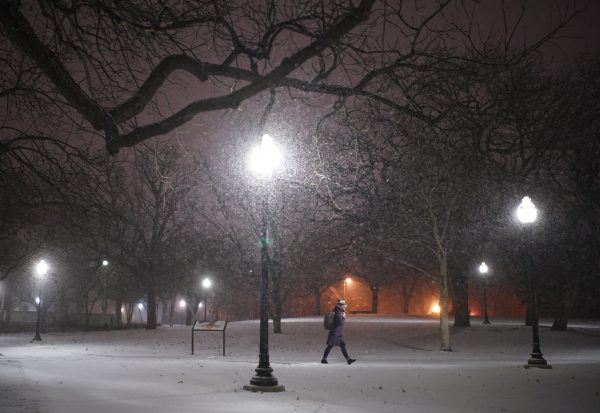 'Blizzard Conditions'
In eastern North Dakota, officials have issued travel alerts because of blowing snow.
The National Weather Service says blizzard conditions were reported Sunday in eastern North Dakota and northwestern Minnesota.
Officials have issued a travel alert for north-central and eastern North Dakota due to snow and blowing snow, while no travel is advised in the south-central part of the state due to freezing rain and snow.
Here's the latest snowfall amounts. Please avoid travel if possible. Heavy snow and strong wind expected #mnwx #wiwx pic.twitter.com/sl5KpBWGGr

— NWS Twin Cities (@NWSTwinCities) 27 januari 2019
In Wisconsin, Milwaukee County Executive Chris Abele has declared a local snow emergency. The county's courts and nonessential services will be closed Monday. Milwaukee Public Schools and Minneapolis Public Schools also will be closed.
ALERT: Milwaukee Public Schools will be closed Monday, January 28 due inclement weather. All schools and district offices are closed as well as all district after school, recreation and athletic programs and events. Thank you and be safe.

— Milwaukee MPS (@MilwaukeeMPS) 27 januari 2019