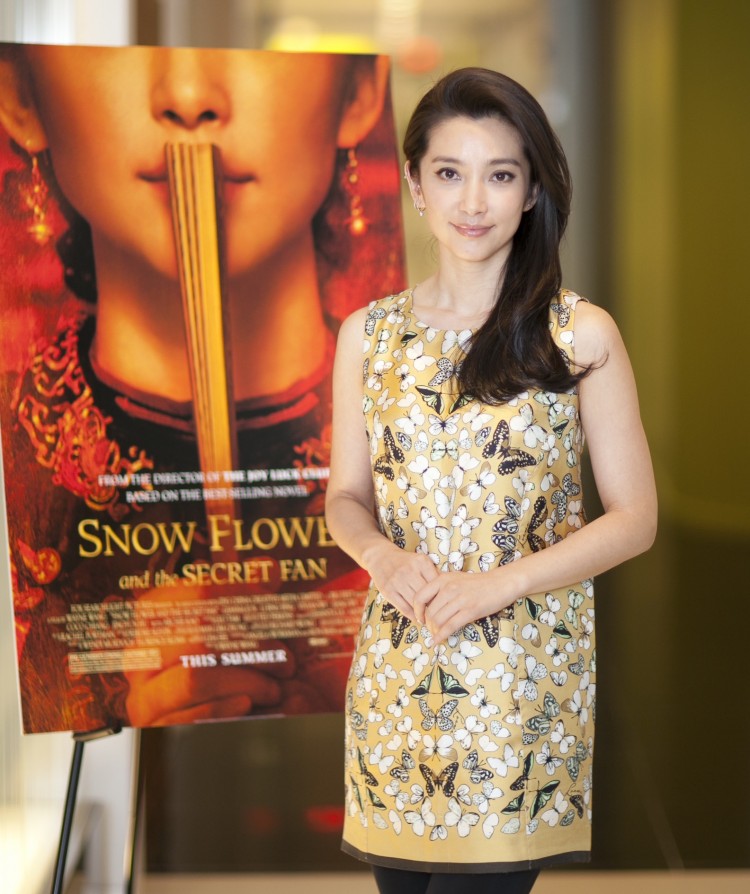 NEW YORK—Chinese actress Bingbing Li set a new standard for saying less but showing more in her recent movie Snow Flower and the Secret Fan, based on Lisa See's novel of the same name. The movie, split into scenes from 19th century China and the present, tells of the lives of two girls who make a lifelong oath to remain friends.
"[This movie] is very hard to act, because it doesn't have any dynamic ups and downs to make you emotionally stirred up in a big way … It is still, and quiet, like flowing water, but the intense emotions are deep in the heart, very intense, very heavy in the heart," said Li about her role as Nina and Lily," to The Epoch Times in an interview on July 13 in New York.
Li, a huge star in her home country of China, was in New York to promoteSnow Flower and the Secret Fan at a press event on the afternoon of Wednesday, July 13, which was also attended by the film's director Wayne Wang, author Lisa See, as well as the film's producers.
"[Bingbing and Gianna] brought so much emotion to the story, but again in a very delicate way" explained author Lisa See.
"You watch it, and in the quiet you find that emotion in yourself; you feel it very strongly on the inside" she said.
Li learned how to portray emotion not only through her actions but also with her eyes. "It touched you, you cried tears—but because you saw those words, not that she spoke those words," explained Li.

Chinese-American director Wayne Wang agreed that Snow Flower and the Secret Fan was full of raw emotions, which drew him to make the movie.
In the film, Li and her costar Gianna Jun, who plays Snow Flower, make a Laotong oath, a practice among girls in 19th century China that carried over until the 20th century. The Laotong oath binds two females with a promise to remain eternal friends.
The girls grew alongside each other and inscribed secret messages called Nüshu in the folds of a fan, which they passed between them, sharing their most intimate secrets and promises to always stay faithful to the oath. Fate, however, made different arrangements.
Director Wayne Wang could relate to the deep regret Li's character Nina felt for failing to be a better friend. He recalled a story about a misunderstanding that split him from a friend who later died in a car accident, leaving him regretful for not making amends.
Li told Wang that after audiences see the movie, they will want to reconnect with people in their lives and clear up any misunderstandings so that they don't face similar regrets.
The ancient Laotong practice attracted author Lisa See to the idea of writing a book for several reasons. First, See has a Chinese background. She was raised by over 400 Chinese relatives in Los Angeles and grew up with the Chinese language and culture. See said she tries to integrate Chinese or Chinese-American history into her novels.

Second, See's story themes revolve around people and their interactions. "Really, what my books are relationships and emotions—mothers and daughters, sisters, friends, family, and the emotions like love, friendship, envy, jealousy," she said.
The author also said that she has two present-day Laotong relationships in her life. One friend, she has been keeping in touch with since high school. The other is author Amy Tan, the writer of the renowned book The Joy Luck Club, which was also made into a successful motion picture by Wayne Wang.
Wang said that the female lead actors Li and Jun pursued perfection in becoming the characters so that their feelings almost don't need to be acted out. When asked what he would say to the actresses after the movie was made, he laughed. "Let's make the movie all over again, a different movie!" he said.
With reporting by Ariel Tian.