Hip-hop artist Snoop Dogg has offered to take in a dog named Snoop abandoned by his owner just days before Christmas.
The star rapper is one of several celebrities to say he would welcome the Staffordshire Bull Terrier puppy into his home after footage was circulated by the RSPCA showing Snoop being dumped in the street by an unknown man.
The heartbreaking video, recorded at around 5 p.m. on Dec. 17 in the British city of Stoke-on-Trent, shows Snoop desperately chasing after his owner as the man sprints to his car after ditching the pooch.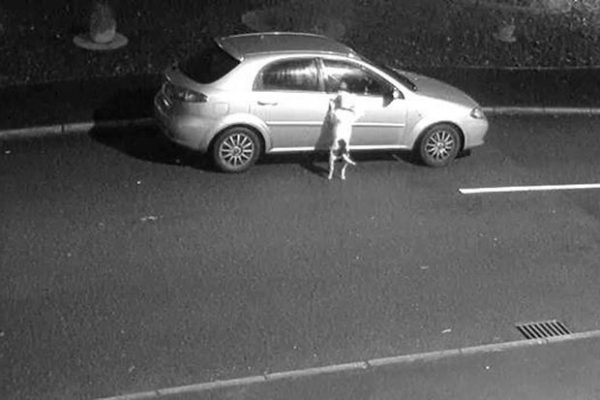 Moments later the car takes off, with the dog in desperate pursuit.
The Manchester Evening News reported that a passerby found Snoop about an hour later, sitting alone in a bed discarded along with the dog.
The RSPCA got involved and circulated the footage in a bid to find those responsible.
Natalie Perehovsky, an RSPCA inspector, told Unilad, "I can't understand how someone could do this."
"The footage has to be seen to be believed, it's just awful. To see the poor dog in such obvious distress jumping up at the car as it drives away it just heartbreaking."
A 'Heartbreaking' Fate
Snoop Dogg, who performed in New York City on Dec. 31 to welcome the New Year, told the Daily Star the dog's fate was "heartbreaking."
"There is always room for another dog in Casa de Snoop. If he really needed a home then he has one with us. But I don't think there is going to be any shortage of loving homes after all the exposure he has got."
Several other celebrities have offered to give Snoop a home, including BBC presenter Sue Perkins and political journalist Andrew Neil, according to the Manchester Evening News.
RSPCA's Perehovsky added, "This is heart-breaking, it's the way he runs after the owner; he clearly loved who was there. He was obviously distressed."
Speaking of the owner, she said "I don't know what was going through their mind when they did that. It could be the expense, it could be family changes, there's hundreds of reasons. But there's places that help people, you can take him to charities or dog homes; there's no excuse."
Perehovksy said the dog was "not for rehoming yet but soon as he is we will let people know," according to the report.
The rescued dog was named Snoop by RSPCA staff after he was recovered from the side of the road.
Snoop Dogg is known to be an animal lover and, according to the Daily Star, he supports the Dog for Dog charity.