WASHINGTON—A border fence with technology and access roads is the recipe for making an effective border wall system,  Customs and Border Protection (CBP) officials say.
"Every situation will be different. No one area along the border is the same, so the system will look different in different locations," a CBP official said at a press briefing on Jan. 16.
"But it will, at a minimum, include sensor technology—so it will be a smart wall—barriers and roads, and infrastructure. If you think of it in terms of a system, the barrier itself is the backbone."
The official intimated that a wall isn't a magic bullet to stop all illegal border crossings—but the critical factor is that it slows illegal incursions and buys agents time to respond.
"We know that it can be cut, it can be breached, but we factor that in—it's a factor of time," the official said. "In a lot of areas along the border, we have urban areas, we have seconds, literally 150, 200 yards before illegal crossers can actually make it into an industrial park or into a shopping mall or into a population center. The only thing that slows them down and puts agents in a position to stop and interdict, is to be able to slow them through impedance and denial—through the construction of barriers."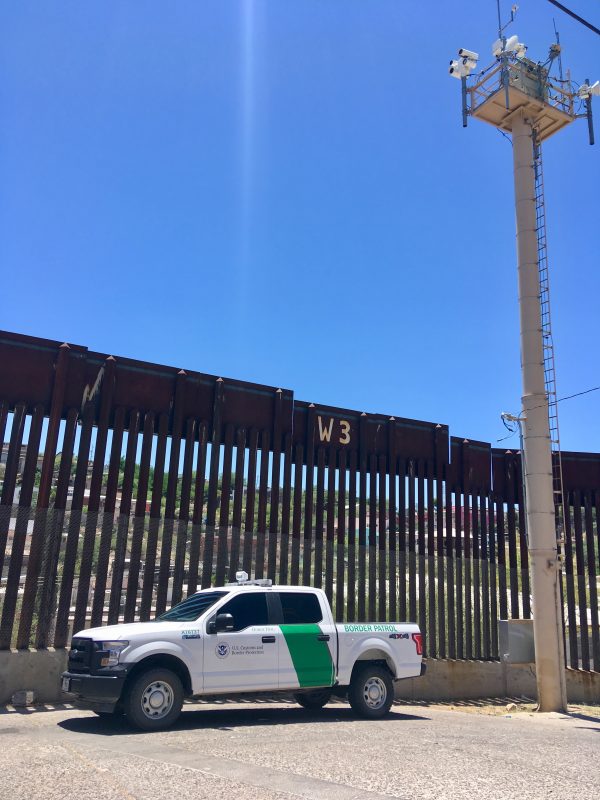 CBP and border agents arrested some 17,000 convicted criminals and Immigration and Customs Enforcement removed almost 6,000 known or suspected gang members in fiscal 2018. In total, almost 400,000 people were apprehended along the southwest border after crossing illegally during fiscal year 2018—averaging almost 1,100 per day.
President Donald Trump has stressed the need for a wall to help stop illegal entry, as well as cross-border crime.
He wrote on Twitter, in all caps, on Jan. 23: "Build a wall and crime will fall."
In Yuma County, Arizona, Sheriff Leon Wilmot said the border fence has helped cut ancillary crime caused by illegal border-crossers by 91 percent. "The deaths in the desert, the rapes, the robberies, the homicides, the burglaries, the thefts," Wilmot said.
If the $5.7 billion in wall funding that Trump is asking for is appropriated, Yuma is slated to get 27 miles of new fencing to replace an older, less-effective barrier.
Illegal crossings in Yuma County have spiked in the past couple of weeks, with huge groups of Central Americans breaching the fence and handing themselves over to Border Patrol.
On Jan. 14, a group of 376 Central Americans crossed illegally and "inundated agents," according to a tweet by CBP Arizona. "Almost all were families or unaccompanied juveniles." Subsequent reports said the group had entered by digging under the fence.
Group of 376 Central Americans illegally crossed from Mexico and inundated agents in #Yumasector on Monday morning. Almost all were families or unaccompanied juveniles. #NationalSecurity #SouthwestBorder pic.twitter.com/dWzS0LCgCV

— CBP Arizona (@CBPArizona) January 18, 2019
A week later, Border Patrol apprehended a group of more than 110 Central Americans, who "scaled the wall with the assistance of a smuggler with a ladder," CBP Arizona wrote on Twitter.
CBP in Arizona didn't respond to a request to clarify if the new 27 miles would cover the area where the latest incursions are occurring.
Both the House and Senate will vote on various bills this week to reopen the government; although only the Senate will bring to the floor a measure that includes the $5.7 billion that Trump is requesting for an additional 234 miles of border wall. Trump has said he won't sign anything that doesn't include wall funding.
"We have to have a wall. We have to have a barricade of some kind, a steel barricade, it's already designed," Trump said Jan. 23. "We're building a lot of wall as we speak, a tremendous amount, and we're renovating a lot of the other wall."
Existing Wall, New Construction
Along the almost 2,000-mile southwest border is 654 miles of existing barrier. The 654 miles is a mix of 374 miles of pedestrian fencing and 280 miles of vehicle barrier.
Pedestrian barriers are intended to stop people from being able to walk through an area, but many miles were built years ago and consist of old landing mat that is now ineffective—too short (10 to 12 feet), not see-through, easily scalable, and gives the ability to sit on the top (and throw projectiles at Border Patrol).
"Today, we're constructing 18- to 30-foot steel bollards. These are filled with a combination of slurry and rebar to make them difficult to breach," a CBP official said. The new bollard fencing is designed to stop pedestrians and vehicles.
The vehicle barrier that covers 280 miles of the border is a combination of normandy barrier and post-on-rail.
Most of the vehicle barrier was constructed years ago in rural areas where a lot of vehicle crossings were occurring.
"A lot of that has changed over the years and the need to upgrade that capability to provide Border Patrol with new capability to stop pedestrian incursions is where we are today," a CBP official said.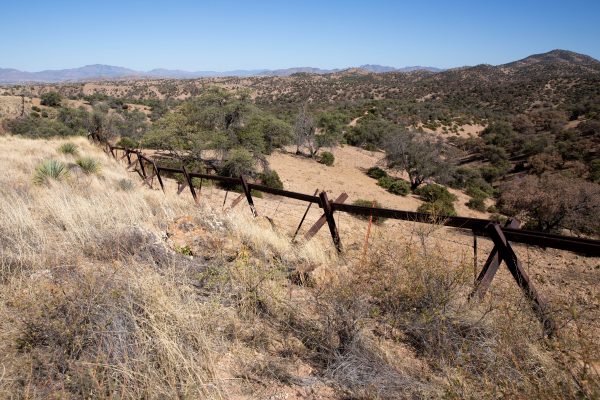 Fiscal 2017 Funding
$292 million for construction of 40 miles of pedestrian barrier.
20 miles to replace ineffective vehicle barrier in the Santa Teresa area, near El Paso, Texas. This project is complete.
14 miles of new primary fencing in San Diego. Anticipated completion is May 2019.
7.25 miles for new fencing in El Paso, of which 2.25 miles is complete.
$49 million to fill gaps in the existing fencing system with gates in the Rio Grande Valley in Texas. Construction is underway.
Fiscal 2018 Funding
$1.375 billion for an expected 80 miles of barriers.
Includes brand new barrier in the Rio Grande Valley. Will consist of some concrete levee wall with steel bollard topping (construction to start February 2019), as well as steel bollard fencing (construction to start late summer).
Secondary fencing in San Diego. Construction to start February 2019. Secondary fencing is situated north of the primary border fence and allows Border Patrol to operate freely in between.
43 to 44 miles of steel bollard pedestrian barrier to replace ineffective fencing in the Yuma, El Centro, and San Diego sectors.