EAGLE PASS, Texas—The little border town of Eagle Pass, Texas, is the latest to be faced with the migrant caravan phenomenon.
Its neighbors to the east, in the state's Rio Grande Valley, have become well-versed in so-called caravans—they get a caravan's worth of asylum-seekers crossing illegally every day.
But Eagle Pass, with a population of around 30,000, has a smaller port of entry, with two international bridges and the capacity to handle only 16 to 20 asylum claims per day.
So the news of 1,800 migrants, mostly from Honduras, arriving across the river in Piedras Negras, Mexico, on Feb. 4 has resulted in an unprecedented show of force along the U.S. side of the Rio Grande.
Local Border Patrol agents have been augmented with additional agents from nearby stations; the Texas Department of Public Safety has sent troops; the Texas National Guard has entered the fray; and the local police and sheriff's departments are involved.
Now it's a waiting game, somewhat of a Mexican standoff.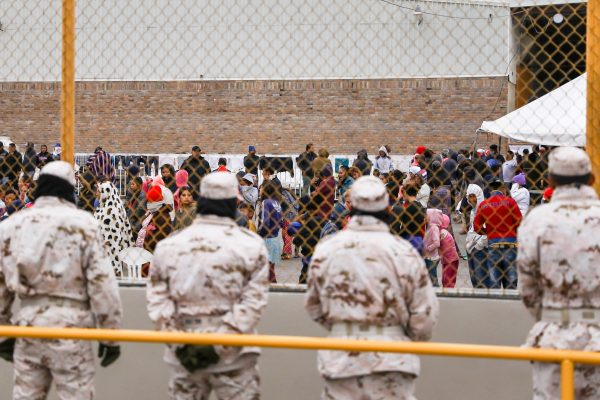 The old factory where the migrants are staying is more than three miles from the Eagle Pass port of entry and two miles from the closest part of the Rio Grande, making it seem unlikely that the group will be able to rush the border en masse, at least without transport assistance.
The camp is surrounded by Mexican military and federal police, so anywhere the migrants go would have to be condoned by Mexican authorities.
However, time will eventually run out. Mexico gave the migrants 30 days to transit through the country or apply for asylum in Mexico. With the Eagle Pass processing capability, it would take at least three months to clear all 1,800 migrants.
On top of that, the caravan migrants are not the only ones crossing into Eagle Pass to seek asylum.
The typical number of illegal alien crossings in the area doubled in the last two weeks of January, said Louie Wayne Collins, division chief of operations for the Del Rio Border Patrol Sector, which encompasses the Eagle Pass area.
"And from that point, at the beginning of this migrant crisis earlier in the week, that doubled again," he said. "[However], it has dropped off significantly since we have put our forces out here."
In the Del Rio sector, the number of family units and unaccompanied minors who were apprehended by Border Patrol after crossing the border illegally has increased by 364 percent and 66 percent, respectively, when comparing the first four months of the fiscal year, year-over-year.
As of Feb. 8, four days since the caravan arrived in Piedras Negras, no one who has crossed illegally or presented at the port of entry to claim asylum has reported that they are part of the migrant caravan, according to Paul Del Rincon, port director for Eagle Pass Customs and Border Protection.
Instead, the port is running at 150-percent capacity processing other asylum-seekers.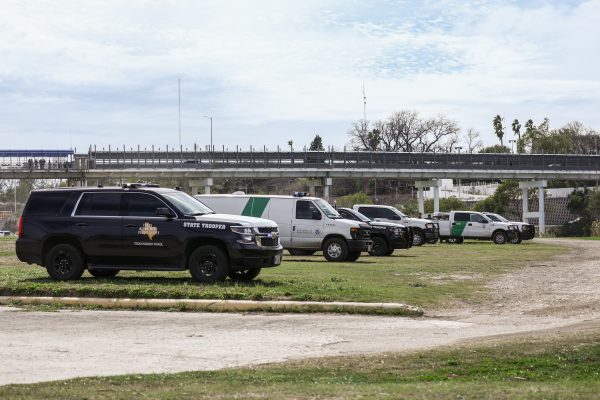 "The thing about ports of entry, about these bridges, is that they were never designed to house people, to house 16, 20 people, or more," Del Rincon said. "Ports of entry are locations where you present yourself for inspection, you're inspected and either released, or you're referred and inspected further in secondary, but soon after you're released. So never was it anyone's plan to have people at ports of entry for that long."
Just that morning, Border Patrol rescued a family of five Hondurans—including a 1-year-old and 3-year-old—that was attempting to cross the Rio Grande under the international bridge.
"Those children were rescued in the middle of the river because they got out into the middle of the river and they couldn't go forward and they couldn't go backwards. It is treacherous. It is dangerous," Collins said. He said the family was not from the caravan.
"Please, if I could say one thing to these migrants: 'Cross legally through the ports of entry, if you are attempting to claim credible fear,'" he said.
Collins reiterated that Border Patrol and Customs and Border Protection agents don't process asylum claims. "We only document the credible fear, turn them over to ICE, and from ICE, CIS [Citizenship and Immigration Services] handles that asylum process."
The Right to Protect Borders
Juan Andres Martinez grew up in Piedras Negras, but emigrated to Eagle Pass in 2000. Like many locals, it's common to pop over to Mexico to visit family or go shopping. Martinez runs a martial arts academy in Eagle Pass, and with his brother, another one in Piedras Negras.
He said he has never seen anything like the caravan of 1,800, nor the U.S. or Mexican responses to it.
"If they want to come aggressively to the United States, it's going to be hard for them. Here in Eagle Pass, we feel safe because we have a lot of security right now," Martinez said. "There's some entity or somebody out there that's maybe giving them the idea that this border is much easier to cross when, in reality, it's really not."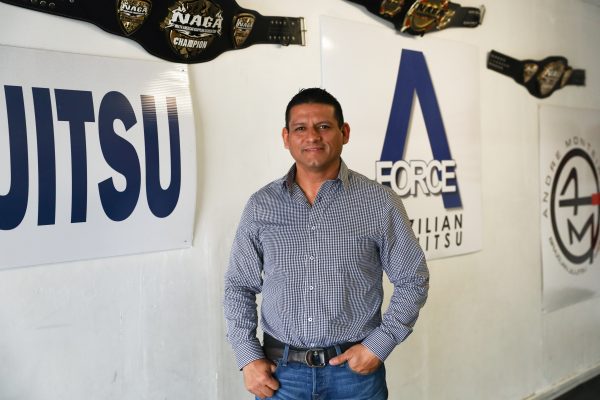 He said he is happy with the Mexican response so far. "Keeping them in that one spot, giving them what they need. You know, they're obviously not treating them harshly or cruelly—they're doing it right. And they're doing the best they can for the United States on their end."
Martinez suggests the caravan came to Piedras Negras because it has become too dangerous to go to Tijuana.
"I think [here] it's safer from the cartels. That's why they didn't want to go through Tamaulipas—because of the cartels," he said.
In Piedras Negras, it's a Los Zetas cartel faction called Cartel del Noreste that operates, according to Robert Bunker, an instructor at the Safe Communities Institute, University of Southern California.
"They are in conflict with Zetas Vieja Escuela ("Old School Zetas") who are a faction tied to a Gulf Cartel remnant," Bunker said.
Martinez said he supports President Donald Trump's efforts to secure the border.
"I support what he's doing as far as stopping illegal immigration. Any state, any territory, any country has the right to protect its borders and only allow people in under the right circumstances," he said. "We all have necessities. We all have needs. These people are coming here looking for a better way of life, but unfortunately, there's laws that need to be followed."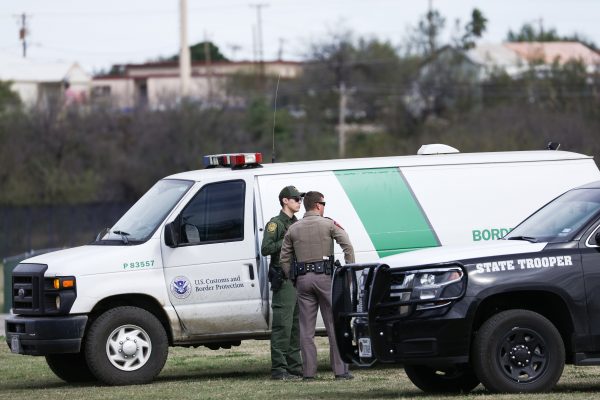 Called a 'Fake Mexican'
Freddy Arellano, 18, is still in high school, but got into politics in 2016 after candidate Trump piqued his interest.
"When I first heard him, it was his comments that he made about immigrants. And at that time, I had thought, 'That's a very racist thing to say,'" Arellano said.
In kicking off his presidential bid on June 16, 2015, Trump said of Mexico: "They're bringing drugs. They're bringing crime. They're rapists. And some, I assume, are good people."
Arellano, intent on becoming more involved in politics, decided to do opposition research on Trump.
"And as I started researching his stances and his beliefs, I slowly realized, he's right. His views on immigration are the same views that I've had growing up," he said.
He is now the youngest Republican county chairman in Maverick County, where Eagle Pass sits.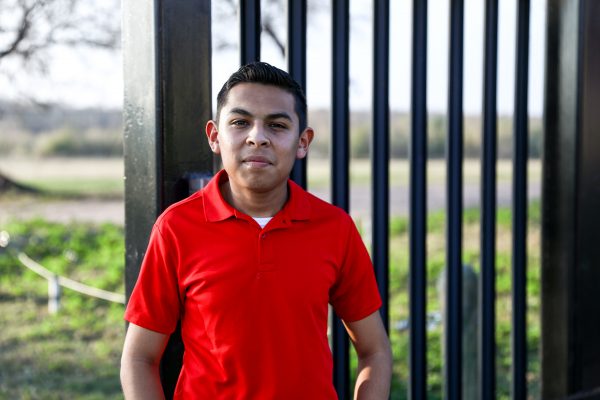 "Before I knew I was Republican, I always thought I was a Democrat," Arellano said. "But, as I started looking into the parties in 2016, that's when I realized my stance on immigration was more with the Republican Party."
Three of four of his grandparents came to the United States from Mexico legally. The fourth was born in the United States. His father is a Customs and Border Protection officer and so was his mother before she retired.
"I don't believe that anybody should come here willy nilly." he said. "And a lot of people were saying, 'Oh, you're racist' and 'You're a fake Mexican and Hispanic.'"
"And I always respond with the same thing: I cannot be a fake Mexican if I was never a real Mexican because my allegiance is to the American flag and the American government. And not to the Mexican flag or the Mexican government," he said.
He said he has compassion for the plight of the caravan migrants, "but at the same time we have 1,800 people that want to come here and most of them are going to be applying for asylum—with some crossing illegally. And obviously they're not the ones paying for this, it's us, the taxpayers that are doing that.
"You know, we can't pay for all of this without it having to come from somewhere else. And when we have the VA the way it is right now, where we can better it with this kind of money that we could be saving, it would help out Americans that have fought for their country, as opposed to people that want to come here illegally."
Border Wall Funding
Trump is currently mulling over a bipartisan border security package that would put $1.4 billion towards 55 miles of border fencing—less than the $5.7 billion he was asking for to construct 234 miles of fence.
The border fence funding resulted in the longest government shutdown in history after Democrats refused to provide any money towards a wall. If Trump signs the new bill, it will avert a second shutdown, which would be triggered on Feb. 15.
"I don't want to see a shutdown," Trump said on Feb. 13. "A shutdown would be a terrible thing. I think a point was made with the last shutdown; people realized how bad the border is, how unsafe the border is. I think a lot of good points were made, but I don't want to see another one—there's no reason for it. We're going to look at the legislation when it comes and I'll make a determination then."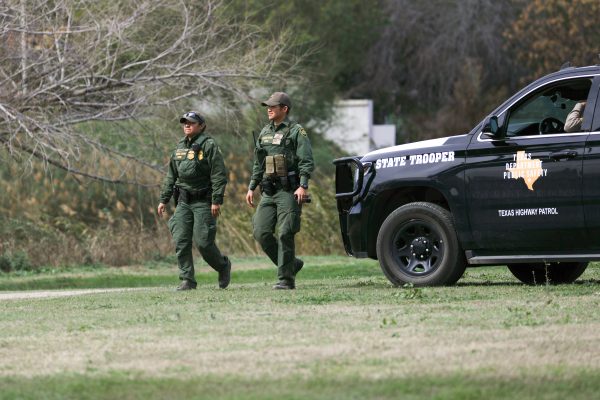 Over the first four months of fiscal year 2019, Border Patrol apprehended more than 201,000 illegal aliens. The numbers are on track to reach 600,000 apprehensions for the year, whereas in fiscal 2018, just fewer than 400,000 were apprehended.
"January border stats show a sustained, high volume of families & unaccompanied children from Central America illegally crossing along the [southwest] border," said Customs and Border Protection in a Feb. 8 tweet. Border Patrol agents encountered 58 large groups of 100 or more people so far this fiscal year, compared to 13 total in fiscal 2018.
The administration said the asylum system is being gamed by illegal immigrants who use it to gain access into the United States without any intention of turning up in court for their case ruling.
If an illegal alien is apprehended at the border and claims fear of returning to their home country, an initial screening gives them an 89-percent chance of being released into the United States. The chances are higher if an adult brings a child.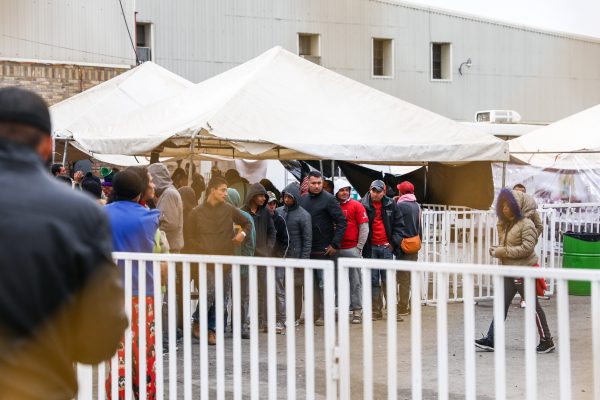 The largest group of asylum-seekers are from Central America, yet only 9 percent of those who then formally apply for asylum are granted such protections by a federal immigration judge, according to the Justice Department. Forty percent don't officially apply for asylum once they gain access into the United States. A further 31 percent don't turn up at their court hearing.
In fiscal 2017, Customs and Border Protection apprehended 94,285 family units from Honduras, Guatemala, and El Salvador at the southern border. Of those, 99 percent remain in the country today.
Legal loopholes in the asylum system have bogged down the immigration court system, which has around 800,000 pending cases and no end in sight to the backlog.
Department of Homeland Security Secretary Kirstjen Nielsen said the agency is doing what it can to combat the caravan phenomenon.
"Such caravans are the result of Congress's inexcusable failure to fully fund a needed physical barrier and unwillingness to fix outdated laws that act as an enormous magnet for illegal aliens," Nielsen said on Feb. 5. "This crisis won't be solved until we have comprehensive border security."
Meanwhile, in Eagle Pass, concertina wire, jersey barriers, and other impediment measures are being installed on the international bridges.
Force drills and joint exercises between the Department of Defense and Customs and Border Protection officers are being conducted to guard against a mass incursion.
"We know there's migrant caravans out there at different points along the way. We do not know where they will hit the border," said Collins.