Small Farmers Show Resilience
September 13, 2013 5:33 am Last Updated: September 14, 2013 5:03 pm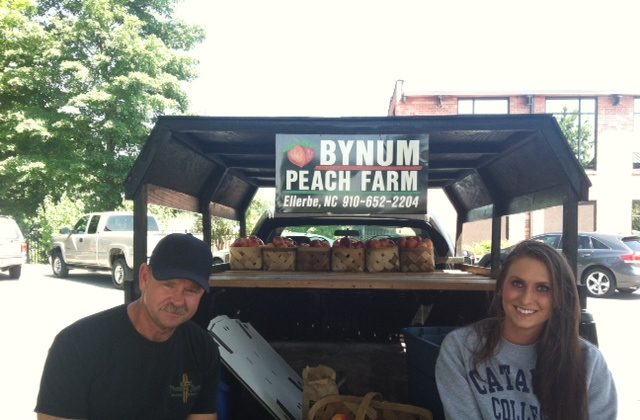 ASHEBORO, N.C.—After historic droughts, floods, and fires in recent years, American farmers got good news this harvest season.
"This week's forecast of a $6.8 billion increase in net farm income is a testament to the resilience and productivity of U.S. farmers and ranchers, and a further sign of the positive momentum they have achieved over the past five years," said Agriculture Secretary Tom Vilsack in a statement. It's the second-highest inflation-adjusted amount since 1973.
More than 90 percent of American farms are small, with gross incomes under $250,000 each year. Of those, 60 percent are very small, with gross incomes under $10,000 each year. According to the USDA, the tiny farms almost exist outside the agricultural economy, because those farmers depend on outside jobs. 
Small farmers display creative resilience, trying new ways of doing business while preserving old ways. Interest in good fresh food, humanely raised meat, and locally grown produce is sparking a national farmers market and truck stand revival.  
While there are many choices at grocery stores, the tastiest fare is locally grown. The Downtown Farmers market in Asheboro, N.C., has charmed shoppers into purchasing locally grown foods, flowers, and medicinal herbs, and its clientele has grown. 
The Great Recession sent one man back to the land. "I was in the real estate business. I was a builder, until the economy went sour and I needed to support my family," said Shawn Dezern of Dezern Farms. He changed course after the economy tanked, he said.
"We had a brand new house and 11 acres of land in Pisgah, N.C., so I looked around and took stock of what Mother Nature left us and began to cultivate our farm." said Dezern.
At Dezern Farm, the family follows the old folkways, even harvesting medicinal plants. "We use everything Mother Nature gave us, including the wild medicinal plants that have been growing on our property for years. My wife and I found plants we'd never seen before growing in the wild. We use the sourwood [also know as sorrel] to make honey. The leaves are good for nervous conditions and asthma," said Dezern.
Sourwood is a handsome native tree with flowers like lily of the valley and spectacular red fall foliage.
The farm family sells their bounty around the state. "Our family participates in seven markets a week in different counties around North Carolina to support ourselves," said Dezern.
Other local growers at the market included the Kilby Family farm. They handed out samples of fig-flavored goat cheese. 
Ingold Farms raises Santa Gertrudis cattle, developed in Texas and famous for tolerating hot weather. The farm uses a homemade blend of fish emulsion and molasses to make feed and fertilizer, according to owner Terry Ingold. He avoids antibiotics and growth hormones. According to his website, "We are a family owned and operated business and have raised Santa Gertrudis since 1990. We feel that we offer some of the best Gerts in N.C."
The small farmers and ranchers at the market have been waiting for a farm bill that will offer real support for them for many years. Agricultural subsidies flow to the 10 percent of large agribusinesses that dominate American agriculture.
Epoch Times staff member Denise Darcel contributed to the report