"In heaven, there is no beer. That's why we drink it here," goes the old pub song, but a shortage of aluminum beverage containers could threaten to close the spigots on smaller craft beer breweries in 2022.
Described as a worsening can shortage—or "candemic"—many microbrewery owners have been struggling to adapt either by stocking up on unbranded beverage cans wherever they can find them or producing more bottled beer.
"We are doing OK right now. It's something we are concerned about on the horizon," said Tim Boyle, taproom manager at Switchback Brewing Co. in Burlington, Vermont. "We're concerned, but there's no crisis yet."
The microbrewery was founded in 2002 by business partners Bill Cherry and Jeff Neiblum. In the years that followed, the company has grown to include over 20 beers as year-round offerings.
In light of the aluminum can shortage of 2021, the company is looking to produce more bottled beer and ale.
"We haven't made any clear decisions. We're waiting to see how things shake out" in 2022, Boyle told The Epoch Times.
For now, Boyle said the company has enough beer cans in its inventory to meet any change in marketing model.
"We're definitely not unprepared, but it's something we're assessing," Boyle said.
Several factors have been driving the candemic—not least of which has been the economic fallout from COVID-19, which forced bars and tasting rooms across the United States to close temporarily, in some cases permanently, and breweries to offer curbside pickup.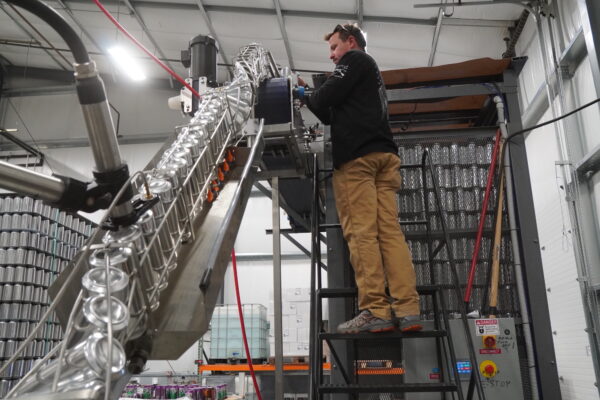 Meanwhile, the recent boom in spiked seltzer has further watered down available beverage can supplies, a situation made worse by supply chain disruptions and an overall increase in global demand for aluminum.
Ball Corp. in Broomfield, Colorado, the world's largest producer of metal beverage containers, reported the U.S. market fell 10 billion cans short in 2020, "and this just adds to other ongoing issues many small craft breweries around the U.S. are contending with during the COVID-19 crisis," FoodInstitute.com said on its website.
"We've been fairly fortunate" not to have been severely impacted by the pandemic or the aluminum beverage can shortage, said Stephen Goetting, CEO at Verde Brewing Co., established in 2013 in Camp Verde, Arizona.
"We haven't had a staffing issue," he said. "We don't have a large crew. We're under 10 employees. We keep it fairly simple."
Goetting said the company decided to boost its marketing strategy during the pandemic, although "it's really hard to nail down why our sales are up."
"Hopefully, we'll just keep doing the right thing," he told The Epoch Times.
Further north, in Williams, Arizona, Grand Canyon Brewing & Distillery owner John Peasley said the beverage can shortage has been hurting microbreweries "across the board."
"It's not as easy as it was two years ago" to acquire cans in sufficient volume, Peasley said. "Desperate times require desperate measures. You're about to see the cost double for a small craft distillery to produce."
To make matters worse, the cost of shipping products from Williams to Phoenix has increased from $650 to $1,000—"and that's all in a matter of six months," Peasley said. "I think the unfortunate side is we don't have the buying power" of the large brewing companies, such as Anheuser-Busch, he said.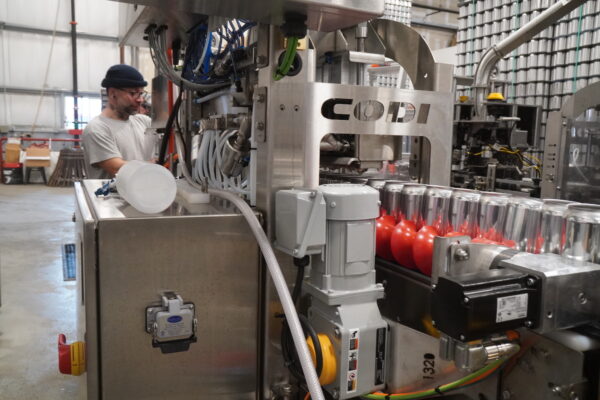 To address the supply shortage, the Grand Canyon Brewing & Distillery, founded in 2007, began stocking up on cans early on to keep the beer flowing well into 2022. The brewery distributes mainly in Arizona and Nevada.
"We bought as many cans as we could, [to] probably get us to the end of summer and fall," said Director of Operations Bret Blanchard.
Still, "people are running into brick walls," Peasley told The Epoch Times. "It really is a supply chain issue."
During the pandemic, Grand Canyon Brewing & Distillery, with its 200 employees, closed temporarily.
Peasley said it was "kind of a struggle in the beginning," and to compensate, the company transitioned to making 10,000 gallons of hand sanitizer, of which it donated 2,500 gallons. In 2017, the company began distilling craft spirits, including rum, vodka, gin, and whiskey.
"It was a weird time to be alive," he said. "I think [the beer can shortage] gets worse before it gets better."
Rob Fullmer, executive director of the Arizona Craft Brewers Guild, said that small craft breweries have had to look elsewhere and to places as far away as Dubai, Mexico, and other foreign countries to find available supplies of aluminum beverage cans, given the tight U.S. market.
When Ball Corp. announced it was setting a minimum order of 1 million cans—five truckloads—many smaller breweries found they didn't have the sales volume to meet the new threshold, Fullmer said.
"Only the top five breweries in Arizona have the potential to order that many at one time," Fullmer told The Epoch Times. "Our product is perishable, [so] a lot of them have to get it on the spot market."
Smaller breweries are also having to rely more on unlabeled cans, known as "brights," and affixing their own labels. This practice is not only more costly, but in some cases, they are less desirable among the large supermarket chains.
Many smaller craft breweries also aren't set up to bottle beer, Fullmer said.
"It's a triple whammy," he said. "You can't just throw a bottle on a can line. There are so many factors, but it's certainly going to put stress on the ability to grow."
Still, Fullmer said small craft brewers are a "resilient bunch." Only a handful fell victim to the pandemic.
"I think we took a toll, but overall, I think our guys are responsible and able to roll with the state. I'm hoping people will come back to the breweries" to enjoy tasting events. "That's the ultimate answer."