Small Chinese Village Razed by 3,000 Police
December 30, 2011 6:40 pm Last Updated: October 1, 2015 2:53 pm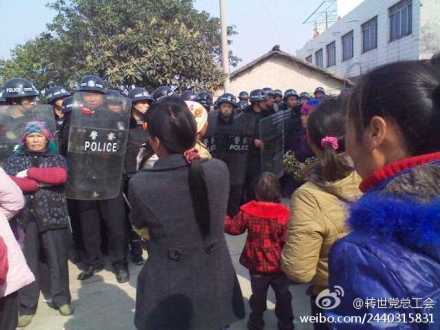 In the dark of night, a tiny village in China's Guangxi Province was besieged by 3,000 armed police. Villager say they have been trying to get local authorities to return land to them that has illegally been used as a state-run farm for nearly two decades.
In the early morning hours of Dec. 24, three thousand police, carrying batons and shields, and accompanied by German shepherd dogs, descended on Xinxing Village in Chuanshan Township of Liuzhou City, Guangxi Province, a community of around 300 households, while everyone was sound asleep, according to information posted on an Internet blog.
Villagers were startled awake by several signal flares and by police breaking open villagers' doors. Police took away 31 half-dressed villagers in handcuffs, their mouths sealed with tape. Among them were some sick, elderly residents and some with mental and physical disability.
Villagers who resisted the police were relentlessly beaten. One resident who tried to take photos using his mobile phone was violently beaten to the ground and dragged to a police car.
A land dispute between the villagers and local officials over a 3,000-acres state-run farm is at the core of a conflict that's festered for nearly 20 years and erupted anew in April 2011. That's when villagers discovered that a document issued in 1987 by the Liujiang County government was inconsistent with a boundary map plotted in 1992. Based on the 1987 document, the villagers are the legal owners of the 3,000 acres of land.
A villager with the last name of Luo told The Epoch Times on the phone that local authorities have been telling villagers for almost 20 years that they should organize a village committee and elect representatives who would search for and present evidence and negotiate a resolution with the farm.
Between May and November of 2011, the village representatives have nine times sent the evidence to city, county and township authorities, but nothing has been done. When the villagers requested local authorities to get involved and help mediate the dispute, they were treated with suppression, Luo said.
Police did not provide any explanations to villagers regarding the arrests. As of now, only three of the arrested have been released. Twenty-eight people are still in custody and visits to them are not allowed.
Villagers said they will never stop resisting government violence. Village leaders are trying to gain support from neighboring communities, and are preparing for a large protest in Guangxi on a scale similar to the Wukan protests in Guangdong Province. They also vowed to free the detained fellow villagers.
New Tang Dynasty (NTD), an independent Chinese television station, headquartered in New York, made a call to the Chuanshan Township police station on Dec. 28. The person answering confirmed that armed police were dispatched on Dec. 24 to make arrests, and that it had been a joint operation coordinated with authorities.
Carrying out a police crackdown during the Christmas season is a common practice used by Chinese authorities every year. Prominent rights activists Gao Zhisheng, Chen Wei, and Chen Xi have also been sentenced during this time.
Pu Fei, of the Tianwang Human Rights Service Center told NTD the regime chooses this time because many foreign journalists in China are on vacation, and it prevents the international community from paying attention to China's human rights situation.
Read the original Chinese article.