The small Chinese city of Dongxing, which borders Vietnam, has been under COVID lockdown for more than half a year.
According to the China census in November 2020, the city's population was 216,000. It's estimated that around only 20,000 people are there now due to the communist regime's strict zero-COVID policy.
Most residents have fled while those remaining have been posting on social media about their situation and calling for the outside world's attention.
According to their posts, Dongxing has been locked down by local authorities since February. They said that since then children have been unable to go to school and people have been unable to work and are without an income. All residents have been continuously asked to do PCR tests, they said.
According to health authorities in Guangxi, 20 COVID-19 cases were reported in Dongxing on Sept. 12.
Meanwhile, most local stores and factories have closed down for good, some social media posts have said.
Some of the city's social media users suspect that local testing agencies use the COVID response as an opportunity to make money.
Their calls for help have been ignored by authorities and many, in their posts, express a growing sense of despair.
Those posts calling for help end up being deleted from Chinese social media by the authorities.
Daily PCR Testing
"If you want to come into the city, you will be quarantined," Mr. Yuan, a resident of Dongxing, told NTDTV, a sister media of The Epoch Times, earlier this month. "And many places have been locked down, where people are not allowed to leave their home, except for doing daily PCR testing."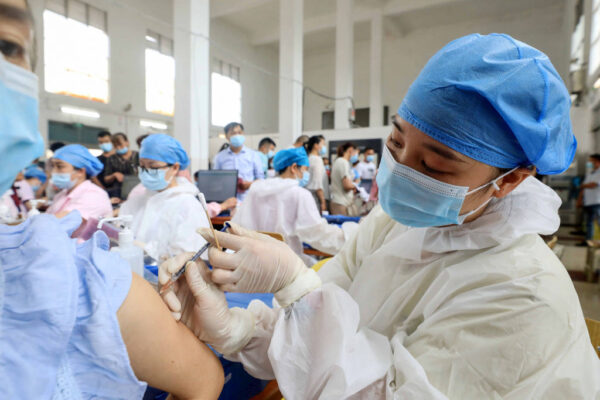 Mr. Lin, another local resident, told NTDTV that the situation in nearby Jintan is slightly better than in Dongxing as people are still allowed to go out to make a living by fishing.
But the situation in Dongxing is very miserable, Mr. Lin said.
"It has been closed off for almost a year, if it continues, the common people will be finished soon," he said.
"Dongxing is close to Mong Cai in Vietnam, just separated by a river. Even in lockdown, people can still cross the border illegally, and it's impossible to achieve zero-COVID," he said.
Dongxing authorities threatened the death penalty for anyone infected with COVID-19 crossing the border from Vietnam to China through Dongxing, The Epoch Times reported in June. Those who assisted infected persons crossing the border would also be subjected to the death penalty. This was done amid the Chinese Communist Party's narrative of blaming travelers for bringing in COVID-19 from other countries.
"The situation in Dongxing is really miserable, it's so desolate, oh my, the government was messing around like this, and now the people there are very angry," Mr. Lin said.
"Now there are more than 20,000 people in Dongxing, who have nowhere else to go. If people have a place to go, such as to their hometown, they will definitely run away from Dongxing."
Currently, nearly 300 million Chinese people out of a total popualtion of 1.4 billion continue to live under various strict lockdowns across China because of the regime's zero-COVID policy.
Lin Cenxin, Li Shanshan, and Liu Fang contributed to this report.