Small Businesses Cut Off From Millions in Sandy Recovery Funds
May 8, 2014 5:21 pm Last Updated: May 9, 2014 6:42 pm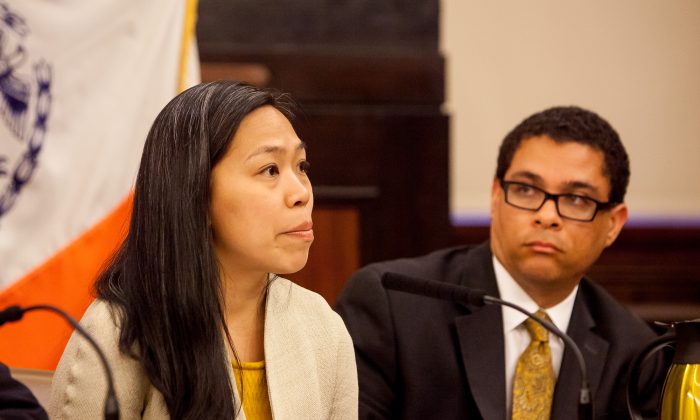 NEW YORK—Some small businesses hit by Superstorm Sandy are unable to reach tens of millions in recovery funds allocated for them, according to multiple testimonies before the City Council Wednesday.
In February 2013, the city received $1.77 billion in relief funds from the federal Department of Housing and Urban Development (HUD) for people still suffering consequences from the superstorm. The Bloomberg administration decided to distribute $72 million of that sum in loans and grants to affected small businesses.
The city received 146 applications and distributed $2.1 million in loans and $600,000 in grants to only a handful of businesses as part of the program, dubbed "last resort money." The administration then cut the total allocation to $42 million citing low demand as a reason.
But that explanation didn't bode well with many business owners testifying Wednesday before a City Council hearing on Sandy recovery.
"It's about what you offer," said Yelena Makhnin, executive director of the Brighton Beach Business Improvement District. 
Makhnin was in contact with some 300 small businesses, mainly on Brighton Beach Avenue, all flooded during the hurricane. About 65 percent of them were not eligible for any kind of assistance, she said.
Most relief programs for entrepreneurs were low-interest loans that required a certain income level, income projections, and other paperwork. The criteria didn't match many "micro-businesses," as Makhnin put it. 
"People from Brighton Beach Avenue, the small moms and pops, they were simply told in the beginning, 'You're not eligible.' So people never applied," she said.
To receive a grant, a business owner must submit a successful application for a loan to prove it's creditworthy, again prohibiting the same people from applying.
Many business owners testifying at the hearing said that after being rejected once or twice, they gave up on any government support and borrowed money elsewhere.
Now, even people who would be eligible for a loan from the HUD funds, wouldn't apply since they have significant debts already and couldn't handle more.
"Loan became a very bad word," Makhnin said.
Maria Torres-Springer, commissioner of the department of Small Business Services, said the agency is tweaking the small-business loan program so it can provide grants without the need to have a loan first, but the change needs to be approved by HUD. The process can take months and includes a public comment period. It is also not clear what the new criteria will be for people to get the grants.