Slew of Bridge Collapses Traced to Local Officials
July 21, 2011 5:04 pm Last Updated: October 1, 2015 4:09 pm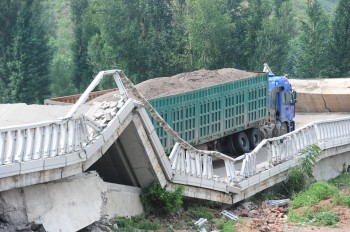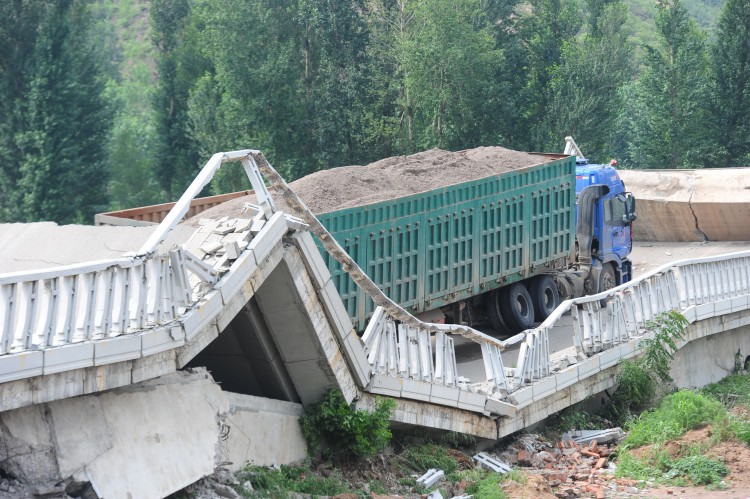 On July 11, two trucks fell through a bridge spanning the Yu River in Yancheng, Jiangsu. Three days later a bridge on Wuyi Mountain in Fujian collapsed—the tour bus it was carrying falling along with it, injuring 22 and killing one. Two more bridge failures came on July 15 and 17: A tractor trailer fell while on a bridge in Hangzhou, and then part of a viaduct bridge in Wuhan cracked and buckled, and was closed to traffic. The final failure was on July 19, when the White River bridge near Baoshan Temple, Beijing, gave way as an overloaded truck was on its way across.
Five bridge collapses within nine days? People started to wonder.
Added to that, three of the bridges were only 14 years old.
In Anhui Province alone there 7,460 bridges, out of 30,883, identified as "dangerous," the Provincial Highway Administration reported in August 2009.
Construction quality is obviously not up to par. The Chief Editor of China Business Overseas online magazine, Wu Fan, says it is connected with local officials and the promotion system that enables them.
"A local official has three to five years to perform and be noticed, otherwise his position will either be lost or he will not be promoted," writes Wu in one of his analyses of the subject.
"So anything that enhances his or her performance record will be tried. As for the loans, who's liable? Not the official. Because of all this, project quality becomes less important. A local official only cares about finishing the project and having it look impressive."
Those in charge put their own, short-term interests first, and disregard safety, Wu says. By the time the bridge collapses a decade later, the official has already been promoted and someone else is left to clean up the mess—and identify the bodies.
"The result is corruption, faulty workmanship, and shoddy materials, in other words, 'bean curd bridges,'" Wu Fan said.
New officials find bad press inconvenient. When reporters went to the scene in Hangzhou to report on the damage, they found that all the debris had been quickly removed. And they were reminded that journalists had to register with the local government before even going to the site.
Read the original Chinese article.