A Wisconsin teenager has been sentenced to 40 years in a mental hospital after she, along with another girl, admitted they tried to murder a classmate to please Slender Man—a fictional character from a horror tale.
Judge Michael Bohren ordered 15-year-old Morgan Geyser to serve the maximum sentence prosecutors were seeking, justifying his decision as a matter of community protection. At the hearing, doctors expressed varying opinions on the mental state of the defendant and Bohren concluded the teenager was "fragile" and could be driven by persistent delusions to harm herself and others.
"What we can't forget is this was an attempted murder," Bohren said, according to The Associated Press, in a courtroom on Thursday, Feb. 1, in Waukesha, Wisconsin.
According to the BBC, Geyser's lawyers said her delusions stem from schizophrenia and psychotic spectrum disorder. In earlier statements to psychiatrists, the defendant reportedly told doctors she communicates telepathically with a range of fictional characters, including Teenage Mutant Ninja Turtles and Harry Potter.
At the sentencing, Geyser expressed a tearful apology to the girl she tried to kill.
"I just want to let Bella and her family know that I'm sorry," she said, using a nickname for Payton Leutner, who was 12 at the time of the attack. "And I hope she's doing well."
The other girl involved in the attack, Anissa Weier, was sentenced to 25 years in a mental facility on Dec. 21, 2017, according to a Fox News report.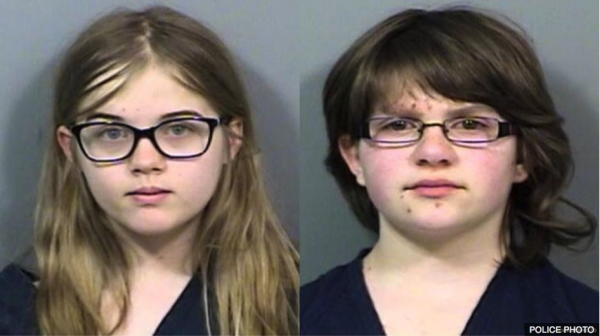 Geyser and Weier, who were 12 at the time of the attempted murder of Leutner in 2014, both said they were influenced by the fictional character Slender Man and wanted to kill their friend to appease him. They said they plotted to kill Leutner for five months before taking action in the ultimately botched attempt, according to the Daily Mail.
The girls invited her to the local park after they had a sleepover, and stabbed her 19 times.

Leutner was left for dead but crawled out of the woods and got help from a bicyclist.
She survived the ordeal.
Weier pleaded guilty to attempted second-degree intentional homicide last year, although she was found not guilty by reason of mental disease or defect.
Geyser pleaded guilty last year to attempted first-degree intentional homicide, CNN reported, also part of a bid to avoid serving time in prison.
Both girls may seek conditional release before they have served their full sentences.
Recommended Video:
Emotional Footage Shows Overjoyed Family After Being Reunited With Missing Dog