Sleek Futuristic City Cars to Find Downtown Home
February 7, 2013 1:17 pm Last Updated: April 3, 2013 5:29 am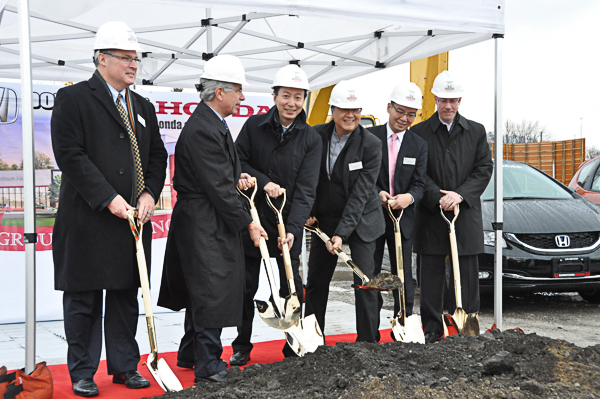 Young people are moving into downtown Toronto's condos, living the urban live-work-play dream and putting slender, truncated furniture into shimmering, glass-walled hives.
As environmentally aware as our urban-dwellers are, can they live car-less forever? 
Their firstborn child, and hipster-junior's necessary stroller, will launch into the swirling, snowy mix of chronically under-funded transit and post-"strollergate" animosity. 
As TTC commissioners hear complaints about strollers on buses, and public debate highlights peak-hour overcrowding and general transit ineffectiveness, we may well need to concede and ask, "What will tomorrow's urban dweller be driving?"
It goes without saying that the folks at Downtown Honda think it'll be a Honda. They recently broke ground on a new site at the corner of Cherry St. and Eastern Avenue. 
Expanding from their Lakeshore Boulevard E. site, by spring 2014 Downtown Honda will complete a 50,000 square foot showroom and service centre surrounded by rapidly growing condominium communities stretching from St. Lawrence Market through the Distillery and Canary Districts, and the rest of West Don Lands.
"A downtown dealership usually faces a lot of challenges: lack of land, parking, changing demographics and massive real estate costs," explained Angus Tai, general manager of Downtown Honda. 
At the groundbreaking, Honda president and CEO Takashi Sekiguchi noted that the "timing couldn't be better."
The dealership should be completed as the Canadian market welcomes the all-new Urban SUV Concept vehicle that made its world debut in January at the 2013 North American International Auto Show in Detroit.
Aside from the Urban SUV Concept, which is clearly designed for the one-stroller crowd, there is already buzz surrounding the Honda GEAR Concept, an ultra-sleek and gutsy sub-compact sure to wow the Civic Nation. Think Honda FIT, but way fitter.
Smaller, gas sipping, but unlike the current offering of gutless city cars, the Honda urban line-up is said to be very fuel-efficient, as well as actually fun to drive.
"I believe small cars will be key to our future," said Honda president Takanobu Ito at the unveiling of the new Honda Urban SUV Concept in Detroit. 
Ito described a "global compact series" featuring a centrally located gas tank allowing for roomier interiors and moveable seats that provide "surprisingly big functionality."  
There seems to be no lack of faith that cars will sell well downtown. The shovels that moved earth for Downtown Honda will be brought back out for the launching of an Acura facility on the lot next door sometime in 2014.