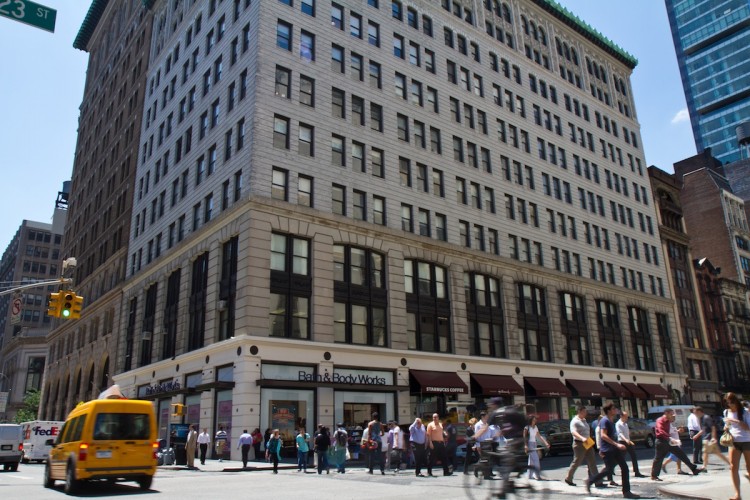 NEW YORK–SL Green Realty Corp. announced on Thursday that it will purchase a Flatiron building for $135 million. The 215,000-square-foot building on 304 Park Avenue South will sell for $628 per square foot. The building will be a mixture of office and retail.
The seller is Walter & Samuels Inc, the managing agent of the building. The transaction is expected to close June 1, 2012.
"We've been monitoring Midtown South carefully looking for acquisition opportunities," Andrew Mathias, President of SL Green said in a statement. "However, the consistently tightening vacancy rates and substantial lease activity in the area have driven cap rates on marketed deals below our target." The purchase was influenced by SL Green's relationship with Walter & Samuels Inc, according to the press release.
The building is "a classic SL Green investment – off-market, potential repositioning, and creating value upon acquisition for both the company and the seller," Mathias said.
SL Green will buy the property with approximately 50% cash and 50% Operating Partnership units.
The area is experiencing a steady increase in rent, with an office market vacancy of sub-6%. The building is located close to Madison Square Park, Union Square, Gramercy Park and the Flatiron districts.
The building is 95 percent leased to an elite model management firm, IMG Models. Retail tenants also include H&R Block, Bath & Body Works and Time Warner Entertainment.
The property is directly across from One Madison Avenue in the Midtown South sub-district, also owned by SL Green.
SL Green Realty Corp. is a top commercial office landlord in New York City. SL Green owns interests in 70 Manhattan properties, which totals over 39.0 million square feet as of March 31, 2012.
The Epoch Times publishes in 35 countries and in 19 languages. Subscribe to our e-newsletter.

Click www.ept.ms/ccp-crisis to read about the most recent developments in the ongoing crisis within the Chinese communist regime. In this special topic, we provide readers with the necessary context to understand the situation. Get the RSS feed. Get the new interactive Timeline of Events. Who are the Major Players?