Skyrocketing Wedding Costs in Beijing and Shanghai
January 31, 2008 12:00 am Last Updated: January 31, 2008 12:00 am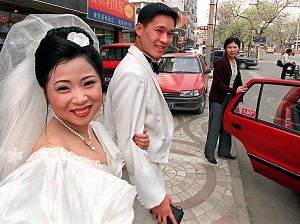 According to the China Youth Daily, the China International Wedding Expo Executive Committee recently published the findings of a nationwide survey on wedding expenditures during the period from 2006 to 2007. The statistics show that, for people living in urban areas, the average wedding expenditure is about 560,000 yuan ($77,500), with Shanghai's 1.4 million yuan ($193,800) taking the lead, followed by Hangzhou's 1.15 million Yuan ($195,200), Beijing's 1.06 million yuan ($146,700), Suzhou's 850,000 yuan ($117,600), Nanjing's 700,000 yuan ($100,000) and Wuhan's 450,000 Yuan ($62,300).
The above-mentioned wedding expenditures usually cover the costs for interior decorations, electronic appliances, and other personnel services related to wedding planning. As the China Youth Daily didn't specify the detailed breakdown of the 1.4 million Yuan ($193,800) total, it is not clear whether it includes the estimated cost of purchasing a commercial apartment unit with two bed rooms, or the average wedding costs for the newlyweds in Shanghai in the past year, i.e., including only the down payment for a commercial apartment unit.
The survey also reveals that 81.6 percent of newlyweds rely on their parents' financial support. Nowadays, relying on parents to dissolve the huge wedding cost has become the norm for young people. The survey indicates 47.5 percent of newlyweds rely on their parents to cover 20 to 60 percent of wedding costs, 14 percent rely on their parents to cover 80 to 100 percent.
According to the results of another survey on wedding expenditures conducted by the Beijing Municipal Bureau of Statistics and the Survey Office of the National Bureau of Statistics in Beijing released on January 17, 2008, the average direct wedding expenditure for families in Beijing's urban area in 2007 was 53,645 Yuan ($7,425), with an increase of 95 percent in comparison with that of 2003, an average annual increase rate of 18.2 percent. This has led many people to complain that wedding costs are increasing much faster than the growth rates of GDP (Gross Domestic Product) and CPI (consumer price index).
In Beijing, extravagant young people usually spend 5,000 Yuan ($692) for wedding photography, 30,000 Yuan ($4,152) for buying gold and jewelries, 80,000 Yuan ($11,073) for wedding banquet of 30 tables in a four-star hotel, 10,000 Yuan ($1,384) for a honeymoon trip to Yunnan, 2,500 Yuan ($346) for purchasing wedding gowns, suits and other new dresses. All of which may add up to over 130,000 Yuan ($17,994), not including the rental of limousines and the expenses of other miscellaneous items.
Confronted with such skyrocketing wedding costs, many young people would rather remain single. Some media reported that nowadays there is another phenomenon of singles young adults due mainly to the skyrocketing housing and wedding costs. Sociological surveys further reveal that the singles phenomenon mainly occurs among white-collar and bourgeois, as these people put much emphasis on quality of life and personal enjoyment. Moreover, the extravagance of a wedding and housing are some things that they deem indispensable but hard to come by.
The steadily increasing wedding costs have indeed made many working families overburdened. Behind gorgeous wedding photos, there are numerous tears of sadness. Parents may have to spend all of their hard-earned savings on their children's weddings.
That being the case, many newlyweds are confronted with a dilemma. On one hand, they complain that wedding costs are much too high, but on the other, they envy the extravagance of others' weddings. Among others, the media's wide coverage on various extravagant weddings has given rise to the high expenditure phenomenon. It is said that the famous movie star Liu Tao's wedding cost was as over 4 million Yuan ($553,600), and it seemed to be an exhibit for brand name limousines. Repetitive media coverage and high hit rates for such news online have unknowingly stimulated this phenomenon of extravagance in society. As a result, many young people have unknowingly jumped on the bandwagon of extravagant weddings.