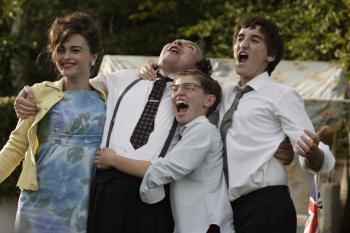 What does the World Cup Final and a bar mitzvah have in common? Well, if it's England 1966, the answer would be Paul Weiland. Writer and director of his new film Sixty Six, Weiland recounts the true life story of his bar mitzvah, which ironically coincided with the final game against Germany, a moment of pride for his country, and one of devastation for him, as no one attended his long anticipated special day.
This poignant and amusing coming of age film tells the story of one year in the life of 12-year-old Bernie, played by Gregg Sulkin—the year leading up to his bar mitzvah. Because of Bernie's oppressive home life with a father, Eddie Marsan (Vera Drake) plagued with obsessive compulsive disorder, an obnoxious brother, and a mother, Helena Bonham Carter, who spent all her time catering to them both, Bernie is left feeling neglected and unseen.
To compensate for his need of affirmation, Bernie invests all his energy envisioning the day that he will be celebrated and lavishly doted on. As the year progresses however, amidst bar mitzvah lessons with the orthodox rabbi, and fantasies of his moment of glory, his father's business fails, meaning the need to downsize the expensive affair. Things only get worse as the World Cup Final is scheduled for the same day as the bar mitzvah. Bernie tries desperately to take control of a situation so out of his control.
Weiland expressed in an interview, that he suspects that these difficult early experiences had something to do with his decision to become a film director, a way to have perhaps "slightly more control." His main issue growing up, he acknowledges, was his need to have attention in a home and life that he describes as feeling "incredibly claustrophobic. It was a small house with big issues going on in that house" he recalls, "you couldn't avoid it, there was never a room you could go to get away from it."

"I wanted to do it [the film] because you always have one story in you that you want to relate—these stories normally come from hardship."
So how does it feels to have that life story on screen? Weiland said that initially while in production, he was too busy to consider it, but it wasn't until later during a big screening in New York that it suddenly hit him. "Oh my goodness, this is my life up there. It's quite a weird experience. It's quite a weird feeling to say the least."
Of the ritual of mar mitzvah, Weiland thinks that there may be too much emphasis on materialism and status now. Nonetheless, he hoped to convey a different message in Sixty Six, where he was very conscientious to not stereotype Jews as he feel is too often the case. "It is a wonderful thing when you're standing on your own two feet reciting the portion of the law [Hebrew scriptures]. It's a life-changing experience."
This gem of a film is not melancholic, but rather heartfelt, humorous, colorful, and clever—with the sentiment of redemption and triumph. However, that redemption is found years later in an editing room, in the pages of a screen play, or perhaps in the face of a confident and successful 13 year-old boy portrayed to you decades later. The film is Weiland's way to do it differently, or as he says in his proper English accent, "to have another run at it."