The sixth illegal immigrant in one month has been arrested in a sanctuary county in Maryland.
All of the illegal immigrants have been men and have been charged with rape or sexual abuse.
According to a charges statement obtained by WJLA's Kevin Lewis, Nestor Lopez-Guzman was arrested for allegedly molesting a 12-year-old girl and her younger brother.
A friend of one of the victims told a sixth-grade counselor that the female victim told them that she was sexually abused by Lopez-Guman multiple times.
The victim later confirmed the details, saying she and her mother lived with Lopez-Guzman, 21, her brother, her sister, and several relatives of the suspect.
MORE: According to detectives, Lopez-Guzman confessed to touching the elementary school-age boy's genitals, claiming it was a "cultural joke" that's "common in El Salvador."

Lopez-Guzman said it's a way for men to poke fun at one another.

The 21yo is out on bond awaiting trial. pic.twitter.com/Xvg4l0dkCK

— Kevin Lewis (@ABC7Kevin) August 29, 2019
She said the suspect would get "touchative" and touch her in private parts of her body despite her clearly indicating she did not want him to. She said she would move, push him, or kick him when he tried to touch her but that he had abused her on at least one occasion.
Police also interviewed the victim's younger brother, who "was presented body diagrams during the course of the forensic interview" and stated the areas of the body where no one should touch. He said he had not been touched there but told a counselor at his elementary school the next day that Lopez-Guzman allegedly touched him in "private parts."
The suspect was interviewed and told police he did touch the boy in those areas but "stated the touching was a joke that was common in El Salvador."
"He stated he never played those jokes on [the girl]; the cultural joke is for males to make fun of males," a police officer wrote in the charging statement.
NEW: Nestor Lopez-Guzman molested a 12yo girl + her younger brother, cops say.

Per ICE, the 21yo is a Salvadoran national living in the U.S. illegally.

This is at least the sixth undocumented immigrant arrested in Montgomery County, Md. on rape/sex abuse charges since July 25. pic.twitter.com/KSmT05qajU

— Kevin Lewis (@ABC7Kevin) August 29, 2019
Lopez-Guzman was arrested earlier this month but released after he posted immigration bond, Immigration and Customs Enforcement (ICE) said. The agency said he is an illegal alien.
At least five other illegal immigrants have been arrested in the county since July 25.
The actual number is hard to ascertain because the county does not disclose if alleged criminals are in the country illegally.
Kevin Mendoza, 26, was arrested on Aug. 16 for allegedly raping, assaulting, and trying to murder a woman who he attacked as she entered her apartment building carrying a basket of laundry.
Nelson Reyes-Medrano, a 46-year-old father of 10, was arrested on Aug. 13 for allegedly raping a 16-year-old girl last year. He is an illegal immigrant from El Salvador.
Rodrigo Castro-Montejo, 25, also an alien from El Salvador, was arrested by police on Aug. 10 on charges of rape and sexual assault for allegedly raping a female friend after she passed out from drinking.
Mauricio Barrera-Navidad, 29, and Carlos Palacios-Amaya, 28, both of El Salvador, were arrested in late July for allegedly raping an 11-year-old girl.
Both men are in the country illegally.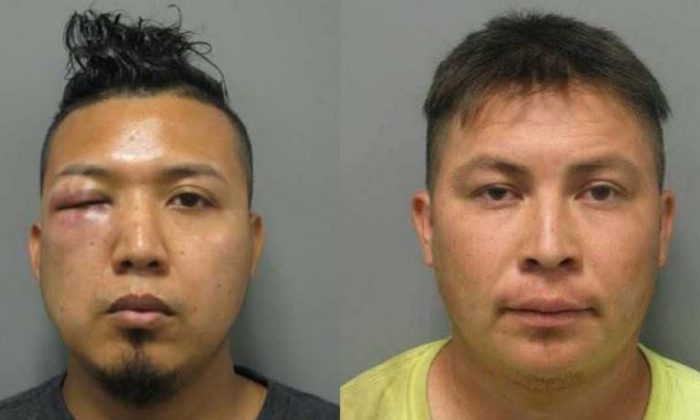 Montgomery County introduced sanctuary policies in 2014 (pdf), 2016 (pdf), and 2017 (pdf). Press releases from Montgomery County do not show the suspects' immigration status.
Montgomery County Executive Marc Elrich said in an executive order (pdf) in July that county agencies are not allowed to ask people about their immigration status or, in some cases, help Immigration and Customs Enforcement (ICE).
"Enforcing federal immigration law is the sole responsibility of the federal government of the United States and it is not in the interests of Montgomery County to utilize its limited community resources to facilitate enforcement of federal civil immigration laws," he wrote.
Elrich said immigration detainers, which ICE places on people who officials believe are illegally in the country, are not something Montgomery County will be involved with unless there are accompanying judicial warrants.
Montgomery County has not responded to a request for comment from The Epoch Times regarding its sanctuary policies.
But Elrich told WTOP this week that he might change the part of the executive order that prevents ICE agents from entering some parts of the county jail. The restriction means an ICE agent has to wait in the jail's lobby to take custody of a detainee.
"We are going to look at that because there are questions that people have raised about not just the safety of ICE officials, but the safety of anybody else who might be out there (in the lobby)," said Elrich.
Elrich was asked about releasing one of the aliens on bail even though the man was charged with rape. ICE issued a detainer, directing the county to hold the man for federal officials, but the county said it called an ICE agent and he did not pick up. ICE later said the agent was off-duty.
Elrich said the release of the man was a court decision and said the county is not to blame.
"If people think we're just releasing people, that's the thing that offends me most of all … I haven't released anybody," Elrich said. "Somebody in the court system said, 'You served your time, we dropped the charges or you met bail, and therefore you're free to go.' And I don't have the power to say 'No, you're not free to go.'"