Six-Year-Old Girl Killed by Tiger in Zoo
February 26, 2007 12:00 am Last Updated: February 26, 2007 12:00 am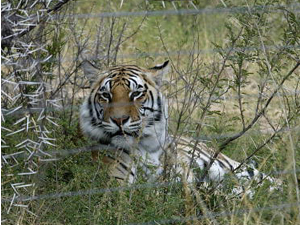 CHINA—On Feb. 22, 2007, a six-year-old girl was killed by a tiger while taking photos with it. The zoo in Kunming city, Yunnan Province makes money by allowing tourists to take pictures with tigers. On that day, when the camera flashed, the tiger got angry and bit the girl. She was rushed to the hospital for treatment where she died from fatal injuries.
According to a report on Spring City Evening News, six-year-old girl Ruixin visited the Yuantong Mountain zoo with her mother, uncle, aunt and two cousins and went to watch the animal show.
After the animal show by 2:00 pm, the performer began to arrange for visitors to take pictures with the tiger and asked the visitors to line up outside of the iron bar fence to wait for their turn taking photos inside.
When their turn came, Ruixin and her two cousins entered the fence, the three of them stood behind the tiger waiting for her uncle to take the picture. As the camera flashed, the tiger suddenly put its paws on Ruixin's head and bit Ruixin's whole head in its mouth.
Her mother immediately tried to rescue her and her left hand was injured by the tiger. The five trainers kept on throwing wooden clubs and stools at the tiger but the tiger did not loosen its mouth until all the stools were broken. Ruixin's head was in the tiger's mouth for one whole minute.
An ambulance sent the mother and daughter to a local hospital immediately. Ruixin died one hour after she was rushed to the hospital. According to the doctor, Ruixin's scalp suffered open injury; she bled too much and suffocated to death.
After the accident, the sign for photo taking with the tiger was still hanging at the entrance of the show.
The over two meters long tiger that bit Ruixin to death quietly lied down in a small cage. Its claws were still stained with some skin and blood.