A kayaker discovered six newborn puppies inside a sack in a Massachusetts river. And they're expected to survive.
Police said a person threw the sack in the Blackstone River. Two kayakers came across the potato sack and heard the dogs' whimpers.
They were able to rescue the dogs and contact the relevant authorities, CBS reported.
Uxbridge puppies are healthy after being dumped in Blackstone River. Adoptions in 8-9 weeks. pic.twitter.com/Qhm1TCtzLO

— Lana Jones (@Lanawbz) September 25, 2017
"I believe as a police chief they had guardian angels looking over them, these kayakers," Uxbridge Police Department Chief Jeffrey Lourie said. "It was only a matter of time before they were all submerged and perished."
The puppies were believed to be seven days old.
The department, on Facebook, said that they're looking for the "low life" suspect behind it.
Expecting to hear soon from Uxbridge Animal Control about the puppies found in a sack along the Blackstone River. pic.twitter.com/cb5wNiCVRb

— Lana Jones (@Lanawbz) September 25, 2017
"Obviously this is a heinous act, unconscionable," Lourie said. "We definitely want to be able to charge [the suspect] with six counts of cruelty to animals."
The Uxbridge Police gave an update to LittleThings:
"We are overwhelmed by the responses with regards to the puppies found… We have such a caring and great community and we appreciate everyone's outpouring support and concern for the puppies. If anyone has any information please contact our Police Department any time and we will have you speak with one of our Detectives. If you are looking to provide a monetary donation to help, you can certainly send a check to our "Uxbridge Regional Animal Control Gift Account" at 275 Douglas Street, Uxbridge MA. We would like to remind everyone to please consider the many many dogs looking for loving homes in the many area shelters here locally and beyond."
Pit Bull Saves Family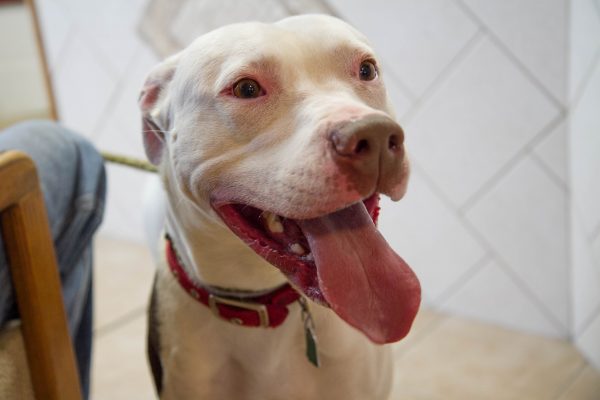 A Westchester County dog is being hailed a hero after breaking out of her house to save her owner's life.
On Wednesday, Feb. 6, the 60-pound pit bull named Sadie was found wandering the streets of Tuckahoe barking incessantly.
At 3:45 p.m., the police received a call about a loose, barking dog. "We got a call of a loose pit bull," police Lieutenant Lawrence Rotta of the Tuckahoe Police Department said, according to WCBS.
GOOD GIRL! A dog in Westchester County, New York is being hailed a hero after breaking out of her home to save her owner's life. At first police thought she was a dog on the loose, but then realized the pit bull was on a mission to get help. https://t.co/ecQDim2y3B

— WNDU (@WNDU) February 9, 2019
Upon arriving at the scene, police tried to catch the dog but she bolted.
"The dog then ran and took the officers through several streets, and then lead them back to the dog's residence into the backyard," Lt. Rotta said.
When the officers followed Sadie to her home on Fairview Avenue, they noticed the home's sliding glass door was open, and the fence was open.
"When they went to investigate they noticed an odor of gas emanating from the doorway," Lt. Rotta told WCBS.
Tiffany Meier contributed to this report.