Nov. 11, also known as Singles' Day, is an online shopping holiday in China unlike any other. A star-studded show hosted by China's largest online retailer, Alibaba, kicked off the festivities, originally conceived as an online sales event for singles to treat themselves with some retail therapy. This year, actress Nicole Kidman, rapper Pharrell Williams, and Chinese film stars Zhang Ziyi and Fan Bingbing were among those present at a gala in Shanghai.
By the end of a 24-hour period, Alibaba had made 168.3 billion yuan, or roughly $25 billion—an almost 40 percent increase from last year's 120.7 billion yuan ($17.8 billion).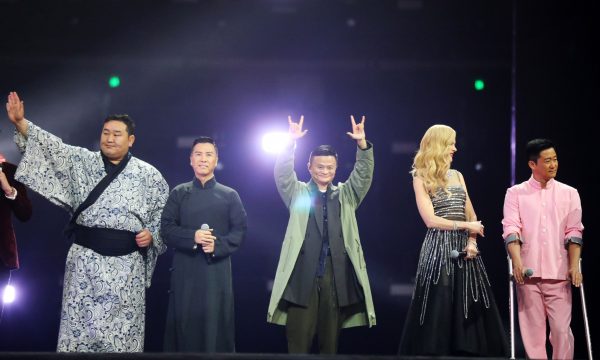 Chinese consumers bought the most products from Japan, America, Australia, Germany, and South Korea. In Guangzhou Province in southern China alone, 360 million packages were to be shipped out by the local post office.
But the sales numbers have been called into question. According to Reuters, the U.S. Securities and Exchange Commission has launched a probe into Alibaba's accounting practices in 2016, including for its Singles' Day sales.
On the day of this year's shopping festival, Chinese newspaper Beijing News published an article exposing websites that provide fake transactions for store vendors. Online store vendors can request as many fake transactions as they'd like, and the websites receive a commission in exchange. The fake sales, made under fake names, increase a vendor's sales volume and popularity ranking, which in turn may attract real customers to make purchases.
One website, called 51 Shua Dan (a Chinese term for fake transactions), closed down after the Beijing News report came out. Before closing, the website had 62,484 members and had completed 10 million fake transactions, according to Beijing News.
Online Addiction
The massive sales numbers may also be an indication of a serious social problem. This weekend, local newspaper Metropolis Bulletin reported that a woman living in the coastal city of Xiamen, Fujian Province, had spent 1.4 million yuan ($210,000) on online shopping for the past two years.
A survey about online shopping habits among Chinese consumers found 71.1 percent believed they had an addiction.
The woman's husband, 37 year-old Liu Cheng, told the newspaper that his wife had acquired a huge amount of clothing online—on Nov. 11 and other major holidays—spending all of the couple's savings, using up the credit limit on 17 cards, borrowing money from relatives, and taking loans.
During this year's Lunar New Year holiday, six deliverymen had dropped off 27 packages in one day. Liu also started receiving phone calls from different retail companies asking about the money owed on items his wife had purchased.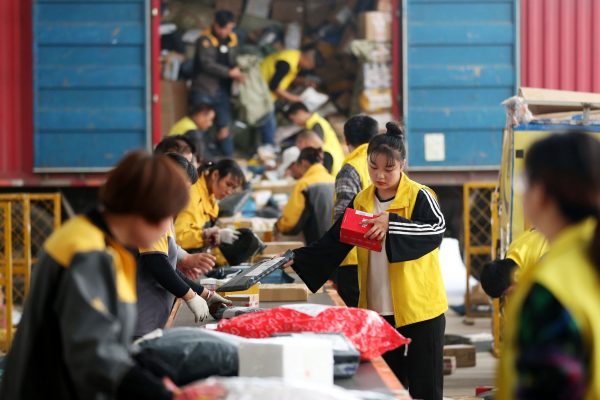 Liu said his wife's closet had about 300 pairs of jeans, 200 pairs of shoes, 50 coats, and 40 different handbags, alongside countless t-shirts and jackets, many with their tags still on.
Shopping addiction is a real phenomenon in China. In 2011, Chinese news portal Sina published a survey about online shopping habits among Chinese consumers that found 71.1 percent of respondents believed they had an addiction, while 73.6 percent said they logged on to an online shopping site every day.
Tragedy
The Nov. 11 festival led to tragedy in Shanghai, when one person died at a shopping event.
A supermarket in Pudong district had organized an event that saw many customers line up outside the store at around 6:30 a.m. At around 6:50 a.m., local police reported that the store's second-floor loft had collapsed due to overload, trapping a dozen or so customers and staff underneath.
The police announced via WeChat that two people had died, while seven were injured. Those rescued were sent to Pudong New District People's Hospital for treatment, where one died after 13 hours.