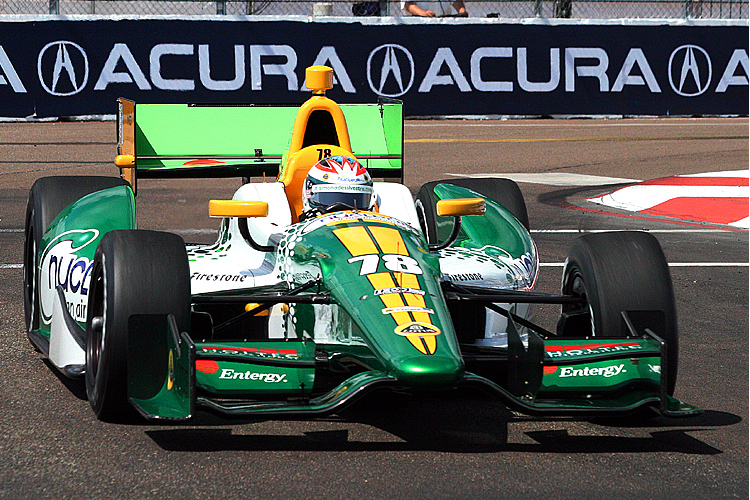 IndyCar driver Simona de Silvestro has signed on at KV Racing Technology for the 2013 season. She will be teammates with IndyCar veteran Tony Kannan.
"I'm really excited to be joining KV Racing Technology," de Silvestro said in a KV press release "I think it's going to be great having Tony as a teammate.
De Silvestro, who joined IndyCar in 2010, spent three seasons at HVM Racing, two in aging chassis and the last one saddled with the grossly uncompetitive Lotus engine.
"The Swiss Miss" earned two top-ten finishes in 2010, and a fourth place and three top-ten finishes in 2011. In 2012 her car was often withdrawn early in the race because of the underpowered engine.
At KV, with good cars and Chevrolet power and mentored by the veteran Kanaan, she might better exercise the talents she showed in her Formula Atlantic career where she had five wins, one in 2008 and four in 2009.
"I think it's really important to have a teammate," de Silvestro told Indycar.com. "In my career, I've always been by myself. I think having data and having someone like Tony on the team will really help me. Tony and I get along really well. He has lot of experience knows a lot about the car and racing. Having him as a teammate is really important, and I'm going to learn a lot from him."
After a frustrating 2012 season, the 24-year-old racer was ready for a better opportunity.
"It's never easy to make a change like this, but I'm confident that it's the right move for me going forward," de Silvestro commented. "I do want to thank Keith [Wiggins, owner] and HVM Racing for helping me gain a ton of experience these last three years. Even though we struggled last year with our engine, I learned a lot. Now it's time to move on and look forward to next season."
De Silvestro had had Nuclear Clean Air Energy/Entergy sponsorship since 2008; she brings that with her to KV. "I'm proud of the fact that I'm the spokesperson for the Nuclear Clean Air Energy campaign and very happy that Entergy, AREVA, and all my sponsors will continue to support my racing efforts," de Silvestro concluded.
The 2013 IndyCar seasons starts on March 24 with the Honda Grand Prix of St. Petersburg.
The Epoch Times publishes in 35 countries and in 19 languages. Subscribe to our e-newsletter.