Simon Pagenaud Wins Inaugural IndyCar Grand Prix of Indianapolis
May 10, 2014 10:28 pm Last Updated: May 10, 2014 10:28 pm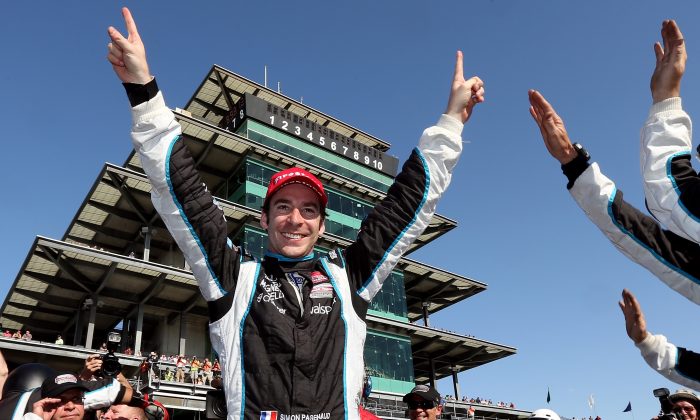 IndyCar has been through some tough times, but its new management team has been willing to fly in the face of tradition to try to revitalize some traditions.
Traditionally, the only IndyCar race at the Indianapolis motor Speedway—home of the Indy 500, the signature race of the series—has been that same Indianapolis 500. A tradition which has been lost over time is the Month of May, where IndyCar teams spent three weeks practicing, qualifying, a fine-tuning their cars for the big race.
At one time the rack was busy with both cars and fans for the entire month of May, but as the series went through many changes in the past two decades it lost that traditional fan base and never found a new one.
So, IndyCar decided to change one tradition to try to revive another: IndyCar devised the Grand Prix of Indianapolis, a road race on a revised version of the Indy infield road course, to start the Month of May with something which would be sure to attract fans.
The inaugural Grand Prix of Indianapolis, which ran Saturday, May 10, could certainly do the job.
Simon Pagenaud of Sam Schmidt-Peterson Motorsports won the first IndyCar road race at Indy after 82 laps of crashes, restarts, more crashes, and a lot of good driving, not by being amazingly fast but by being amazingly disciplined, restraining himself to save fuel while still driving fast enough to stay ahead of the rest of the field. The race was filled with excitement from the three-car collision at the start through the hot pursuit in the final laps, and through it all Pagenaud followed his plan to come out ahead in the end.
Pagenaud led only six laps in the race, but he led the last five. He was so low on fuel at the finish he couldn't have led a sixth, but precise planning is part of racing—Pagenaud's win, only the second of his Indycar career, proves it.
"This car was unbelievable," Pagenaud told ABC-TV after the race. The fuel we're saving is amazing. With the pace it was nerve-wracking. I've got to tell you, I was worried about Helio [Castroneves] coming back and I didn't know what [Ryan] Hunter- Reay was doing either, so I just kept working.
"My lap time was saving fuel, being off throttle. I don't like racing off throttle. But it worked out, thanks to the whole [Schmidt Peterson Hamilton Motorsports] team. The car that they provided me this weekend was definitely the fastest, and we got the win, so thanks to everybody."
Carnage at the Start
The inaugural IndyCar Grand Prix of Indianapolis was supposed to kick off a revitalized Month of May, getting race fans excited about IndyCar like they were in the old days, when people would wait eagerly for news from the track every day from the first day of practice until the last lap of the race.
Whether or not it will have that effect, having a road race at the Indianapolis motor Speedway early in the month of May turned out to be a good idea for the simplest possible reason—it was a really good race. The fact that a good number of fans showed up might augur well for the rest of the month, but either way, the Indy GP was an exciting contest.
The race didn't exactly have an auspicious beginning. Pole-sitter Sebastian Saavedra of KV Racing stalled on the line, forcing the rest of the field to either go around him or hit him. Ryan Hunter-Reay of Andretti Autosport, immediately behind the stalled car, made an impressive move to get around and take the lead. Some other drivers performed a bit less impressively.
Carlos Munoz, also from AA, decided at the last minute not to pass the stalled car on the right, and cut back sharply to the left—and rammed right into the left rear corner of the hapless Saavedra, spinning him halfway around and pushing him into the path of Schmidt-Peterson driver Mikhail Aleshin, who plowed into Saavedra's car, spinning him around the rest of the way.
Mike Conway of Ed Carpenter Racing managed to avoid the mess but hit the pit lane wall in doing so, totaling his car, while Penske driver Juan Montoya got by all the wreckage and then stalled for some reason.
It took seven laps to clean up the wreckage; on lap eight, the inaugural IndyCar Grand Prix of Indianapolis was finally ready to begin.
Ryan Hunter-Reay lead  the field back to the green flag, but rookie Jack Hawksworth, driving for the Bryan Herta team, wasted no time in finding a way around the 2012 champion and opening a decent lead. Hawksworth's car was apparently one of the few perfectly set up for the new Indy road course, with its mix of tight twists and very high-speed straights. The rookie led through the entire first half of the 82-lap race. It was not until Scott Dixon, for the first time in recorded history, lost his patience and caused himself a problem on lap 42, that Hawksworth gave up the lead.
Dixon was trying to hold off a charging Will Power, but the Penske driver was able to get by. Dixon decided he didn't like the way Power had passed him, and tried to retake the spot—and it seemed he had the pass made, when power turned down on him and spun the Target-Ganassi driver into the gravel, bringing out the race's second full-course caution.
Penske driver Helio Castroneves, who was running ninth on lap 41, dove into the pits just before the caution flag waved. While the rest of the field circled the track behind the safety car, waiting for the pits to open, Castroneves took fuel and tires and came out fifth.
Hunter-Reay stayed out, gambling that he would have another chance to pit under caution; this decision put the AA driver into the lead. And as it turned out Hunter-Reay was right—there were a pair of cautions in his immediate future.
Cautions Breed Cautions
On the lap 47 restart, AJ Foyt driver Martin Plowman went way too hot into a corner, spun, hit a curb backwards, and launched himself through the air over the car of fellow sports-car ace Franck Montagny. Plowman was able to continue, but Montagny's Andretti Autosport car was ruined.  
Will Power, who had somehow avoided a penalty for his contact with Scott Dixon, earned himself a drive-through for running over a hose while leaving the pits on lap 49, which he couldn't serve until after the lap 56 restart. Power pulled in with teammate Juan Montoya, who was pipped for hitting RLL driver Graham Rahal on the restart on lap 51, which collision caused yet another caution. This left all of Penske's hopes centered on Helio Castroneves, who really wanted to win at Indy that day as it was his 39th birthday—and a race win at Indy.
Ryan Hunter -Reay's teammates were faring no better. Carlos Munoz was wiped out in the first-lap crash; Marco Andretti had to fight an electrical problem all race long—his engine was overboosting and hitting the pit limiter, because of a coil, one of his mechanics said on the radio.
James Hinchcliffe got his in the head by a piece of debris off Justin Wilson's car on the lap 56 restart. He pulled off the course and parked, then was carried to safety vehicle and transported to the medical center. He was diagnosed with a mild concussions—no word yet as to whether he will be cleared to drive in the Indy 500.
Hunter-Reay finally decided to pit on lap 53 during the fourth and what would prove to be final caution period of the race. James Hinchcliffe and Simon Pagenausd, running second and third, followed him.
Gambling With Fuel
On the restart the running order was Helio, Charlie Kimball, Jack Hawksworth, Ryan Briscoe, Sebastien Bourdais, Takuma Sato, and Justin Wilson, all owing a pit stop, and RHR, Pagenaud, Hinch, and Oriol Servia in positions 8–11.  Servia, Pagenaud, and Hunter-Reay had all done 13 laps since putting; all the cars ahead of them had done between 23 and 26.
Hinch pulled off with his injury, Wilson lost time because of his broken front wing, Hawkswooerth pitted on lap 60 and Sato pitted on lap 66, leaving Castroneves, Kimball, Bourdais and Briscoe in the top four places, all in danger of running dry and hoping for another yellow flag.
Charlie Kimball's crew was the first to blink—they called him in on lap 68. Castroneves pitted on lap 69 for fuel and fresh tires. Bourdais and Briscoe followed him in on lap 70.
This left Oriol Servia, Simon Pagenaud, and Ryan Hunter-Reay in the top three spots. All had done sixteen laps since they last pitted (albeit two were under yellow,) and all were hoping to stretch their fuel for another 12 laps. While RHR and Pagenaud had to go slow or go home, Helio Castroneves could chase them down with absolutely no need to conserve fuel.
Oriol Servia also had no reason to conserve fuel. He didn't have a full-season contract—in fact, he had no idea if he had a ride once the Indy 500 was done. Since he wasn't in the championship hunt, points meant nothing to him. Servia went flat out, hoping to build up a big lead in case there was another caution and he could, Castroneves-style, slip into the pits ahead of the flag.
It didn't work out for Servia. Despite him laying down personal best laps repeatedly he never got enough of a gap to pit and keep the lead, and he never got that fifth caution period he needed. Servia pulled into the pits with five laps left in the race, and ended up in twelfth at the finish.
This left Simon Pagenaud in the lead over Ryan Hunter-Reay by two seconds, with Helio another four seconds back and making up a second and a half a lap.
With two laps left Castroneves was almost in striking distance; Hunter-Reay had to use his last Push-to-Pass speed boost to stay ahead, even though he risked running out of fuel. This kept RHR just ahead of Helio as the checkered flag waved, giving Simon Pagenaud his second IndyCar win, and his first of the season.
Hunter-Reay held on to second, and Castroneves had to settle for the bottom step of the podium for his birthday.
Sebastien Bourdais finished fourth, only 2.5 seconds back, after finally driving a trouble- and error-free race. Charlie Kimball took fifth, a lap down at the end, to earn some welcome points.
The drivers won't get much rest—Monday everyone will be back in their cars and out on track, practicing for The Greatest Spectacle in Racing, Indianapolis 500. The 500 will run on May 25, with qualifying the weekend before. For tickets, please visit the Indianapolis Motor Speedway site.