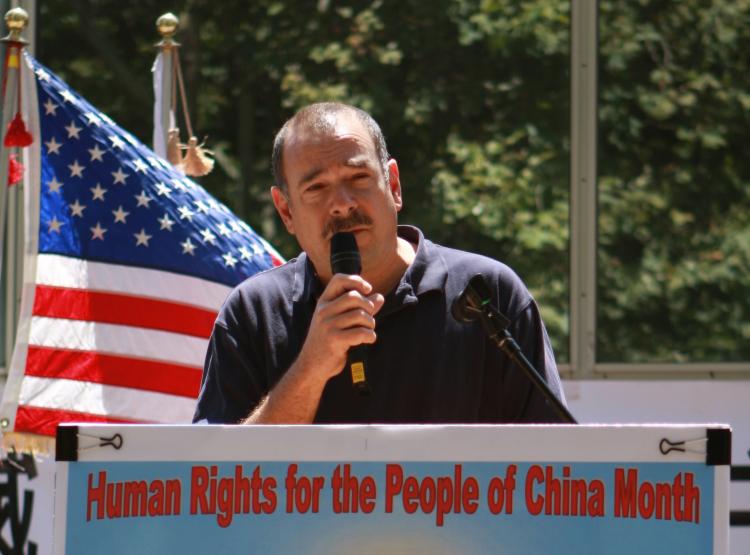 SAN JOSÉ, Calif.—Two days before the Beijing Olympics opening ceremony, Silicon Valley residents gathered together and called for improved human rights in China. The rally was held in front of the Santa Clara County government building in San José, a city known both for its concentration of high technology as well as its tolerance for different cultures.
"While I have always been impressed by the Chinese people, and I have visited the Mainland many times, I am saddened by their human rights violations," said Pete McHugh, Chairman of the Santa Clara County Board of Supervisors.
McHugh attended the rally to present a resolution that was passed unanimously on June 24, inviting local citizens to join efforts to curtail human rights violations in China and proclaiming August 2008 as "Human Rights for the People of China Month."
The resolution states that, as a member of the United Nations, China has a responsibility to uphold the Universal Declaration of Human Rights. It further notes that the Olympic Charter strives for placing sports at the service of harmonious development of humankind, and any forms of discrimination in regards to race, religion, politics, and gender would not be aligned with the Olympics spirit.
Zhou Fengsuo, one of the most prominent student leaders in the June 4, 1989 Tiananmen Massacre, urged people not to forget about what happened in China. "In two days, Beijing will celebrate the Olympics in the same place where, 19 years ago, students were killed and shot… let's speak for people who have no voice in China," Zhou said.
Zhou's fellow activist, Huang Shi, was arrested two months ago for publishing photos from the Sichuan earthquake showing government buildings standing tall next to the ruins of school buildings.
Sherry Zhang, a Falun Gong spokesperson, was also present at the rally. Zhang stated that massive arrests of Falun Gong practitioners have been taking place since December 2007 as part of the Chinese communist regime's efforts to "clean up" in preparation for the Olympics.
Zhang encouraged journalists traveling to Beijing to take advantage of information released by the Falun Dafa Information Center (www.faluninfo.net) showing the location of labor camps and prisons around the city where torture of Falun Gong practitioners is still taking place.
Former Mayor of Saratoga Stan Bogosian had unpleasant experiences dealing with the regime and had his house under surveillance at one point by Chinese spies. A longtime advocate for human rights issues, Bogosian hopes that the rally will send a message to the people of China that the world has not given up on them.
"We are continuing to apply pressure to the one of the most repressive regimes… and we would like the people in China to know that we will continue to speak out," Bogosian declared.