The American people can have confidence that the U.S. banking system is safe, President Joe Biden said in a prepared address.
While speaking before his visit to California on March 13, the president outlined his administration's plan surrounding the failed Silicon Valley Bank (SVB) and Signature Bank.
"Your deposits will be there when you need small businesses across the country," Biden said. "The deposit accounts at these banks can breathe easier knowing they'll be able to pay their workers and can pay their bills. And their hard-working employees can breathe these as well."
He explained that all customers, including small businesses, who had deposits at SVB and Signature would have access to their money immediately.
"The bottom line is this: Americans can rest assured that our banking system is safe," he said.
"They [investors] knowingly took a risk, and when the risk didn't pay off, investors lose their money. That's how capitalism works," the president said.
Biden emphasized that "no losses will be borne by the taxpayers," adding that the money will come from fees that financial institutions pay into the Deposit Insurance Fund.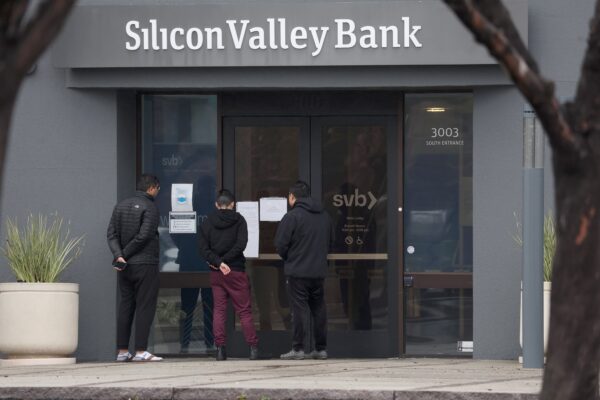 Looking ahead, federal regulators will assess how these banks got into the financial mess in the first place and ensure those responsible for these actions are held accountable.
"Because of the actions that our regulators have already taken, every American should feel confident that their deposits will be there if and when they need them," Biden said.
"In my administration, no one is above the law."
Biden also blamed former President Donald Trump for what occurred, asserting that the Trump administration rolled back requirements that would prevent a repeat of the 2008–09 financial crisis. He said he will ask Congress and regulators to strengthen rules for banks "to make it less likely this kind of bank failure would happen again."
In a joint statement on March 12, the Federal Reserve, the Treasury Department, and the Federal Deposit Insurance Corp. (FDIC) announced an emergency plan to designate SVB and Signature as "systemic risks."
The FDIC's deposit insurance fund would be utilized to cover depositors, as many were uninsured because of the $250,000 cap on guaranteed deposits. The central bank will put together a new bank term funding program (BTFP) with the goal of safeguarding companies that might be impacted by potential market instability in the aftermath of SVB's collapse. These loans will be extended to banks, credit unions, and savings associations for up to one year. These businesses will be required to submit collateral, including Treasurys and mortgage-backed securities.
The Treasury Department will offer up to $25 billion from its Exchange Stabilization Fund in the event of potential losses.
"This action will bolster the capacity of the banking system to safeguard deposits and ensure the ongoing provision of money and credit to the economy," the Fed said in a statement. "The Federal Reserve is prepared to address any liquidity pressures that may arise."
Is the Contagion Stopped?
House Financial Services Committee Chair Patrick McHenry (R-N.C.) issued a statement on March 12, calling it the "first Twitter-fueled bank run."
"At this time, it is important to remain level-headed and look at the facts—not speculation—when assessing the right path forward," McHenry said. "I have confidence in our financial regulators and the protections already in place to ensure the safety and soundness of our financial system."
Now that a plan has been installed to shield depositors from the collapse of SVB and Signature Bank, has a contagion effect been prevented?
First Republic Bank tanked on March 13 because of investor concern that the San Francisco-based institution could face similar capital and liquidity issues. However, the bank confirmed in a statement on March 12 that its "capital and liquidity positions are very strong, and its capital remains well above the regulatory threshold for well-capitalized banks." As of Dec. 31, 2022, First Republic had about $213 billion in assets.
Its shares tumbled about 62 percent on March 13.
Financial markets are also waiting to see what will happen to SVB's assets.
"Still to be determined is the fate of the assets of Silicon Valley Bank. Whether one buyer, or multiple buyers, emerge is still to be determined as of the moment," Greg McBride, the chief financial analyst at Bankrate, said in a note.
With $212 billion in assets, SVB was the largest U.S. bank failure since 2008, when Washington Mutual failed.