Thousands of Australians frustrated with COVID-19 lockdowns and vaccine mandates mobilised across the country on Tuesday for planned mostly peaceful and silent protests in front of government buildings.
A flyer circulating on Telegram stated, "Enough is enough," and called for silent protests in multiple Australian and New Zealand jurisdictions to begin at 9 a.m.: "No signs. No speeches. No noise." It accused the governments of both countries of being "abusive" and called for citizens to "stand up."
Videos and images circulating online showed protestors standing in front of local government buildings in silence.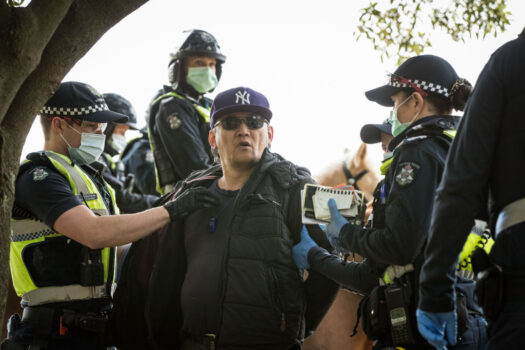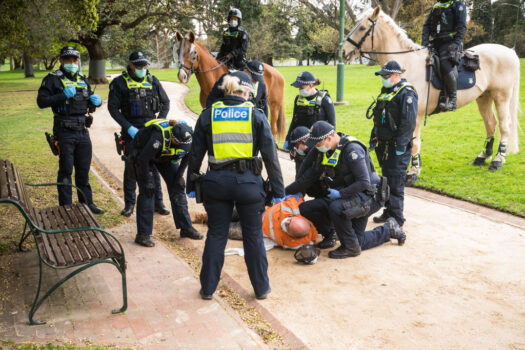 The protests drew participation from people not only in Australia's capital cities but across regional areas, with protests in areas as remote as Nambour, Gympie, and Noosa in Queensland; remote mining town Coober Pedy in South Australia; and Mullumbimby and Moruya in New South Wales (NSW).
Protests were also recorded in the Australian Capital Territory, Western Australia, and New Zealand.
In Queensland's capital, Brisbane, state MPs were locked inside the Parliament building over fears protestors might break in.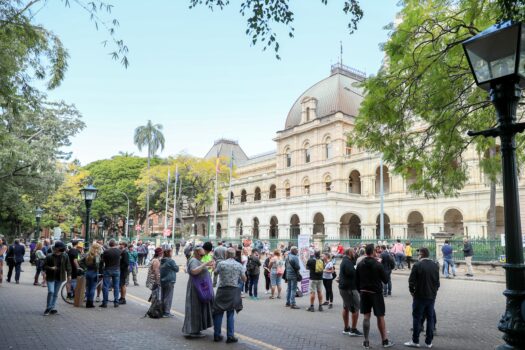 NSW, Australia's most populous state, recorded 79 different protests. According to NSW Police figures, 153 arrests were made, and 573 fines were issued for breaches of the state's public health orders.
NSW Police deployed 900 officers to monitor protests and conduct high-visibility patrols.
Regional protests were held in Orange, Dubbo, Grafton, Shellharbour, Mudgee, Uralla, Glen Innes, Inverell, and Tamworth in the state's west. Further arrests were made in the Sydney-based council areas of Blacktown, Sutherland, Hills, Canada Bay, Waverley, Fairfield, and Liverpool.
Police also broke up protests in front of Parliament House and Government House.
Three officers suffered minor injuries following interactions with protestors at Lismore, Murwillumbah, and Raymond Terrace.
NSW Police Deputy Commissioner Mal Lanyon told reporters that many of the protests were made up of a handful of people.
"We've made it very clear in previous weeks the police are not opposed to free speech, but we are opposed to activity that breaches the public health order and puts the community in danger," Lanyon said.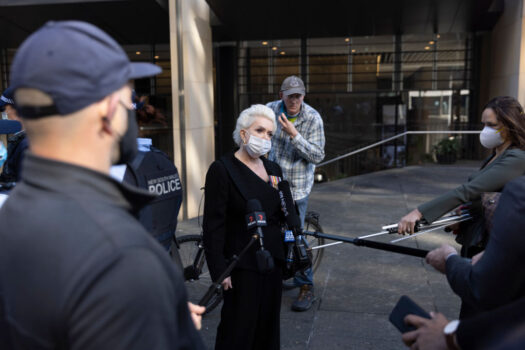 NSW Police Western Region Assistant Commissioner Geoff McKechnie said protesters were "disregarding the safety of their communities."
"I don't think it's a sign that we're losing the community as such. These people would be protesting, any day of the week, on any number of issues. It's just so irresponsible," McKechnie told reporters.
Federal Labor MP Michelle Rowland wrote on Twitter, "Today, our men and women in blue are putting their health and safety at risk as anti-lockdown protesters selfishly swarm the streets across Sydney."
The latest activity followed a protest on Monday that saw truck drivers block a major highway in the state of Queensland causing traffic to back up for several kilometres.
"End all lockdowns, people go back to work, and kids go back to school," truck driver Brock told Nine's Today show. "That's all we want out of it; we've had enough of it.
"But it's all about choice at the end of the day. If you don't want to get the vax, don't get the vax. If you do want to get it, get it. But just don't keep locking up people."
Over the past few months, more Australians have expressed discontent with tough COVID-19 restrictions, including an Aug. 21 protest that was attended by thousands across major metropolitan centres in Sydney, Melbourne, Adelaide, Brisbane, Perth, and Coolangatta-Tweed Heads.
Recent figures have revealed the damage extended lockdowns have caused with mental health support service, Lifeline Australia, saying August was its busiest month on record, while attempted suicide rates have also increased.
Job losses have also been increasing, with the Institute of Public Affairs (IPA) finding that over a three-week period from June 26 to July 17, NSW shed 200,000 small business employees, 64,000 medium-sized business workers, and 12,000 large business workers.