There are signs that the Kremlin is open to diplomatic solutions with regard to Ukraine but the intelligence is "still not encouraging," the UK's Prime Minister Boris Johnson said on Tuesday.
It came shortly after NATO's Secretary-General Jens Stoltenberg said signals from Moscow gave "some reason for cautious optimism" that diplomatic efforts will prevail.
Moscow said on Monday that it was prepared to continue talking, albeit the talks "can't go on indefinitely." It also announced on Tuesday that some Russian military units were returning to their bases as planned after exercises near Ukraine while mocking repeated Western warnings about a looming invasion.
The signals triggered a positive market reaction but is met with guarded responses from Western governments and experts.
After an emergency cabinet meeting on Tuesday, the British prime minister said although there're welcome signs, the intelligence he received was "still not encouraging."
"Last night going into today clearly there are signs of a diplomatic opening, there always has been an opportunity to talk, there are grounds for a conversation about Ukraine, with Ukraine, and that's good. We are seeing Russian openness to conversations. On the other hand, the intelligence that we're seeing today is still not encouraging," Johnson told reporters.
He said the Kremlin has been sending "mixed signals" as intelligence suggested more battalion tactical groups were "being brought closer to the border."
Asked what de-escalation would look like, Johnson said Russia needs to be "withdrawing the battalion tactical groups away from a potential theatre of conflict, not constructing field hospitals … between Belarus and Ukraine, a sense that things are being scaled back, scaled down, that the fret is is over, and that a conversation and negotiation is beginning."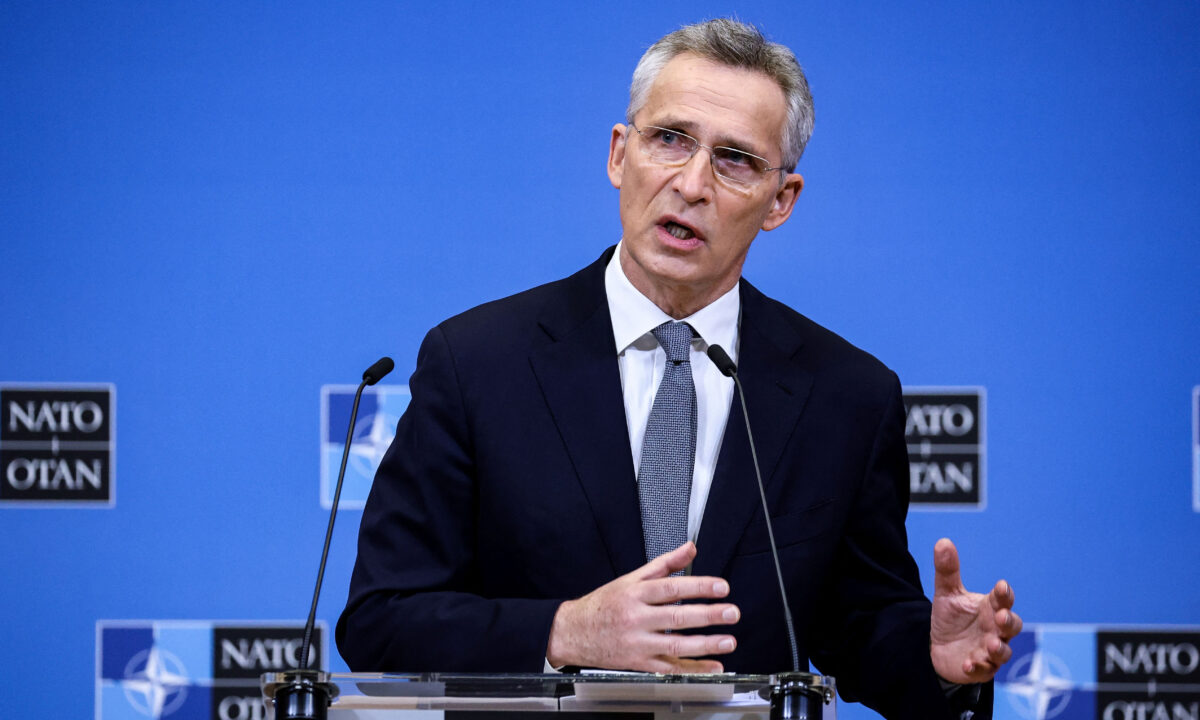 Less than an hour before Johnson's remarks, Stoltenberg told a press conference in Brussels that Moscow's gesture of "willingness to continue to engage in diplomatic efforts" gave "some reason for cautious optimism," but NATO has yet to see "any signs of reduced Russian military presence on the borders of Ukraine."
Konrad Muzyka, director of the Poland-based Rochan consultancy, told Reuters it would take several days to verify the latest moves via satellite imagery.
Commercial satellite images taken on Sunday and Monday showed a flurry of Russian military activity at several locations near Ukraine, according to the private U.S. company that released the pictures.
U.S.-based Maxar Technologies pointed to the arrival of several large deployments of troops and attack helicopters as well as new deployments of ground attack aircraft and fighter-bomber jets to forward locations.
While Russia has amassed about 130,000 troops, plus artillery and other heavy equipment, close to Ukraine's border, the Kremlin has denied planning an attack, saying the military movements are about maintaining security against NATO aggression.
Moscow has asked the United States and its allies for a binding commitment that they won't accept Ukraine into NATO. Russia also wants the alliance to halt weapons deployments to Ukraine and roll back its forces from Eastern Europe.
But Washington and NATO have rejected those demands.
Stoltenberg said on Tuesday that NATO's door "remains open" to Ukraine and that the alliance "strongly believe[s] that all nations have the right to choose their own path."
Johnson said the UK will sanction "particular Russian banks" and "Russian companies" in the event of a Russian incursion into Ukraine, "unpeel the facade of Russian ownership of companies, and also take steps to stop Russian companies from raising capital on London financial markets."
Tom Ozimek and Reuters contributed to this report.